Wednesday, Feb 3rd 2016
|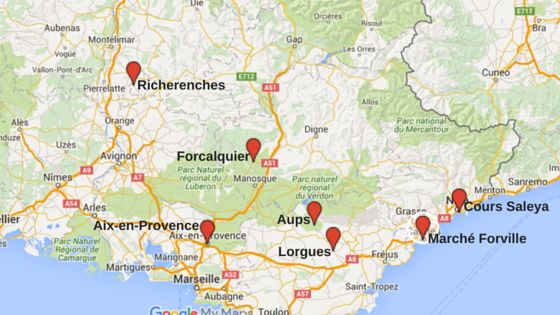 The Insider's Guide to Provence Markets
Provence markets are numerous and diverse, ranging from a few stands of local producers to those offering a wide choice of everything. It can feel an impossible decision to choose where to go, so rather than always choosing the nearest market, follow your mood for a rustic or city venue, inland or coastal. The different atmospheres will change the whole feel of the market.
Soak up the Provençal atmosphere by arriving early, and afterwards allow for time to relax in the local cafés with a pre-lunch aperitif or a glass of chilled rosé and a selection of local olives. This is not a region to rush and shop but one where purchases take equal ranking with appreciation of the surroundings.
Provence Markets in Elegant Cities
Aix-en-Provence (Bouches-du-Rhône) is a university town in an elegant city which once was the governing capital of Provence. Museums, galleries, bookshops; unique designer shops and individual craft boutiques can be found in the network of streets. Cafés can be found throughout the town, while the broad Cours Mirabeau is the classic venue for people watching. Markets also abound throughout the city, from small daily markets to three big markets held together:
a big general market (place des Prêcheurs next to the Palais de Justice)
a flower market (place de l'Hôtel de Ville)
and the antique market (in front of the Palais de Justice)
Open Tuesday, Thursday and Saturday mornings.
Provence Markets in Small Towns
Lorgues (Var) An old town dominated by a massive imposing church, its market is the throbbing heart of this wine region. Stalls line the main street, with food at the upper end, clothes & household goods at the lower end, and several cafés ideal for people-watching. After the market, visit one of the local vineyards. Neighboring Chateau de Berne offers wine-tastings and a choice of restaurants in a beautiful setting. Open Tuesday mornings.
 Forcalquier (Alpes-des-Hautes-Provence) A buzzy market located on the Place du Bourguet in this beautiful medieval hilltop town. Climb to the top along winding cobbled lanes to where the castle used to stand, and enjoy splendid views over fields of lavender, vines and olive groves. Open Monday mornings.
Provence Markets for Truffles (November to March)
Although truffles are at their best from January, the season starts in November and continues to March. Three of the four biggest truffle markets for professionals in France are in Provence: Aups, Carpentras (the oldest in France, dating from 1155) and the biggest in France, Richerence. Truffle markets sell whole truffles, truffle delicacies, serving accessories and ready-to-eat food made with truffles – my favorite being hot brouillade aux truffes (creamy scrambled eggs with truffles) – delicious on a cold winter's day. Entertainment is also laid on, with displays of pigs and dogs hunting out truffles in a giant 'sand pit'.
Richerenches (Vaucluse). The trade market takes place on Avenue de la Rabasse (rabasse is the Provençal word for truffle). The public market is on the Cours du Mistral. Open Saturday mornings.
Aups (Var) A market town in the hills of northern Provence where traders and visitors mingle and the truffle market is held alongside the normal weekly market. Aups was a popular destination for coastal merchants during the hot summer months, and boasts some grand old buildings. The hotel restaurant Le Provençal serves copious traditional cuisine, including dishes with truffles. Open Thursday mornings.
Antique Markets (all year)
These markets range in quality from simple – and cheaper – vide greniers (literally "empty attics") to top-end markets with professional antique dealers. Stories abound of fantastic bargains be found, and there are excellent markets, often with better deals, in the major cities in the region.
Nice Cours Saleya (Alpes Maritimes). A large piazza in the heart of the old town is turned over to a market every morning. Lined with cafés and restaurants where you can sit and enjoy an aperitif in the sun with a plate of hot socca (chickpea pancake). Listen out for the daily cannon shot at 12 noon! After the market, explore the old town, be energetic and walk up to the top of the castle hill overlooking the market, or stroll, cycle or roller skate down the Promenade des Anglais! Monday morning for antiques. Other mornings for fruit, flowers and vegetables.
Cannes Marché Forville (Alpes Maritimes) A touch of city glamour surrounds this large indoor market, ideal for year-round browsing. Located near La Croisette, home to the Cannes Film Festival (although best not to go during the festival!). Cannes has two parts, the old town located up on the hill and the glamorous shopping streets behind the palm-tree lined La Croisette. Open Mondays from 7:00am – 5:30pm.
Tip: During summer months it can become very crowded so it is always worth arriving early, at least by 8am—most markets start to close at noon.
Sign Up for our eNews articles and receive our Free Guide to Wine Tasting Like a Pro!