|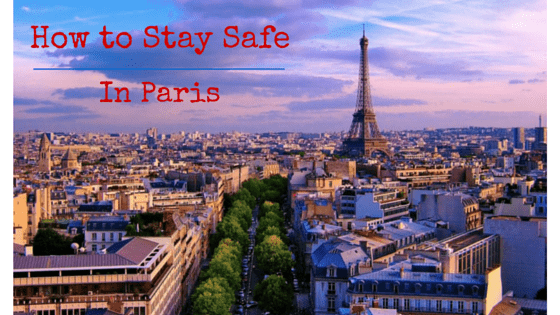 Paris Safety Tips: How to stay safe in France's capitol city
As a large capital city, Paris has always held its share of dangers for tourists, but now more than ever, visitors have been asking what they can do to stay safe while visiting the City of Light. Here are our top 10 Paris safety tips to make sure that your trip in Paris is memorable for all the right reasons.
Before You Go
Before planning on how to stay safe in Paris, it is highly recommended that you purchase trip protection when you book your trip.  Even if you feel you are healthy and will not need to cancel for any reason, trip protection will serve you well if a health matter occurs, or if you lose your valuables.  Each carrier has different policies and coverage, be sure to take a policy that gives you access to 24/7 assistance.
Being Prepared
1. Make photocopies.
Photocopy all of your important documents, including your hotel and flight confirmations and passports. Keep one copy of your photocopied documents on your person, one copy at your hotel in your luggage, and give one copy to a trusted person at home.
2. Have someone back home looking out for you.
Traveling demands a bit of flexibility by its very nature, but be sure that you give a copy of your approximate itinerary to someone that you trust back home, as well as the best way for them to get in touch with you.
Personal Belongings-Avoid Pick Pocketing
3. Carry credit cards.
Most tourism-related crimes in Paris are pick pocketing. Have a small amount of cash on you, but try to use cards when you can. Leave your travelers checks, if using, and at least one emergency credit card in the safe of your hotel in case you are pick pocketed. Leave your passport as well, and carry a photocopy.
4. Be aware on the metro.
Most pick pocketing occurs on the metro, particularly in the strapontins or fold-down seats by the door. A potential pickpocket will wait for the alarm to sound before the doors shut and snatch something — usually a smartphone — from an unsuspecting person. Try to keep your valuables hidden away on the metro, and avoid these seats close to the doors whenever possible.
5. Be aware at sidewalk cafés.
Sidewalk cafés are another place where many tourists find themselves victims of pick pocketing. Keep your valuables, particularly smartphones, in your pockets instead of on the table.
Scams in Paris
6. The ring.
There are several recurring scams in Paris, and the ring is one of them. A person will lean down in front of you and pick something up off the ground — a ring. They will ask if it is yours and you dropped it, and when you say no, they will offer to give it to you. Once you accept, they will harass you and ask you to pay for it. This scam often takes place on the promenade along the right bank of the Seine. A variation of this scam with friendship bracelets is used in Montmartre, near the steps to Sacré Coeur. The best thing to do is loudly and firmly say, "No," and walk away.
7. The petitions.
"Speak English?" You will often hear this said by Roms (gypsies, also known as Romas in English) near major tourist attractions in Paris. These women will have makeshift clipboards with petitions, usually said to be for deaf-mute charities. When you sign, they may demand a donation, or while you sign, they may pick your pocket. Avoid either eventuality by refusing to sign and walking away.
8. The shell game.
This often takes place on the bridges across the Seine or near the Bir Hakeim metro stop near the Eiffel Tower. These scam artists have friends pose as players and allow them to win the pricey game; when it comes time for your turn, it becomes oddly impossible to win. You may already be aware of this con, but if you see it, it is best to stay away from these games.
Getting Help
9. Call 112.
In the event that you do need help in Paris for an emergency, call 112. This emergency number is used throughout the UK, and it is possible to speak to an English-speaking operator. You could also call 15 for an ambulance, 17 for the police, or 18 for the fire brigade. Be aware that most ambulances in Paris are run by the fire brigade, so you may prefer to call 18.
10. Getting out of a bad situation.
Whatever the bad situation you encounter, you will want to quickly get away from it and find somewhere safe. During the day, most apartment buildings can be opened by pressing the round metal button at the bottom of the door code pad, which will let you into a building courtyard so that you can find someone to speak to with a phone in case of an emergency. You can also visit the police of the arrondissement where you are or the American Embassy (4 avenue Gabriel, 8th arrondissement) for further assistance.
By staying prepared and aware of your surroundings, you will be fully able to take advantage of your vacation in Paris, worry-free!
Sign Up for our eNews articles and receive our Free Guide to Wine Tasting Like a Pro!