|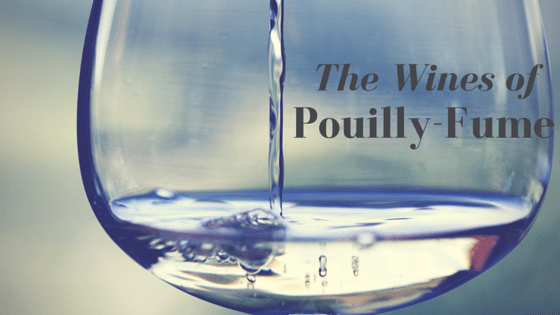 Pouilly-Fumé White Wines (Not to Confuse With Pouilly-Fuissé)!
Pouilly-Fumé and Pouilly-Fuissé may sound similar, but they are not! Last month's excursion was to the land of Muscadet wine, where the Loire meets the Atlantic Ocean. Let's continue the wine tour at the Upper Loire, where Sauvignon Blanc grapes predominate.
Background:
In Pouilly-Fumé and Sancerre, wines have been cultivated since Roman times.
Pouilly-Fumé has been a separate, classified wine appellation since 1937. I note in passing that the Sauvignon Blanc grape is now cultivated in the United States and in the Marlborough region of New Zealand, where it has become a prized national wine.
The name of the wine is logically explained. Pouilly comes from Pouilly-sur-Loire, the village where the grapes are grown.
"Fumé" reflects the fact that the grape skins are smoky gray ("fume" in French) at harvest time.
Aromas, Taste:
Pouilly-Fumé wines are light and somewhat grassy, with citrus flavors. They blend well with Semillon grapes, for richness and texture, to form Bordeaux white wines.
Pouilly-Fuissé wines are quite different. They come from Burgundy. Pouilly-Fuissé wines are the product of Chardonnay grapes, as are all white Burgundy wines.
They have a nice balance of herbal and grassy flavors, with a pronounced acidity. Occasional flint in the subsoil accounts for a mineral note in the wine.
Pouilly-Fumé wines come from just across the Loire River from Sancerre. It profits from the same prehistoric layer of shells noted in Chablis wines from northern Burgundy.
If you are combining wine exploring with tourism, spend an hour or two at the vineyards here. You'll find the Maison Sauvion, the Domaine Tabordet, and the five miles of Caves de Pouilly sur Loire to be welcoming as you enjoy tasting their wines.
Food Pairings/Serving Tips:
For those who prefer a dry and flavorful white wine, Pouilly-Fumé will delight your palate without wreaking havoc with your wine budget.
These wines are more perfumed and less full-bodied than the wines of Sancerre, which we will consider next month.
They are a pale straw yellow in color, with bright citrus and grassy flavors, and go well with fish, particularly smoked salmon.
And the wine is often served as an appetizer with salads as well.
For a special treat, do what the locals do, and savor a glass with the local goat cheese.
Serve the wine well chilled. Remove the bottle from the refrigerator an hour before the beginning of your meal.
These wines are best young, reaching their peak within three or four years of the grape harvest. So let's sample a few, as you decide which ones you prefer. It will also help your palate for tasting white Sancerre wines next month. Is it true, as some say, that only experts can tell the difference?
Here are some wines to savor:
Pouilly-Fumé Chatelain "Les Chailloux Silex " 2013 ($20)
Pouilly-Fumé Blanchet "Silice" 2014 ($19)
Pouilly-Fumé Regis Minet Vieilles Vignes 2008 ($20)
The 2014 and 2015 harvests were exceptional, with fine quality for both Pouilly-Fumé and Sancerre. What better time to taste them than now? Let us know your favorites.
Sign Up for our eNews articles and receive our Free Guide to Wine Tasting Like a Pro!