|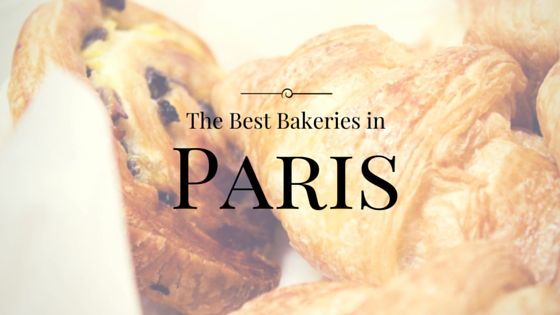 Paris is not for the faint of heart when it comes to gluten.  Bread, pastries, croissants… it seems that you'll find them on every corner. Paris is renown for its best bakeries.  It also has some of the worst: frozen concoctions heated up and sold at the same price as the real thing. Luckily, we can tell you where to find the best Paris bakeries.
Best Paris Bakeries
Best Boulangeries for Baguettes
Paris holds a yearly contest for the best baguette, costing about 1.20 Euros at bakeries. Unlike the baguette simple, a tradition (or tradi to Parisians) has a yeasty crumb and thick, crusty exterior. Here are some of the best places to grab a baguette.
La Parisienne – 48, rue Madame, 6th arrondissement – Winner: Best Baguette 2016
Le Grenier à Pain – 38, rue des Abbesses, 18th arrondissement – Winner: Best Baguette 2010 and 2015
Best Boulangeries for Viennoiseries
The viennoiserie is a unique category of pastry — halfway between bread and French pâtisserie. These items, usually made with laminated dough, include the croissant, pain au chocolat, pain au raisin, and chausson aux pommes. Here are just a few of our favorites:
For Croissants:
La Pâtisserie by Cyril Lignac – 24, rue Paul Bert, 11th arrondissement for a sublime, yeasted croissant with more butter than you can imagine.
Blé Sucré – 7, rue Antoine Vollon, 12th arrondissement for a croissant with just enough of a touch of salt to make it effortlessly moreish.
For Pain au Chocolat (chocolate croissant):
Du Gâteau et du Pain – 63, boulevard Pasteur, 15th arrondissement for a puffy, chewy pain au chocolat from a sleek, modern shop
Pierre Hermé – 72, rue Bonaparte, 6th arrondissement for a pain au chocolat that proves that this macaron master has more than one trick up his sleeve. The delicious dough hides a few variants on the classic, including one with chocolate-hazelnut paste that will keep Nutella fans happy.
For Pain au Raisin (raisin pastry):
Du Pain et des Idées – 34, rue Yves Toudic, 10th arrondissement for a buttery escargot (snail shell) that doesn't stick to traditional flavors — berry & cream cheese or chocolate & pistachio are just some of the flavors you'll find here.
Bread and Roses – 62, rue Madame, 6th arrondissement for a pain au raisin with raisins made from Smyrna grapes and just enough rum. Nothing superfluous, but so well done that they actually won a prize from French newspaper the Figaro.
As any local will know, boulangerie and pastry are not the same thing — don't expect that a place with a great baguette will also have great cakes.
For that, you'll need to try our favorite pastry shops.
Sign Up for our eNews articles and receive our Free Guide to Wine Tasting Like a Pro!