|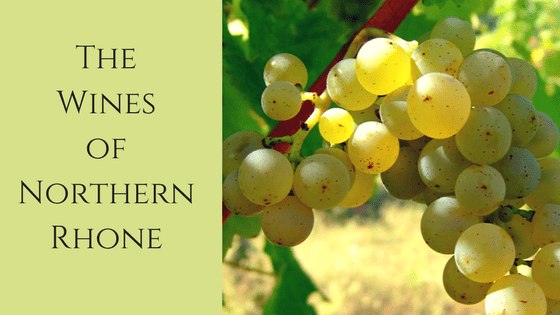 Northern Rhone Wines That Will Make You Happy
I've noted to students in my wine tasting courses, many wine regions have produced finer wines over recent years; thus, transforming what is available on the market. That particularly holds true in France. Quality conscious producers are making better wines in many regions. This allows more wine choices for patient consumers. So, what region should you look at when you're looking to sample wine from one of these quality producers? We suggest you set your sites on Northern Rhone wines.
In the Northern Rhone the Etienne Guigal firm is leading the way. As other producers keep pace to avoid losing market share, there is a general rising of standards. Let us take a look at some of the wines now produced in this storied region, with a focus on the Cote Rotie and Hermitage.
Cote Rotie
The Cote Rotie is a small, hilly region, half an hour south of Lyon.
It has two hills, Cote Blonde and Cote Brune. Both have hillside vineyards. They are difficult to cultivate, given their elevation and steep slopes.
Cote Blonde, the larger of the two hills, is to the south of Cote Brune.
Cote Brune has a darker colored soil, with a clay base. It produces wines that are darker and more tannic and richly flavorful.
Cote Blonde wines are lighter and more elegant, with an under-taste of red berries.
Both types of Cote Rotie wines age well, and are said to be entering their best period when 10 years old. They go well with many foods, including duck and grilled meats. For grapes, the only red grape permitted to be grown here is the Syrah. While the white grape Viognier is legally permitted for a blend of up to 20% of the total Cote Rotie wine. Most producers use 5 % or less.
Viognier is a grape found in the Northern Rhone. The white wines Condrieu and the expensive–and rare!–Chateau Grillet are produced. (Viognier travels well. It is now grown in Virginia, where it has been selected as the official state wine. (Thomas Jefferson would be pleased, I think.)
Cote Rotie wine production has increased over the years. This is due to the efforts of the Guigal producing firm. Though there has been an increase in production, that does not mean there is a huge amount of wine available.
In 1970 there were 185 acres under cultivation.
Now there are roughly 500 acres under cultivation!
But there are over 100 growers, of whom 60 make their own wine, while others sell to producers.
That means that there are small producers throughout the region. Which in turn means their wines are difficult to find once the delighted traveler returns home. And with small production, prices are almost certain to rise .
Here are some Cote Rotie wines which you may enjoy:
E. Guigal Cote Rotie Brune et Blonde
Chateau de Saint Cosmes Cote Rotie
Cote Rotie Chateau d'Ampuis Maison Guigal
And for a white Viognier wine, try a Guigal Condrieu
And the Viognier goes well with lobster!
Thinking about an exclusive wine tour to the Northern and/or Southern Rhone Valley?  Check out our tour options, click here!
Hermitage
The deep wines of Hermitage are some of the best known red wines from this region. But how many wine lovers have actually tasted Hermitage? They can age for decades, and are made from Syrah grapes with up to 15% Roussane and Marsanne grapes.
Tain l'Hermitage is a pleasant town overlooking the Rhone River, between Tournon and Valence.
Like Cote Rotie wines, the production is not extensive, for a total of 338 acres is cultivated.
The small area under cultivation, and the steep hillside behind the town, account for the wine's price.
These wines should be kept for decades. (I am sure that many Hermitage lovers would say that my 2005 Cuvee Emilie, Domaine des Remizieres is still in its infancy.)
The Chapoutier firm may be visited at Tain l'Hermitage. While there you may well decide to pick up a bottle or two of Chapoutier Hermitage la Sizerenne. Its raspberry finish is said to be delicious.
Crozes-Hermitages wines are a bargain.
Grown north of Tain l'Hermitage on level ground, they cost a fraction of Hermitage, and are not as deep.
I find them perfect for grilled meats, particularly steaks.
At the $20-$30 per bottle range, they are a bargain for the high quality they represent.
Try Guigal Crozes-Hermitage, or Perrin Crozes-Hermitage. Perrin is the same firm that produces the finest Chateauneuf du Pape, Chateau de Beaucastel. I have found its range of wines to be all superbly made.
If you are interested in a flavorful bargain from elsewhere in the Northern Rhone, here are more possibilities. St. Joseph wines deserve to be better known. They are less forceful than Hermitage, but are not in that price range, either. Particularly recommended is:
E. Guigal, Saint Joseph 'Cuvee Lieu Dit Saint Joseph'
A highly rated and flavorful Cornas is the Michel
Let us know your favorites – and make a note to see the region for yourself!
Receive timely updates and promotions and a free Guide to Wine Tasting Like a Pro-Click Here!