|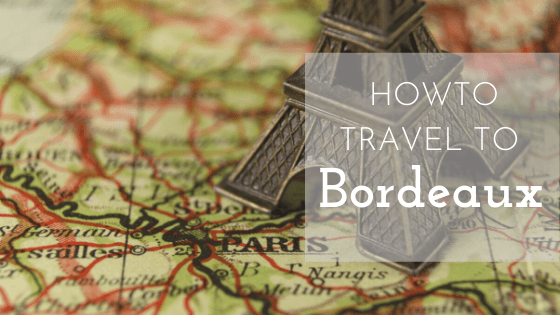 A trip to Bordeaux has endless possibilities. You can enjoy tastings at famed estates, try regional dishes at local restaurants, and take in the rich history of some of France's oldest towns. With all of these options, it can seem impossible to know where to begin! To make your journey easier, enjoy our Bordeaux map of France.
Bordeaux Map of France: How to Get to Bordeaux
FLY: The fastest way from Bordeaux to Paris is a quick one hour flight. This is easy if you are arriving to France via Charles de Gaulle airport and can quickly transfer onto a domestic flight to Bordeaux. You need 2 hours between flights to make sure you have time to connect.
TRAIN: If you are already in Paris, it is convenient to take a train to Bordeaux. From the Gare du Montparnasse this train ride lasts about two hours and arrives at the Bordeaux Saint-Jean station. There are trains from Paris Charles de Gaulle Airport as well.
DRIVE: A third option is a road trip through France to Bordeaux. Driving is a great way to see the beautiful landscapes of French wine country. But you need time. It takes about six hours to drive from Paris to Bordeaux. This Bordeaux map of France shows realistic drive times from Paris, traffic not withstanding!
No matter how you choose to travel to Bordeaux, once you have arrived there are plenty of sights for you to enjoy! Read more about visiting the top appellations, our favorite estates, and experiences you won't want to miss below.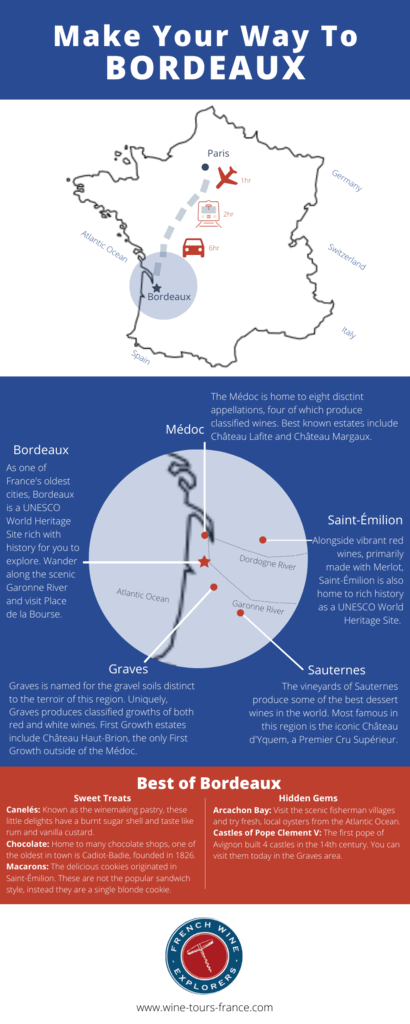 Looking for the best Bordeaux wine tour? Click here and see our options for touring the iconic wine region
Bordeaux
is a diverse region full of character. It may be best known for its
world-class wines
, but Bordeaux has much to offer beyond the vineyards.
Bordeaux has

architectural and historical monuments

to discover.

The city is second to Paris for maintaining the most protected historical buildings in France

.

In fact, Bordeaux

is called

Le Petit Paris

because of the many similarities between the two cities

.

Situated on the

Garonne River

, Bordeaux

is known

for local gastronomy, wine bars, markets, and historical villages

.

Luckily, you can experience world-class wine tastings and historical exploration during your time in Bordeaux

. This Bordeaux Travel Guide will show you how to see all the best of both!
This post is to distinguish the varieties of Bordeaux wines.
We have organized this list by region with further descriptions of appellations and growths.
An "appellation" refers to a geographic area where grapes were grown to produce a specific wine.
Wines distinguished by "growth" refer to wines awarded in 1855 when wine brokers from Bordeaux ranked all of the chateaux in the area. Estates were awarded from First Growth, being the best, through Fifth Growth. All these years later, the classification remains an indication of impeccable wines.
A Grand Cru is a title specific to the best Bordeaux vineyards, translating directly to "great growth".
Also, be sure to look at the Bordeaux Wine Tour offerings to see our group tours, private tours, and custom tour options in Bordeaux and beyond.
Join our community of wine lovers and travel enthusiasts! Receive timely updates and promotions and a free Guide to Wine Tasting Like a Pro – Click Here!