|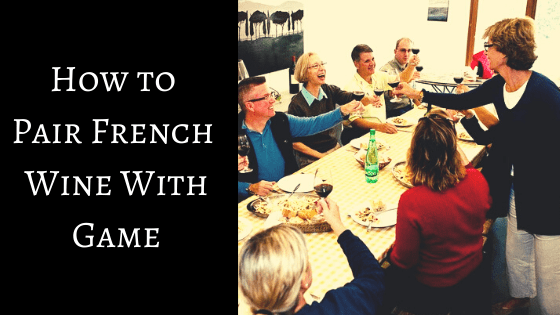 How to Pair French Wines With Game
French wines with game dinners are a memorable treat. The flavors of venison, wild duck, or boar, pose a special challenge for appropriate French wines to serve. These rich flavors seem to need a rich wine, and the use of sauces expands the taste possibilities. Lighter wines suit game birds such as quail or partridge, which are light and flavorful. Let's take a look at several possibilities. With game dinners, all roads lead to Burgundy and to the Rhône. These regions, home of Chardonnay and Pinot Noir grapes, have much to offer.
Wine Pairings for Fowl:
With quail or partridge, you have a choice of wines. I would say, try a Pinot Noir from the Santenay region of Burgundy. These are lighter red wines, flavorful without being overwhelming.
Try a Santenay Latour (2010 or a first growth Girardin "Les Gravières" 2009.)
With game birds as a first course, a good white Burgundy such as a Leflaive Meursault (2010) would be refreshing and flavorful.
A glass of Chablis to begin the meal (William Fèvre "Les Champs Royaux, 2009) is a traditional way to begin your game dinner.
My mind goes back to a birthday dinner where in the interests of flavor, we broke several of the "rules" in wine service. The first course was a seared Hudson Valley Foie Gras, followed by New Zealand Venison Chops, before the cheese and dessert courses. The  rule would be to serve younger wines before older ones, and a substantial white wine with the foie gras. But given the wines on hand, I decided that this dinner was the time to do something different.
I had a sixty year old Vosne-Romanée First Growth "Les Malconsorts," and a bottle of wine from the same vineyard that was thirty years younger. I thought the older wine might go better with the seared foie gras and served it first. It was a perfect blend, and the deep flavors of the wine lasted just long enough to blend perfectly. The more recent vintage Vosne-Romanée was a good choice to go with the venison chops. This wine then lasted long enough to set off the cheese course.
I picked the Vosne-Romanée as a sturdy and flavorful wine to marry well with the flavors of these two courses, and give illuminating contrast from the two vintages. I think these choices worked far better than a lighter Burgundy, such as a Musigny, would have done. A Gevrey-Chambertin, might have worked well, say a Latour or Remoissenet from a good vintage. (Burgundy village appellation wines from excellent producers, such as Latour, have been excellent buys in recent good vintage years.)
Wine Pairings for Game:
With venison or boar (which I have enjoyed once, and the gamy flavor was wonderful), another good choice might be a Northern Rhône.
A Guigal Crozes-Hermitage (2009) is a treat, and you'll savor this Syrah based wine at a bargain price.
You may also wish to experiment with various spices and sauces. A lingonberry sauce would set off the venison. The flavors would go well with Crozes-Hermitage.
You might sauté duck breasts in wine with lingonberry sauce for a special treat. (A friend who has lived in Burgundy would recommend a Perrin St. Joseph 2010, as a memorable wine for this dinner.)
A family favorite around the Christmas season is roast goose, which brings forth visions of Charles Dickens (even though the featured Cratchit dinner treat in "A Christmas Carol" was turkey).
The opulence of Châteauneuf-du-Pape here blends well with the flavor of roast goose.
There has been a string of fine vintages in the Southern Rhône, including 2005, 2007, 2009 and 2010.
Try a Grand Veneur 2010. For a special treat, serve a magnum. With roast goose and a magnum of excellent Châteauneuf-du-Pape, you've defined hospitality during the Christmas season!
Game dinners with fine wines are a new dimension in enjoyment. And if you serve wines from estates that you have visited, those memories will add a new perspective to your dining pleasure.
Sign up for our newsletter and receive our Free Guide: 5 Secrets on How to Taste Wine Like a Pro!