|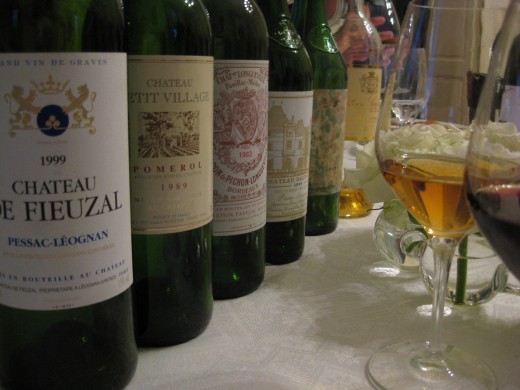 No, the title does not refer to the condition of those who have been enjoying a wine tasting in France, before and after. It tells us instead of the two most popular types of wine tastings. There are others as well, as we shall see.
The most popular wine tasting is the horizontal tasting. All this means is that wines are being tasted, and implicitly compared, from the same year. If you wish to host a tasting, this is a good way to start. And you needn't furnish all of the wine. Instead, plan a tasting with a few other couples, each responsible for bringing a bottle or two of wine. As hosts, you will provide something light to eat, probably French bread and some assorted mild cheeses, plus ice water to clear the palate. With four or five bottles of wine, and three or four couples, you have the makings for a fine tasting.
Some purists might also suggest that wine should never be swallowed at a wine tasting. They think that alcohol even in minute quantities will affect one's palate, and so they would insist that buckets be provided, for the wine to be spit in after it has been tasted. I say this is unnecessary, in addition to being unseemly.
Let's start with nonvintage brut champagne. These will have been bottled in the same recent year, and "brut" is a degree of dryness that most American palates seem to favor. You might offer for example a Taittinger ($37), a Pol Roger ($42), a Roederer ($39), a Mumm's Cordon Rouge ($39), and for contrast, a Roederer Estate from Anderson Valley, California ($19), and an Albrecht Crémant d'Alsace ($13).
The Taittinger and Roederer are in a lighter style, while the Mumm's Cordon Rouge has more body, and the Pol Roger is even more full bodied. You will have fun comparing the two Roederer wines, the original from France, and its American California champagne. The Albrecht Crémant d'Alsace does not have the legal right to style itself champagne – but try to taste the differences, if any, with those that are champagnes. By tasting and comparing, you will already be having fun and discovering wine preferences at your own tasting.
A vertical tasting involves tasting the same wine from different vintages. You will taste the varying vintage years, and still detect basic similarities in the wine. This is often done with classified Bordeaux wines of recent vintages, if price is not a primary consideration. I remember a tasting of Château Margaux wines in Washington from a private collection that set a fine standard. You may wish to try wines from other regions. The tasting principles remain the same.
Let's taste some wines from Châteauneuf-du-Pape, a hearty autumn wine. You might also combine the tasting with dinner, with each couple bringing a savory dinner dish to enjoy after the tasting. Fine recent vintages have included 2005, 2007, 2009 and 2010. Try the well regarded Vieux Donjon from 2007 ($59), 2008 ($39), 2009 and 2010 (both $49). As a variation, a number of wine estates in the Châteauneuf area now make both a flagship wine, and then a more expensive special cuvée. For example, a 2007 Bosquet des Pape ($35) contrasts well with the Bosquet des Papes 2007 "Gloire de Mon Grand-Père" ($48). After the tasting, the wines will complement your informal dinner.
Another tasting could take the wines of a reliable producer, such as Louis Latour, and sample their white Burgundy wines as the prices increase. You would enjoy tasting their Mâcon-Lugny "Les Genevrières" 2010 ($10), then a Pouilly Fuissé 2010 ($18), Puligny-Montrachet 2010 ($38), and a 2007 Corton Charlemagne ($80). The complexity increases with the higher priced wines, but there is a basic integrity with each wine.
Let us know your own experiences with wine tastings. And if you choose to feature a wine or two that you found in France, the stories of your discovery will surely add to the enjoyment of the evening.
Sign up for our eNewsletter and receive our FREE wine tasting guide