|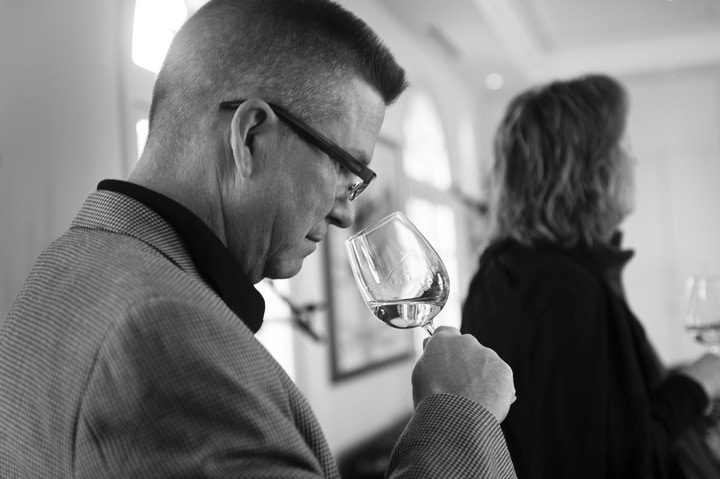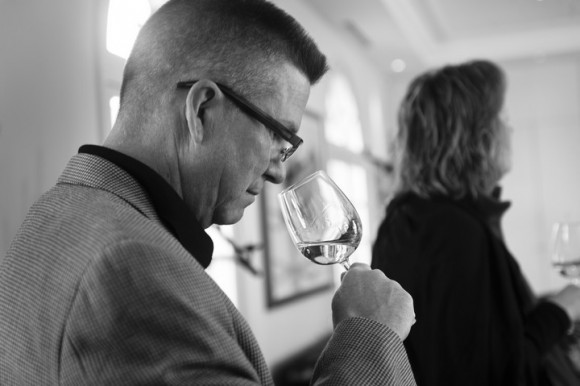 I have just conducted a course in tasting French white wines from some of the most famous wine  regions in France. One dozen tasters each contributed $25 to pay for the wines, and we had four sessions, three wines a week. Each tasting featured a progression of wine tastes, and enabled the tasters not only to make comparisons, but decide for themselves whether the better bargain was a palatable inexpensive wine, or a more expensive offering with more expansive flavors.
The first wine trio was from the Bordeaux region: a 2010 Mouton Cadet Blanc ($8.79), a 2010 Château Martinon Entre-deux-Mers ($12.09), and a 2009 Château Carbonnieux Blanc ($43.99). The Mouton Cadet was pleasing, and a good basic introduction to the Sauvignon Blanc-Semillon blend that constitutes white Bordeaux wines. The Château Martinon was a step up, with more distinctive flavors. From the standpoint of value for the money, it was the clear favorite of the flight. But the Château Carbonnieux was a revelation: light and flavorful, it would go perfectly with the first course of a fine dinner, and serves that role often at dinners in Bordeaux.
Next we tasted three Alsatian wines: a 2008 Hugel "Gentil ($14.29), a 2007 Hugel Riesling ($19.79), and a 2010 Albrecht Gewurztraminer ($17.59). The "Gentil," a starter Alsatian wine from selected vineyards, was the value favorite. It would go nicely with Eastern Shore seafood. The Riesling was richer and somewhat sweeter, with finesse, somewhat fruity with a fresh, crisp taste. It could be savored with fried oysters. The Gewurztraminer pleased many with its spicy note – one taster thought it would go well with smoked salmon. Like Hugel, Albrecht's family wine making firm goes back many centuries in Alsace.
The third tasting of French white wines was devoted to Chablis: a 2011 Simonnet-Febvre ($16.49), a 2010 Matthieu Antunes Premier Cru "Les Vaillons" ($21.99), and a 2008 Albert Bichot Domaine Long-Depaquit Grand Cru "Les Clos" ($43.99). This was an eye opener for those who had never tasted real Chablis. The Simonnet-Febvre firm was purchased a few years ago and upgraded by Louis Latour. The pleasing mineral flavors of real Chablis were here, refreshing and light. The Matthieu Antunes was the value favorite, with more body, and a touch of citrus. However, the grand cru" Les Clos" was everyone's taste favorite, a rich, flavorful wine, indeed a show stopper from the best section of the most celebrated of the seven Chablis grands crus.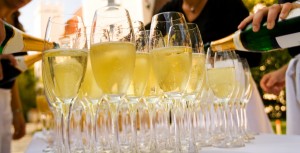 Then we tasted three sparklers: 2010 Blanquette de Limoux ($12.96), NV Taittinger Brut Champagne "La Française"($40.69), and  a NV Louis Roederer Champagne Brut Premier ($39.59). The first wine – where sparkling wines were first made in France – was everyone's discovery. It can't be labeled champagne because it is not from that region, but the process is not only exactly the same – Dom Perignon probably learned how to make effervescent wine here! The benefit for the consumer is that it costs about one third of the price of champagne. The Taittinger, a light champagne, pleased everyone. However the Louis Roederer, from carefully selected grand cru and premier cru vineyards, seemed richer and more balanced.
Now try your own tasting and comparisons. If our total ($294 for 12 bottles) is any guide, it's an enjoyable way to share expenses and learn about  fine wines by tasting them and making your own flavor comparisons.
William S. Shepard, Wine Editor
Related Articles:
Burgundy Wine Tours: The Answer is 32- What is the Question?
Bordeaux Wines: How to Find Affordable Bordeaux
Sign Up for our eNewsletter and receive our free guide to wine tasting