|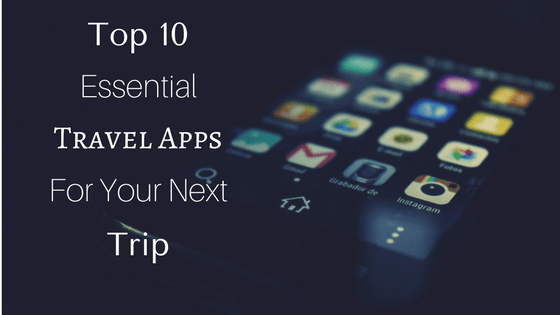 Top 10 Essential Travel Apps To Use For Your Next Trip
Here are some tried and tested travel apps we recommend when planning your next trip abroad: don't leave home without them.
NEW!: Never guess again when the best time is to open your bottle of wine: When Wine Tastes Best is a biodynamic calendar for wine drinkers. (Biodynamics is a holistic, ecological, and ethical approach to farming, gardening, food, and nutrition.) It is free app that lets you know the best time to open that expensive bottle of wine you purchased on your trip. The app utilizes the lunar calendar to determine which days are favorable (fruit and flower) for opening wine and which are unfavorable (root and leaf). Its recommendation is based on 50 years of research by a biodynamic expert, so you can trust that a lot of consideration has gone into helping your bottle of wine taste its best!
Keep Track of the Wine You Taste During Your Tour: Delectable is a free wine app that lets you take a snapshot of any wine label, which it will read, then help categorize it for you – automatically registering the winemaker and the year. You can add information such as where you had it or whatever else you want, and there is a quick feature that allows you to give it a smiley face, or other options, as a quick reminder of how you feel about it. (Because if you're at the dinner table with others, you don't always want to sit there and tap out an essay on your phone.) The app is also a social media tool and you can share and read what others say about the wine.
Organize Your Travel Plans: TripIt
Keeping track of airline tickets, maps, things to do, and weather, can be challenging at best. The TripIt app organizes all your travel details for your smartphone. Just forward confirmation e-mails to a dedicated email, and TripIt combines them into one organized itinerary, and providing local weather, maps, and driving directions.
Monitor Your Flight: FlightTrack-no longer available, try FlightAware 
Find the Best Seat on the Plane: Seat Guru
Seat Guru is a single, color-coded interactive airplane seating chart that helps you snag the best seat available. It's easy: load your flight details and view the seat chart. Green is a 'good' seat, red is a 'not-so-good' seat, and yellow is a 'avoid-at-all-costs seat'. We always use this when booking airline tickets, and it's the best way to ensure a good seat for your flight.
Know Your Rights: FlyersRights
This app provides essential information regarding your rights as a passenger, especially when stranded at the terminal or on the tarmac. Use this app to learn what to do when you are stranded, who to contact and how to file an official complaint if your rights are violated. Most of the information can be accessed without Wi-Fi, making it easy to check when you're stuck on the tarmac or at baggage claim.
How Much is That in Dollars? XE
One of the big headaches when abroad is trying to compare prices in the local currency to what you'd pay at home. This app offers live proprietary currency rates, charts, and even stores the last updated rates, so it works when the Internet doesn't.
Will I Need My Umbrella Tomorrow? The Weather Channel
With over 200 meteorologists and ultra-local forecasting technology, The Weather Channel helps you plan the best day possible.
Take Beautiful Pictures: Snapseed
The Snapseed app has all the features and quality editing you might find in professional picture editing software without the extra complexities. It is an easy photo editing app that allows you to produce professional looking photos and pictures right from your phone.
What Am I Eating? Google Translate 
What works well on the web works even better as an app. Translate words and phrases between more than 60 languages using Google Translate. For most languages, you can speak your phrases and hear the corresponding translations.
Protect Your Phone and Wifi Connection: Lookout
Lookout allows you to:
– Use Signal Flare to automatically save your device's location before it runs out of battery
– Communicate with your missing device over the internet from any web browser to find it quickly and easily
– Notifies you if you connect to unsecured WiFi, have an out-of-date OS, or if your phone is jailbroken
What Should I Bring? Packing App
This app can is even better than your personal packing assistant. You can create unlimited, customizable packing lists, build lists quickly & easily with multi-item selection, discover new ideas & suggestions from included sample lists, use any list (sample or your own) as a template for future lists, and send your packing lists to family & friends.
SAIP:  The French government has launched a free smartphone app to alert users about possible security incidents, including all major natural, technological and terrorist-related risks, in up to eight geographical areas. Called SAIP (Système d'alerte et d'information des populations), it is available in English and French.  Note: The Geolocation feature must be turned on in order for this app to work properly.
Try these travel apps and see how they can help you with your next trip! Have we missed any? Let us know at [email protected].
Bon Voyage…
Sign up for our Enewsletter and receive our FREE wine tasting guide