|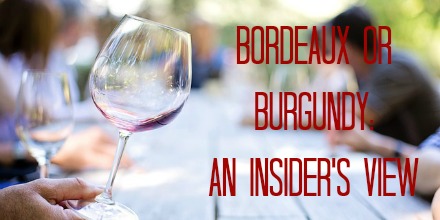 Bordeaux wines and wines from the Burgundy region give those who enjoy great wines good reason to travel to France—to savor wines from two of the greatest wine producing regions of the world. Each has its partisans, but many wine lovers enjoy them equally, while bearing in mind that they are very different regions, with wines that do not resemble each other in the least.
That is not to say that wine lovers will always pick the right wine when it is served in a blind tasting. The well-known British connoisseur, Harry Waugh, is famous for answering his own question, "Have you ever mistaken a Bordeaux for a Burgundy wine?" with the reply, "Not since lunch!"
 Bordeaux Wines vs Burgundy Wines
So how are they different?
First, the grapes used are different varietals. Burgundy wines are single varietals.
All red wines in Burgundy are made from the Pinot Noir grape.
Red Bordeaux wines, on the other hand, use Cabernet Sauvignon, Merlot and Cabernet Franc. The proportions vary, with wines from the Médoc (or Left Bank) generally being rich in Cabernet Sauvignon, while Pomerol and St. Emilion (or Right Bank) wines favor more use of the Merlot grape.
I would hazard the opinion that the winemaker's task in Bordeaux is particularly nuanced, given the fact that he or she is dealing with a blended wine. I remember a tasting at Château Haut Brion, for a vintage in the 1980s. Each taster had seven glasses. Three were for each component grape varietal – Cabernet Sauvignon, Cabernet Franc, and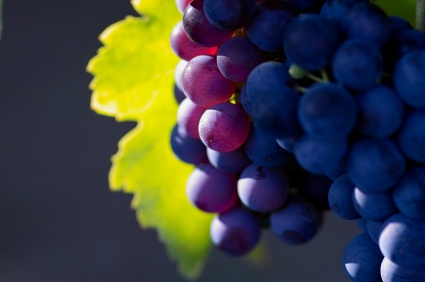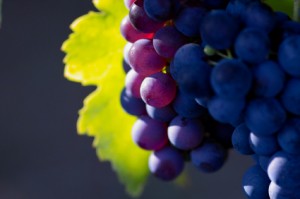 Merlot. Three glasses contained younger varietals and three contained those from mature grapes. The task for the winemaker was to put together from vines old and newer precisely the blend that suited the year's growing conditions, to assure a blended wine of overall excellence. The seventh sample – much better than any single component – was the final blended wine.
And that is the special challenge for Bordeaux wines. Each component grape has its own mini-growing season, which must be borne in mind when the overall blend is created and assessed. That may be why, when a Bordeaux is tasted, a number of flavors greet the palate. It takes a while, perhaps a number of years, for the final blend to emerge that marries the fruit of the grapes with the structure of the wine itself. When that happens, some eight to 12 years from the vintage for the most part, a great wine may emerge, fully balanced, to delight you and your guests.
Burgundy wines, being single varietals, are not blends in the same sense, although both younger and more mature vines are also used. With red wines, the result is often a wonderfully rich taste of fruit, such as blackberries. Sometimes the wine is even named for the fruit whose taste emerges – the grand cru Griotte Chambertin, for example, has the taste of rich wild cherries, as its name suggests. That distinctive fruit taste, more pleasurable than a blend, is what appeals to many wine lovers as the essence of fine red Burgundy. It also suggests foods, such as game, that go so well with these wines.
There is a comparable spectrum of taste with white wines.
White Burgundy wines, from Chablis to Montrachet, are produced from the Chardonnay grape.
In Bordeaux, on the other hand, white wines, from Graves to Sauternes, are blended from Sauvignon Blanc and Sémillion grapes. These blended wines match perfectly with red Bordeaux wines as a dinner party progresses, in both weight and flavor. That is why a dry Graves, Château Carbonnieux, goes so well as a first course wine for a fine dinner party.
White Burgundies, on the other hand, can be grander wines. The very finest Montrachet wines are opulent. They also have a lingering buttery taste, perhaps a testament to their richness. They are stunning with, for example, fine rich fish courses such as rockfish (striped bass) or turbot.
Burgu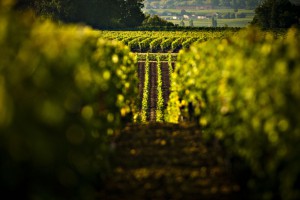 ndy and Bordeaux wines are similar in one essential respect. They are made with care and a sense of precious tradition. Each area has reputable producers with traditions of long standing. Sometimes they have growing methods in common. Wine producers in both Burgundy's Côte d'Or and St. Emilion in the Bordeaux region, for example, say that their finest wines are grown on hillsides, facing south to southeast, that being the best arrangement for sunshine and appropriate drainage. You may discover other similarities during your next wine region tour.
Which wines do I prefer? My own approach is to savor each of these wines on its own terms. Nobody says that your enjoyment of one school or region of wine means that you cannot also enjoy what other regions have to offer. And when you marry the flavors with your own memories of a trip to Bordeaux or Burgundy, your appreciation for fine wines from both regions will be deepened. You will appreciate that there is no right or wrong approach to wine making at this level. Let your palate enjoy both Burgundy and Bordeaux wines, and you will be savoring some of the finest wines in the world.
Do you prefer Bordeaux wines or Burgundy? Let us know below!
Sign up for our eNewsletter and receive our FREE wine tasting guide.