|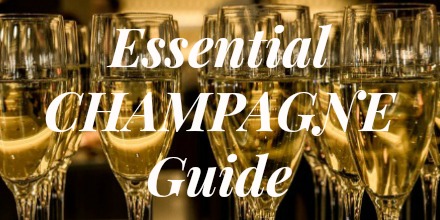 Here is our essential Champagne guide with useful articles, a video, and guidelines for wine touring through the region and sampling its wine.
Essential Champagne Guide
The Champagne region is one of the historic provinces in France boasting a rich agricultural area. It is most famous for its sparkling wine that, by law, is the only type allowed to be labeled, champagne. The former capitol of the region, Reims, saw the coronation of many kings and it, along with Epernay, are commercial hubs of the area today. The principle grapes grown in Champagne are Chardonnay, Pinot Noir, and Pint Meunier. It's close proximity to Paris—only about 100 miles—make it an ideal accompaniment to a wine tour in the City of Lights.
The Champagne region is only a 75 minute drive from Paris, and makes for a nice day trip from the French capital. It is also a wine region where one can easily spend a few days, exploring the beauty of the hillsides, discovering the rich local history, enjoying its warm hospitality and tasting wonderful champagnes…what could be better?!
There is another side to the Champagne region which offers a different experience and deserves equal attention from visitors who are truly passionate about champagne. This is the world of artisanally-produced grower champagne. While the large champagne houses buy the majority of the grapes they need from growers to produce their champagne, there are over 5000 grape growers in Champagne, of whom just over 2000 produce and bottle their own champagne.
It was a monk, Dom Perignon, who mastered the blending of wines (assemblage) that underlies modern Champagne. Equally important, he realized that the bottles used at the time were too fragile. They broke under the outer pressures of handling, and the inner effervescence of the wine. By mandating stronger bottles, he made the export of Champagne possible.
Paris may not be the historical center of Champagne – that honor is given to the region that shares its name with the sparkling wine – but there are several wonderful Champagne bars in Paris to discover.
Is there a new baby in the family? Did you receive a promotion at work or get recognized for a job well done? Whatever the case, a time of celebration should be spent with family and friends, not on struggling to open the champagne! In this video we give you step-by-step instructions on how to sabre a champagne bottle like a pro.
The annual champagne tasting at Wide World of Wines in Washington, DC, let us preview an assortment of fine champagnes for the holidays. Champagnes are a blend of Chardonnay (flavor and consistency), Pinot Noir (depth), and Pinot Meunier grapes (a touch of spice). "Blanc de blancs" will use just Chardonnay, while "blanc de noirs" is Pinot Noir and Pinot Meunier based bubbly.
Did we leave out any useful tips on the Champagne region? Do you have any questions you need answered? Tell us below!
Sign up for our eNewsletter and get our FREE wine tasting guide.