|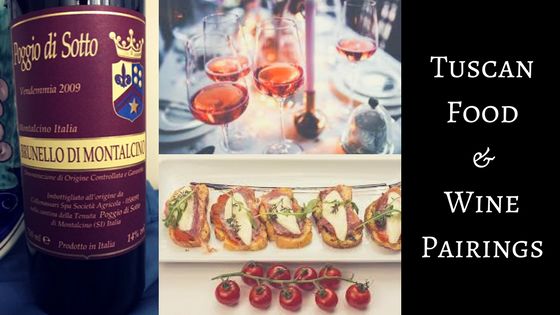 What Are the Best Tuscan Wine Pairings with Food?
Tuscan cuisine
is based
on
"
cucina povera
,"
a rural style based on seasonal and natural ingredients
.
Olive oil, unsalted bread, wild mushrooms, vegetables, and salt-cured or grilled meats form the base of this cuisine.
So what Italian wines pair best with this rustic cuisine?
First, Older Pecorinos

pair well with a red

Sangiovese-based wine. Try a Brunello di Montalcino or Vino Nobile di Montepulciano.

Second, try young Pecorino cheese with

white

Vermentino

from neighboring Liguria.

Next, antipasta selections marry well with red Vino Nobile or white Vermentino, or a Sangiovese rosé.
Also, soup: la ribollita and pappa al Pomodoro with Chianti Classico.
Then, pasta: Try

pici

(fat spaghetti) with veal ragu with

Brunello, Vino Nobile, or Chianti Classico.

Grilled meats are well complemented with Brunello di Montalcino
Try game meat with a rich Brunello di Montalcino
Fish pairs well with Vino Nobile de Montepulciano
and Finally, dessert with Vin Santo is sublime
Tuscan Wine-Red Wines
Tuscan wines are acidic and age-worthy
. More than 80% of Tuscany's vineyard area
is planted
to red grapes. T
he
Sangiovese
grape is the primary grape in Tuscany's three most important red wines:
First, Brunello di Montalcino

Then, Vino Nobile di Montepulciano

and finally, Chianti Classico
These are the names that appear on labels. Super Tuscans are also regarded Tuscan wines.
Cabernet Sauvignon
and other international grape varieties are the grapes found Super Tuscans.
Tuscan Wine-White Wines



The most important Tuscan
whites
are Vernaccia di San Gimignano, Trebbiano Toscano, and Malvasia Bianca Lunga
.
Vernaccia

is an ancient grape, indigenous to the hill town area of San Gimignano, the only main area you find this grape. You will find this wine c

risp and delicate, with floral and almond notes

.




Trebbiano

is the region's workhorse grape. It blends well to add acidity and neutrality. You can find this grape in the sweet dessert wine Vin Santo.




Malvasia

is used

today in the production of Vin Santo.




Moscadello di Montalcino

, a specialty of Tuscany, is a

slightly

bubbly sweet wine.



Your next Tuscan wine inspired meal:
Tuscan Wine and Cheese Pairings
Pecorino Toscano
DOC is Tuscany's most important cheese. It
is made
from 100% sheep's milk. The town of
Pienza
produces the most Pecorino in Tuscany. Pecorino is a treat when
young and fresh. It can also age for months. This yields a hard texture (like aged Parmigiano-Reggiano) and nutty flavor.
Try Pecorino with antipasti, a salad course, with crusty bread. Likewise, it pairs well with a light main meal, or for dessert served with fresh fruit or fig jam. Young Pecorino cheese pairs
best with white wine such as
Montenidoli Vernaccia di San Gimignano
.
(Some Vernaccia wines are
lightly
oaked, including a few from the Montenidoli range. This will not contradict the wine/cheese flavor match
.)
Pair older Pecorinos

with a red

Sangiovese-based wine, such as Brunello di Montalcino or Vino Nobile di Montepulciano.
In the springtime,

young Pecorino cheese

paired with

fresh fava beans

is a Tuscan favorite

.

A refreshing white

Vermentino is a lively pairing to

usher in the spring season

. Also, crisp

Vermentino wines

from neighboring Liguria add sparkle to the dish.
Alongside Pecorino Toscano, a typical
antipasti spread includes olives,
salumi
(wild boar),
crostini
(canapés topped with paté or vegetables), and
bruschetta
(pronounced "brew-sketta")
.
Many flavors work on an antipasti platter, so
white and red wine selections mentioned above
work well
.
In keeping with its rustic roots, a Tuscan meal includes a
bread-based
zuppe
(soup)
rather than pasta for the first course of a meal
.
Classic first courses include

la ribollita

and

pappa al pomodoro

.

First la ribollita's main ingredients are leftover bread, cannellini beans, lacinato kale, cabbage, and inexpensive vegetables such as carrot, beans, chard, celery, potatoes, and onion. This dish pairs very well with a bottle of Chianti.
Second, pappa al pomodoro combines a bread-based soup with tomatoes, bread, olive oil, garlic, basil, and other fresh ingredients. Chianti or Chianti Classico pair very well with this dish.

Lastly, try Tuscan specialties such as

pici

(fat spaghetti) with veal ragu or a restaurant's house-special ravioli

. Brunello, Vino Nobile, or Chianti Classico pair well with this dish.
Want to taste great Tuscan wine and food in Italy? Join one of French Wine Explorers group or private tours to Italy!
Secondi (Second or Main Course)
Tuscan main courses include a variety of options.
Grilled meats make a delicious entrée. Bistecca all Fiorentina, a large Porterhouse steak, offers a great local delicacy for two (or more) people.
Also game meat, such as rabbit, is found in a specialty dish of stewed rabbit with olives.
Lastly, Tuscans along the coastline often include fish.
Tuscan Wine Pairings for the Main Course:
For meat lovers, the bigger the wine the better!
First, Brunello di Montalcino such as Casanova di Neri, Poggio di Sotto, and Il Poggione pair very well with the meats of the main course.
But fish dishes generally pair better with lighter reds such as Vino Nobile di Montepulciano.
Dolci (Dessert)

Vin Santo ("Holy Wine") is a sweet wine made throughout Italy, but is decidedly a Tuscan favorite.
The white grapes of Malvasia and Trebbiano dry on cane mats or in bunches from rafters.
Then, after several months, the grapes go through a press and age for at least three years in buildings where the temperatures rise and fall with the seasons.
Finally, the resulting wine ranges from dry (slightly oxidized like Sherry) to sweet and opulent.
Vin Santo tastes amazing on its own, or with almond cookies called Cantucci or Biscotti di Prato. Frescobaldi produces of many styles of wine, including Vin Santo.
In conclusion, Tuscan cuisine offers comfort and familiarity. It produces the perfect meal–for a summer's day, or a winter's night. Tuscan wine offers a perfect pairing for your meal, from beginning to end!
Ready to plan your dream tour?
Start here to see our tours by region