|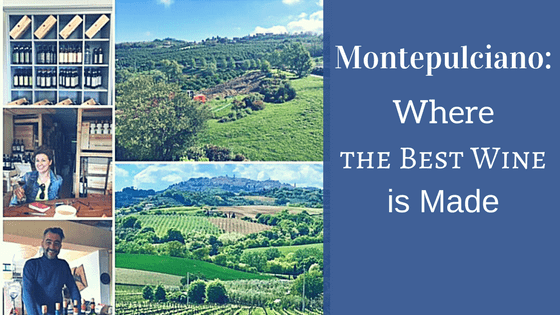 Montepulciano Italy: Where Some of the Best Wine is Made
Understanding the character of the Montepulciano Italy appellation in Tuscany is by comparison a simple exercise! This article will help summarize the highlights of the region.
Italy offers some of the best wines in the world, and is also perhaps the world's most complex wine producing country. In Italy there are:
20 major regions,
over 400 designated quality appellations (denominazione),
and nearly 1,000 important wine grapes.
Tuscany has more quality appellations (52) than any other Italian region except Piedmont.
Montepulciano is one of six breathtaking hill towns dotting the Tuscan horizon near Siena. (The other five important hill towns are: Cortona, Montalcino, Pienza, San Gimignano, and Volterra.) Today, the towers of well-preserved medieval fortezzas (fortresses) atop each hill town beckon visitors to explore some of Italy's finest food, wine, and Renaissance architecture. A high-altitude network of rolling hills creates the perfect setting for quality hillside vineyards.
Montepulciano Italy
Mountains (to the north), rivers (throughout), and the Ligurian Sea (to the west) are key moderating influences affecting climate and growing conditions of Tuscany. Montepulciano lies on the border of Umbria, situated between Val di Chiana and Val d'Orcia river valleys. Nearby Mount Amiata protects the area from humid ocean currents and bad weather. Proximity to the Appenine mountains creates a cool climate.
History
The wines of Montepulciano date back to the Roman era. Documents reveal the existence of a wine export industry as early as the 14th century. Montepulciano enjoyed a "noble" reputation for quality wine. The first official use of the term Nobile appeared on labels in 1787. As other Tuscan wines gained popularity in the 19th century, Montepulciano's ancient prestige waned. It wasn't until the 1930s that Montepulciano winegrowers started work to rebuild quality and global recognition.
Grapes
In Montepulciano, the red grape Sangiovese is called Prugnolo Gentile and must be 70% of the Vino Nobile blend. It is typical these days for the amount to be closer to 90% as winemakers get better at taming the grape's high acidity and austere tannins.
Four red blending partners are permitted. Three traditional Italian grapes:

Canaiolo
Colorino
Mammolo

Only one international variety is permitted:
Montepulciano is also the name of a grape, which can be confusing since it is grown in the Abruzzo region. On labels, it is called Montepulciano d'Abruzzo. The grape and the place share the same name, but nothing else.
Want to learn more about Montepulciano Italy? Check out our Italy wine tours page.
Classification and Labeling
There are three appellations in Montepulciano, and no official sub-zones:
Vino Nobile di Montepulciano is one of Tuscany's 11 DOCG appellations.
Rosso di Montepulciano is one of 41 Tuscan DOCs.
Vin Santo di Montepulciano DOC is dedicated to the sweet specialty wine of Italy made from Malvasia, Trebbiano, and/or Grechetto Bianco. One of these grapes must constitute 70% of the blend.
Benchmark
Vino Nobile di Montepulciano is characterized by aromas and flavors of violets, cherries, and warm spices. Due to high acidity and pronounced tannins, Vino Nobile can be harsh and tricky to balance. These same qualities also make it an age-worthy wine.
Producer Spotlight: Canetto and Boscarelli
Azienda Agricola Canneto
A Swiss family purchased Azienda Agricola Canneto in 1987 when the 119 acre estate became available. It is unusual to have such a large property of contiguous vineyard sites. Today, 74 acres are under vine – 40 reserved for Vino Nobile – and 10 acres are planted with olive trees. The tasting room is easily accessible from the hill town of Montepulciano by car, bicycle, or even on foot. The owners have created a welcoming place to taste wine and experience pairing the wine with food. Wines can be purchased at the shop, or shipped globally.
Canneto produces a classic trio of wines:
Vino Nobile di Montepulciano DOCG
Vino Nobile di Montepulciano Riserva DOCG
 and Rosso di Montepulciano DOC
In addition, Canneto makes:
a varietal Sangiovese wine called Casina di Doro
a Sangiovese/Merlot blend called Filippone
a light, refreshing white blend of four grapes called Calamus
and a sweet botrytized wine (like Sauternes) called Il Muffato
Poderi Boscarelli
Paola De Ferrari Corradi is the current owner of Poderi Boscarelli. She is the daughter of Egidio Corradi, who hailed from Genoa and founded Boscarelli in Montepulciano in 1968. The widowed Paola took the reins of the company in 1983 when her sons Luca and Nicolò were young teenagers. Today the winery produces 100,000 bottles per year. Vino Nobile represents about 80% of total production, including single vineyard selections from Sotto Casa and Il Nocio ("walnut"). In addition, Boscarelli offers a blend of Sangiovese and Merlot, and in some years produces a Cabernet Sauvignon and Merlot blend. In addition to olive oil production, Boscarelli makes Grappa.
Note: "Azienda Agricola" is a commercial farm. "Poderi" (plural of podere) means multiple farms. The terms are quite similar and will appear on many wine labels. The choice of business description is usually an historic artifact.
Receive timely updates and promotions and a free Guide to Wine Tasting Like a Pro-Click Here!