|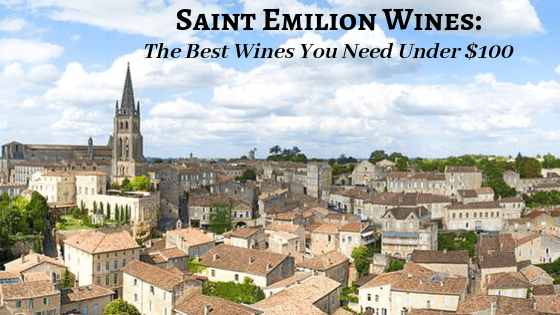 Saint Emilion Wines: The Best Wines You Need Under $100
St. Emilion Wines can be pricey, luckily, you can find great values as well.  Here is our shortlist of Saint Emilion wines under US$100:
Chateau Pavie-Macquin
Chateau Figeac
Chateau Canon
Chateau Beausejour-Becot
La Tour Figeac
Chateau Balestard la Tonnelle
Chateau Moulin St. Georges
The visitor to Saint Emilion, about an hour drive from Bordeaux, is in for a memorable excursion. This area produces many of France's finest wines, and it does so in a region that is well worth visiting. Here, I'll offer some of my favorite Saint Emilion wines that are relative bargains. But first, let's survey the three regions of Saint Emilion. Here are the most famous estates, which often have the highest prices.
Top Growth and Second Wines
On the hillside slopes of Saint Emilion, for example, a bottle of Chateau Ausone, now may cost $400 – $800. That's the price of a case of this wine thirty years ago! Ausone is one of the rarest of the great Bordeaux wines. I once enjoyed a luncheon at Chateau Ausone where I, and a lucky group of guests, drank a bottle of their 150 year old wine. A more accessible treat from the same hilltop slopes is Chateau Pavie:

their 2006 costs $279
their Pavie-Macquin from 2015 is available for $85

Then on the neighboring Pomerol plain are several excellent Saint Emilion wines. These include perhaps the most prestigious wines from this region:

Cheval Blanc (2014, $499)
Chateau Figeac (2014, $115)

And finally on the hilltop of Saint Emilion itself there are several excellent wines.

Chateau Canon (2011, $99), a sturdy and delicious wine rather like a Pauillac from the Medoc region is one of those.
Excellent Values under $100
Let's explore some of the fine Saint Emilion wines that are more reasonable in cost.
Let's start with Chateau Beausejour-Becot (2014, $49).

This is a Premier Grand Cru Classe B (a step below Ausone and Cheval Blanc). It is 73% Merlot (usual for these blends), 21% Cabernet Franc, and 6% Cabernet Sauvignon. This is a well-made wine, with 5,000 cases produced per year.
It had been split into two estates in 1869 (which are now called Beausejour and Becot). In the 1990s the owner of Becot added two small acreages to the blend (common practice in the Medoc). As a result he lost his Premier Grand Cru ranking. It was restored in 1996. This historic estate now sells a fine 2014 wine for just $40, if your retailer can find it!

Next, La Tour Figeac was separated from Chateau Figeac in 1879.

It enjoys a superior terroir on the Pomerol plain. It is a very well-made wine, rated a Grand Cru Classe since the first Saint Emilion classification in 1955. It has been family owned since the early 1970s. It is elegant and spicy, one of my family's favorite Saint Emilion wines. I'm sure that you will savor it too.
Just Outside of Saint Emilion: Excellent Values under $100
Finally, located outside the town of Saint Emilion is Chateau Balestard la Tonnelle.

This is the estate of Jean Capdemourlin, mentioned above.
It is 70% Merlot, 25% Cabernet Franc, and 5% Cabernet Sauvignon. It has a 16th century tower ("tonnelle") in the middle of its vineyard. Sitting on 25 acres, its vines average 33 years old. This Grand Cru Classe has purple color, with taste of berries, great balance and finish.

Likewise, there's Chateau Moulin St. Georges.

Owned by the Vauthier family (that also owns Chateau Ausone) it is also a relative bargain. It is $49 a bottle.
2,500 cases are made, from the same production team that makes the superb Ausone – at 5% of the cost. It comprises just 17 acres, 80% Merlot and 20% Cabernet Franc.  In conclusion, t

his is a connoisseur's wine – I know you'll enjoy it!