|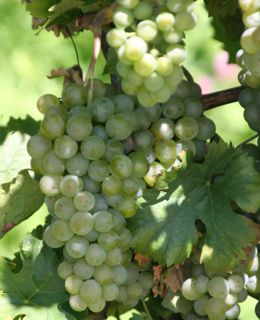 Riesling Wine: Tasting From France and Germany
Readers will recall that my fondness for the Riesling wine of Alsace began at Riquewihr, when I enjoyed cool Sylvaner wine in a chilly cave of the Hugel firm one sweltering August.
Riesling wine has another pleasant association for me, when my family first shared my enthusiasm for Alsatian wines. It was at an Alsatian restaurant in Paris, just a few yards from the bridge that separates the Ile de la Cite from the Ile St. Louis. The restaurant was bustling with customers. One waiter, trying to balance two trays of choucroute garnie and a pitcher of chilled Riesling wine, called to the crowd waiting for tables, "Laissez passer le beau garcon!" We were charmed, and have called the restaurant, still flourishing as the Brasserie de l'Isle St. Louis, the "Handsome Waiter Restaurant" ever since!
Riesling is becoming better known in the United States, although it is far from a familiar wine grape. Surely Chardonnay has more fans, and probably Sauvignon Blanc as well. But it is a noble grape, one with a long history of cultivation. Furthermore, it has an assertive flavor that goes well with many foods. It has even made my short list for serving with that perennial mystery, the Thanksgiving turkey!
Its home is Alsace and Germany, so we'll savor several varieties of the Riesling wines, from both sides of the border. As a bonus, it seems that warmer temperatures have recently produced excellent vintages in a climate that in the past was often cool and rather chancy.
Let's start with a Hugel Riesling from the 2012 vintage ($22). This is a dependable, well-made wine from Alsace, where Riesling has been planted since 1477.

Hugel is a family firm that is nearing its fourth century of wine production!
The Riesling grapes ripen late, age very well, and Hugel's version is a rather dry, elegant wine, an affordable luxury.
It can be served as an aperitif, with seafood or as noted, turkey. It has some bite, and stands up well with assertive flavors. Riesling is the star of Alsatian wines. A sunny climate and mountainous terroir are said to factor into the rich, balanced taste of these wines.
Riesling is also made as a dessert wine, from late harvested grapes (such as the selection de grains nobles offered by several Alsatian winemakers).
The Albrecht Vendange Tardive Riesling (2007 half bottle $30), for example, is a sweeter wine, with a spectrum of flavors, nice acidity and extra sweetness.

Try it with dessert, when you would serve a Sauternes.
You might even serve it after having enjoyed a Hugel Riesling with the main dinner course, for a pleasing contrast of Riesling styles.
Across the Rhine, Riesling wine can taste like a different grape varietal entirely, as I was surprised to discover when sampling these wines recently for my wine tasting class. In part, this is due to differences in soil and climate in Germany, and to oak aging being rarely used. But mainly, the difference is due to the fact that German Riesling wines have their own classification, in which degrees of sweetness of the wine plays an important role.
It ranges from the semi-sweet Kabinett, then to the Spatlese ("delayed harvest"), which are picked seven days later than the normal harvest date. German classifications continue on through several very sweet late harvest wines (Auslese, Beerenauslese, and Trockenbeerenauslese). And so, with a Kabinett German wine, you start with a wine noticeably sweeter than an Alsatian Riesling.
We tasted two well regarded German Riesling wines, a Bernkastler Kabinett Dr. Thanisch (2012, $21), and a Selbach Saar Riesling Spatlese (2012, $19). They were both quite sweet by comparison with the Hugel Riesling, almost, one might say, different varietals entirely.

The Kabinett was semi-sweet, with a low alcohol content (just 8.5%), and a pleasing minerality.
It comes from one of the premier vineyards of the Mosel and would go very nicely with Maryland crab cakes.
It didn't resemble the Hugel version of Riesling at all, being lighter, sweeter, balanced but with even lower acidity. The wine should be compared not with the elegant, rather dry Riesling of Alsace, but instead with Kabinett wines from other parts of Germany.
The even sweeter Selbach Riesling is from one of Germany's most famous locations, the valley of the Saar River. It was sweet and floral, and on the light side. It is suggested that this wine would go well with salads and mild blue cheeses.
And so our tasting led to some new Riesling wine discoveries. If sweeter wines are your preference, there are discoveries to be made here.
Sign up for our eNewsletter and receive our FREE wine tasting guide.