|
Chateauneuf-du-Pape Wines
Why do I love Chateauneuf-du-Pape Wines? The first French wine I ever ordered with dinner was at a small French restaurant in New York. I was spending a short fall vacation with a fraternity brother, seeing as many Broadway shows as we could afford. The restaurant was his favorite, and when it came time to order a bottle of wine, I asked his advice. "I don't know much about wines, but I do know that I like Chateauneuf-du-Pape," he said. We ordered a bottle, and it was delicious, rather heavy and full of robust berry flavors. These wines with their distinctive crest became instant favorites, and have remained such ever since.
Fast forward several decades. We are visiting the famous Chateau Beaucastel in the Chateauneuf region. It is a sunny summer afternoon, and the Perrin family welcomed us warmly. We savored several vintages, while our host urged us not to forget white Chateauneuf-du-Pape white wines. "Contrary to popular belief," he assured us, "these white wines also gain in complexity during aging." In turn, I asked why the wines of this estate were considered to be amongst the very best in the region. He pointed out a number of rocks that were clearly visible on the terrain. "Those rocks have something to do with it," he replied. "The rocks store up the heat of a summer's day, and then radiate it back through the soil during the summer nights." I had heard exactly the same explanation from the winemaker at Chateau Latour in the Pauillac region of Bordeaux!
Chateauneuf-du-Pape is the pride of the southern Rhone Valley. In contrast to the wines of theNorthern Rhone, which feature the Syrah grape with its forward structure, the Southern Rhone'spride is in the thirteen grape varieties that may be used in making Chateauneuf-du-Pape. The ten grapes traditionally used include Grenache, Mourvedre (favored by Beaucastel) and Syrah, which add color and structure to the finished blend. Mouscardin, Cinsault, Counoise and Vaccarese add aging potential and also affect the darkness of the wine. Counoise and Picpoul grapes are there for freshness and aroma, while Clairette and Bourboulenc add finesse. Traces of three other grapes, added when the rules of the appellation rules were decided, complete the thirteen varieties which may be used in the wine.
Oddly enough, there are no minimum requirements for the use of these grape varieties in the final wine. The blend depends entirely upon the winemaker – even if he chooses to make the wine from only one grape variety! Chateau Beaucastel, on the other hand, traditionally uses all thirteen varieties, with many present in just trace amounts. Beaucastel is often in the $90 to $100 range.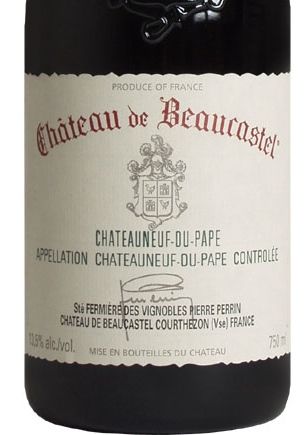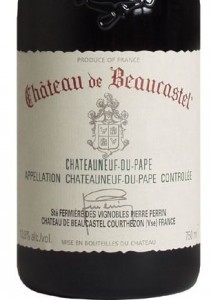 An insider tip: when are Chateauneuf-du-Pape wines not Chateauneuf-du-Pape wines? You may wish to try Perrin's excellent "Coudoulet," at about $30 a bottle. These vineyards adjoin Perrin's flagship Chateauneuf-du-Pape vineyards. Coudoulet is therefore not a Beaucastel second wine, since different vineyard properties are involved. It is also a Cotes du Rhone, not a Chateauneuf-du-Pape, although many of the same grapes are used in this blend. Here the fine Perrin craftsmanship is evident, making Coudoulet a bargain. Other Chateauneuf-du-Pape favorites include:
Guigal (2007, $40)
Vieux Donjon (2009, $55)
I have also enjoyed:
Clos de l'Oratoire
Elizabeth Chambellan (recent excellent vintages are a comparative bargain)
La Nerthe
Nature has been kind to this region in recent vintages. The 2005, 2009 and 2010 vintages are all superlative, and the 2012 is also well regarded. Following the lead of Beaucastel and its special "Hommage a Jacques Perrin" cuvee, many of the leading Chateauneuf houses now offer special (and costlier) blends for your enjoyment. For example:
Grand Veneur (2010, $40), offers "Les Origines" (2010, $50), and a "Vielles Vignes"cuvee (2012, $90).
The well-regarded Usseglio house offers a number of special cuvees, including "Deux Freres" (2005, $119) and "Mon Aieul" (2005, $80).
I have found these special blends to be worth the extra cost. They tend to be rich with flavor, offering a taste spectrum for your enjoyment.
And what of the white wines that the Perrin family urged? My special favorite is "Les Sinards."Technically not part of the Beaucastel grand cru domain, it is from parcels of land said to have belonged originally to the Church during the time that the Popes were resident in Avignon. This is a delicious blend, and a bargain at $35 (2005). It goes well with any firm fish such as salmon or swordfish. Perhaps your wine retailer could order some bottles for your enjoyment. It's well worth the effort!
Sign Up for our eNews articles and receive our Free Guide to Wine Tasting Like a Pro!