|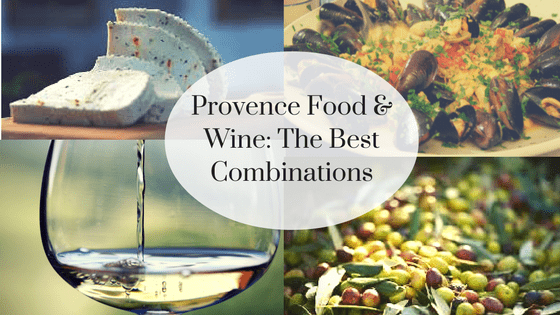 Provence Food and Wine: The Best Combinations
How do you start matching Provence food and wine? What are the key flavors?
Provence has many regional dishes, not just salade nicoise! Here is a guide to the best combinations of Provence food and wine.
Beef Stews (Daube)

These rich, melt-in-your-mouth meat stews, found throughout Provence, have regional variations. Tomatoes, olives, herbs and oranges can give added spice. In the Rhone Valley it is often served with rice, especially the nutty, red Camargue rice. Near Italy, pasta, polenta or gnocchi are the common accompaniments. Serve with a big fruit and spice red wine, such as Cotes du Rhone Villages or Chateauneuf-du-Pape.

Barbecue (Grillade)

Both fish and meat, cooked over an open grill, with herbs such as fennel, rosemary and thyme, are common barbecue items. The white wine of Cassis–with hints its of fennel seed, herbs and ripe fruit–is perfect with grilled fish. Pans of mussels cooked in their own briny juices need no more than a fresh loaf of bread and a bottle of cold rosé. Wild boar (sanglier) is also popular. This meat has a strong gamey taste which goes beautifully with the big meaty reds of Bandol.

Bouillabaise

Bouillabaise is actually two dishes in one: a soup and a stew. This dish is made with a large mixture of fish, flavored with garlic, saffron and hot cayenne pepper. The soup is served with toast rubbed with garlic, and a spicy sauce, called rouille. This powerfully flavored dish pairs well with a light and refreshing Grenache-based rosé.

Aioli and Brandade

Salt cod is a popular ingredient in both of these offerings. It was introduced to Provence by sailors from Portugal and further north. Aioli is a light meal of a poached salt cod steak served with vegetables. The vegetables will vary from season to season. The dish takes its name from the large bowl of garlic mayonnaise which accompanies the fish. Brandade is a purée of dried salt cod, olive oil and garlic served with boiled potatoes. The powerful flavors allow for matching with a gutsy red wine (Grenache or Syrah) in winter. In summer, a full-bodied white, such as those from the southern Rhone would be perfect.

Cheese

Most cheeses in Provence are made with goat milk (chevre). Ewe milk cheese (brebis) is also popular. Cow milk cheeses are more rare. The most important thing to consider is the age of the cheese. Young goat cheese is soft and creamy with a fresh lactic acidity. Old cheese is hard and pungent and better for cooking. The younger cheese is the flavor of summer. It is eaten with salads, fresh fruit (especially figs) and warm bread. It is delicious with an herby white wine made with Rolle (Vermentino). The strong, older cheese is for autumn and winter. Try with a fruity Grenache-based red.

Bakes

Tian is a traditional pastry-less quiche style bake. Made with pumpkin (or other vegetables), seasoned with herbs and garlic. Mixed with egg and cheese and a handful of rice (to absorb extra liquid), this is a hearty local dish. The combination of sweet pumpkin and salty cheese calls for a rich, oaked white wine. Another traditional dish is baked tomatoes, round zucchini, bell peppers and baby eggplant stuffed with ground beef. Serve these with a full-bodied rosé.

Olives and Olive Oil

Cream, butter and lashings of cheese are never found in Provencal cuisine. Olive oil is the go-to ingredient for salads, cooking and baking. Not all olive oils are the same, however. For a salad, strong olive flavored oils are good with a hint of pepper at the back of the throat. Not just a dressing, but an extra flavor when added to sweet ripe tomatoes and fresh greens. For frying, a more neutral oil is suitable. For baking bread (fougasse) and cakes, a light fruity olive oil gives extra flavor. Olives are the essential offering with a glass of wine before dinner. Rosé is often served, but try a glass of the aniseed flavored pastis for something different.

Desserts

With so much delicious fruit around in summer, there's hardly a better dessert. Try with a chilled glass of sweet muscat such as Muscat de Beaumes de Venise. In winter dried fruits, nuts, nougat and glacé fruits are traditional. The local sweet wine of Christmas is vin cuit, but a tawny port will give a similar traditional taste.
Do you have any favorite Provence food and wine combinations we didn't discuss? Tell us about it on Twitter–@FrWineExplorers. We'd love to hear your suggestions!
Sign Up for our eNews articles and receive our Free Guide to Wine Tasting Like a Pro!