|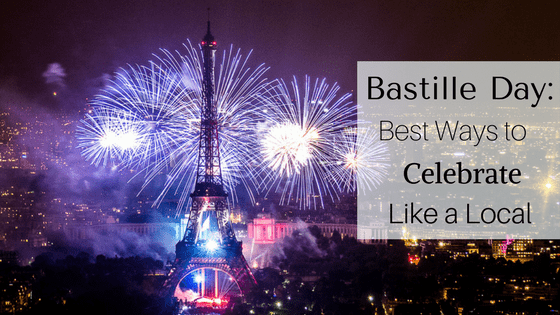 Bastille Day: Best Ways to Celebrate Like a Local
When it comes to Bastille Day in
Paris
, real estate is an important consideration. You'll find something to do pretty much anywhere you go in the city. But some places are far more exciting and enticing than others. Here are three of our absolute favorite places to celebrate
Bastille Day in Paris
.
There are several different firemen's balls in Paris. These balls have a
great ambiance
and allow you to dance and party with the locals, all for a very low price. In fact, most of these balls
are thrown
on a
donation-only
basis. So get a few Euros ready and
prepare your dancing shoes
for a night of fun.
Here's a list of the balls taking place in Paris on the
night of 13 to 14 July, 2017 (from 9pm to 4am):
Rousseau Station, 21 rue du Jour, 1st Arr. Metro Les Halles
Sevigne Station, 7-9 rue de Sevigne, 4th Arr. Metro Saint-Paul
CCL5 Station, 47-59 rue Monge, 5th Arr. Metro Place Monge
Colombier Station, 11 rue du Vieux Colombier, 6th Arr. Metro Saint-Sulpice
Blanche Station, 28 rue Blanche, 9th Arr. Metro Trinite d'Estienne d'Orves
Chaligny Station, 26 rue de Chaligny, 12th Arr. Metro Reuilly Diderot
Port-Royal Station, 53-55 boulevard Port-Royal, 13th Arr. Metro Les Gobelins
Grenelle Station, 6 place Violet, 15th Arr. Metro Commerce
Boursault Station, 27 rue Boursault, 17th Arr. Metro Rome
Montmartre Station, 12 rue Carpeaux, 18th Arr. Metro Guy Moquet
Bitche Station, 2 place de Bitche, 19th Arr. Metro Crimee
Menilmontant Station, 47 rue Saint-Fargeau, 20th Arr. Metro Pelleport
2. The Champs Elysées Military Parade
For something a bit more solemn, the military parade along the
Champs Elysées
is an excellent option.  (It's also the first official stop of the French President.)
Grab a spot along the famous avenue (get there by 8 if you want to be able to see!), and wait for the parade to begin at 10am at the
Arc de Triomphe
.
The parade will continue through noon,
just
in time to grab lunch before continuing the Bastille Day festivities
.
3. The Fireworks Display at the Eiffel Tower
The
Eiffel Tower fireworks display
is a must-see to end your Bastille Day celebration. Starting at 11pm on the 14th, the fireworks display will be visible for
just
over a half hour. But while many opt for the Champ de Mars,
we suggest
the steps of the
Palais Chaillot
.
Be sure to
get there early
to grab a seat. Consider having a picnic dinner on the steps at around 6 or 7 so that you have the ideal viewing location. And you won't
be bored
— a concert begins at 9pm before the fireworks show starts.
If you can't bear the thought of sitting still for so long, you'll be able to see the fireworks
anywhere in the city
that you can see the top of the Eiffel Tower
. Restaurants with a view and bridges throughout the city are all popular places to watch from.
Sign Up for our eNews articles and receive our Free Guide to Wine Tasting Like a Pro!