|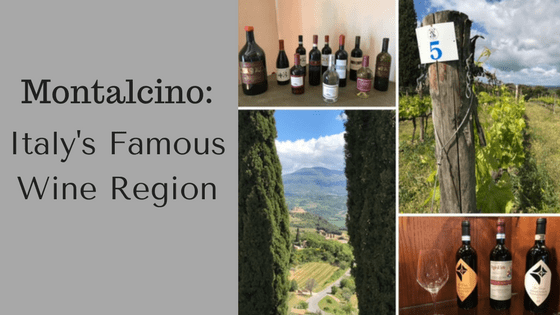 Montalcino is one of six breathtaking medieval hill towns dotting the Tuscan horizon. The towers of their 13th-century fortezzas (fortresses) beckon visitors to explore some of Italy's finest food, wine, and Renaissance architecture. Etruscan ruins from more than 1,200 years ago are a must-see for avid historians.
History
Montalcino dates back to Italy's Etruscan era (700 BC – 300 AD). The original village of Montalcino was built in the 10th century AD. Montalcino was an important locale in the Middle Ages because of its strategic position along the pilgrims' road to Rome. Wine production was an important part of the local economy. Travelers stopped to rest and sip sweet white wine made from the Moscato grape (called Moscadello locally). It wasn't until the late 1850s that Montalcino's red wines became prominent. The Biondi and Santi families were instrumental in this viticultural renaissance. (A family "merger" led to the creation of the well-known Biondi-Santi winery.)
Place
The climate of Montalcino is mostly Mediterranean. Three rivers – Asso, Orcia, and Ombrone – are major influences. The majestic Monte Amiata protects the area from excessive rain, humidity, and hail. Vines are grown on the slopes of the hill. Differences in elevation and orientation (aspect) create diverse meso-climates.
Grapes
The red grape Sangiovese is Italy's most widely planted. It is the main variety in most of Tuscany's red wines. Sangiovese is challenging to cultivate and quite site-sensitive, showing distinct character across regions.
Montalcino offers ideal growing conditions for Sangiovese. The particular biotype of the Sangiovese clone is Sangiovese Grosso but is called Brunello ("little dark one") worldwide. The red wines of Montalcino wines must be 100% Sangiovese Grosso.
Sangiovese wines are deceptively light in appearance, at most medium density in color. High acidity plus significant tannins mean that Brunellos can age for a long time. Typical benchmark aroma and flavor characteristics include violets, sour cherry, plum, tea leaf, licorice, earth, and underbrush (or bramble). With age, the wines can develop leather and tobacco notes.
The only white wine from Montalcino is Muscadello di Montalcino.
Want to learn more about Montalcino? Check out our Italy wine tours page.
Classification and Labeling
There are four appellations in Montalcino:
Brunello di Montalcino is one of Tuscany's 11 DOCG appellations and was the first Italian region to receive top status (1980).

Brunello is subject to very long aging requirements, the longest in Italy.
Brunello must age at least four years, including a minimum of two years in oak and four months in bottle. (Winemakers can adjust the oak vs. bottle combinations as long as the total time is four years.)
Riserva Brunellos must age at least five years with longer bottle-age requirements.

Rosso di Montalcino is one of 41 Tuscan DOCs.

Rosso is a fresh, lively, "drink now" wine.
It is essentially a second wine to Brunello.
Rossos are released one year after harvest and do not have oak-aging requirements.

Sant' Antimo DOC is smaller and less well-known.

The region is permitted to make Super Tuscan red blends and sweet white wines in addition to Brunello and Rosso.

Moscadello di Montalcino DOC continues the region's historic reputation for fine sweet wines.
Benchmark
The classic Brunello profile leads with floral and lively red fruit aromas. On the palate, Brunello typically shows complex notes of earth, licorice, dried fruit, and leather. Traditional-style Brunello is aged in large Slavonian casks (botti). Modern styles are aged in smaller barrels (barriques).
Winery profiles
Tenute Silvio Nardi was founded in 1950. Its three vineyard properties showcase the full expression of Sangiovese in Montalcino.
Manachiara faces east and south. The morning sun influences a full-bodied and powerful style of wine.
Casala del Bosco faces south and west. This vineyard captures the sweet light of the afternoon sun for an elegant and complex style of wine.
Poggio Doria occupies a premier location on the northwest side of Montalcino. The vines capture sunlight from every possible aspect throughout the day.
Nardi's three single-vineyard Brunellos can include the vineyard name on the label.
Former shipping executive Piero Palmucci founded his Brunello estate in 1989.
Research for a great site led him to Poggio di Sotto.
It is situated just outside the town of Castelnuovo dell'Abate in the southern part of Montalcino.
The vines of Poggio di Sotto grow at different altitudes overlooking the Orcia River Valley. The well-balanced wine is a blend of all three vineyards.
According to well-known wine importer and writer, Kermit Lynch: "The stellar reputation of Poggio di Sotto is built on powerful wines that nevertheless leave the limelight to finesse and balance."
Palmucci sold Poggio di Sotto in 2011 to Claudio and Maria Tipa. The siblings already owned ColleMassari vineyard in Montecucco DOC (Upper Maremma) and Grattamacco vineyard in Bolgheri DOC.
Visitors can buy and ship wine from each winery. Some magnums and library wines of older vintages are available.
Ready to plan your dream tour?
Start here to see our tours by region