|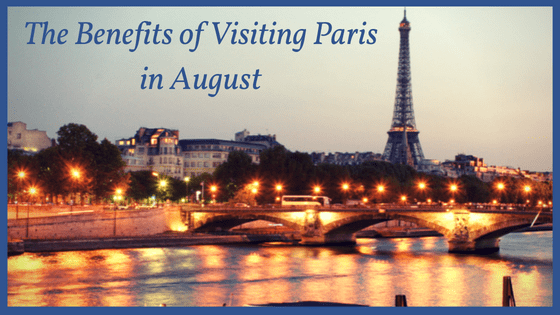 Why Travel To Paris Is A Great Idea Now
August is a peculiar month to visit Paris. While there's no shortage of visitors to Paris in August, most of the locals disappear for les grandes vacances, a month-long vacation. The city can therefore feel a bit like a shadow of itself. You'll find that visiting Paris in August has both advantages and disadvantages.
Paris in August, the Downside
Let's start with the bad news, which is not so bad with a little planning:
On the downside, visitors who arrive in Paris in August will note that many things are closed for the summer.
Larger museums will remain open. But many restaurants, cafés, grocery stores, and bakeries close for the entire month.
This means that planning is even more important when you visit Paris in August. To avoid disappointment be sure to call the restaurants you want to eat at well in advance to make a reservation.
But that's not the only downside to visiting Paris in August.
Most years, Paris is quite warm in summertime.
Tourists, particularly Americans, will notice that the city is missing something that seems essential to warm-weather survival in other parts of the world: air conditioning. You won't find it most places in Paris, even in many hotels and restaurants. Even when places have it, temperatures are usually kept much warmer than you're used to back home.
If you are planning a wine tour in France, find out the best months to go: Wine Tour Tips: Top 5 Planning Suggestions for Your Dream Tour
Paris in August, the Upside
There are some major benefits to visiting Paris in the summertime.
First, the city empties of locals, meaning that you're far more likely to be able to find a furnished apartment for rent. Staying in an apartment rather than a hotel makes Paris feel much more like home, and you can even visit its markets and cook up a Parisian dinner.
Since many of Paris' locals have disappeared, the metro is far less crowded than it would be at other points in the year, making it far more pleasant to get out and visit your favorite spots.
You'll also be able to take full advantage of Paris' parks, given the good weather. Paris has over 400 parks, each of which has different offerings, from puppet shows to people watching to picnicking locales.
And parks aren't the only outdoor activities to enjoy in Paris. Sidewalk cafés or even just wandering through Paris' streets (with an ice cream cone in hand, if you like!) are the perfect places to benefit from Paris' August weather.
Receive timely updates and promotions and a free Guide to Wine Tasting Like a Pro-Click Here!