|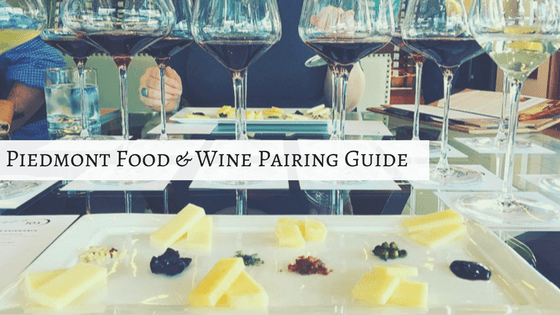 Expert Advice on How to Pair Piedmont Wine & Food
Piedmont is one of Italy's most iconic wine regions. It is notable for producing the powerful, age-worthy red wines, Barolo and Barbaresco—known as the "king and queen" of Piedmont wine. Both are made from the Nebbiolo grape. Though these are the most notable there are other Piedmont wines worth trying!
Piedmont's white wines make up one-third of the region's production. The Arneis (from Roero) and Cortese (from Gavi) grapes are made into still wine. The Moscato grapes are cultivated for sparkling wines ranging from sweet and lightly fizzy (the acclaimed Moscato d'Asti) to dry (Spumante Bruno Extra Brut).
The diversity in flavors and profiles of Piedmont wine might seem a challenge to pair with cheeses, main courses, or desserts. However, with just a little planning and some expert know-how, you can prepare a delicious, perfectly paired Piedmontese meal from hors d'oeuvres to dessert with ease.
Italy Cheese and Piedmont Wine Pairing
Italy uses the same system to control the names of cheese as it uses for wine: Denominazione di Origine Controllata (DOC). The main DOC cheeses from Piedmont are Fontina d'Aosta, Robiola, and Toma. (There are a few others, but they are rare, and only available in Italy.)
Fontina d'Aosta

is a semi-firm cheese made from raw cow's milk made in large wheels (about 18" in diameter). It has a grassy, nutty flavor. It's most famous local use is in fonduta, a dish similar to fondue only richer because it is made with butter, eggs, and white truffles. This cheese pairs well with with a red from the region such as Marchesi di Gresy Barbaresco.

Robiola

is actually a group of white Piedmont cheeses made with sheep, cow, and/or goat milk. The milk is generally unpasteurized.  Robiola is a good food companion, and pairs well with white Piedmont wines. I recommend you try it with Matteo Correggia Roero Arneis.

Toma

is a soft-ripened, gently pasteurized cheese, much like French tomme or tome. It is a broad class of cheese made from the milk of multiple herds from a specific area (e.g., Piedmont). It is crafted by a cheese making specialist, not by a generalist farmer. The flavor has hints of truffles and mushrooms and a garlicky aroma. Pair this soft cheese with a red such as Barbera d'Asti and Barolo from Barale Fratelli.
Related Content You May Enjoy: What Are the Best Tuscan Wine and Food Pairings?
Main Courses with White Piedmont Wine
If you're looking to focus your meal around white wines, try these Piedmont specialties:
Bagna Cauda, an anchovy and olive oil dipping sauce served warm with vegetables. This dish pairs especially well with wines made with the Arneis grape. These whites are comparable to Bordeaux's Sauvignon Blanc, with grassy notes and a bitter almond finish.
Vitello Tonnato, which is thinly sliced veal served cold and topped with a thick, flavorful tuna sauce that has a consistency like mayonnaise.
Both Arneis and Gavi go well with these unique regional dishes. In addition to the Correggia Arneis, mentioned above, Gavi selections to try include Broglia and Pio Cesare wineries.
Main Courses with Red Piedmont Wine
Red wine naturally dominates Piedmont wine and food matches. Two types of pasta are specialties in Piedmont:
Tajarin (known as tagliolini, taglietelle, or taglierini elsewhere in Italy) is a very long, thin pasta made with 40 egg yolks. It is traditionally served with a meat sauce or butter sauce, the latter usually garnished with truffles. There are many recipes available online for making tajarin pasta at home. If you don't have a pasta machine (or the time to make the pasta yourself!), there are several options to buy pre-made tagliolini, taglierini or tagliatelle pasta from companies online or in some cases at your local grocer or Italian specialty shops.
Agnolotti del Plin ("to pinch") is a small, square ravioli handmade pasta pinched together with two fingers.
Tartufi Bianchi (white truffles) from Alba are the most famous and expensive truffles in the world. They are harvested in October and November, and celebrated annually during the Fiera Internazionale del Tartufo Bianco d'Alba.
Pairing suggestion for pasta with white or black truffles: Gaja Barbaresco.
Pairing suggestion for pasta with tomato-based meat sauce: Massolino Barolo.
Piedmont Wine: Sweet Bubbles for Dessert
And for dolce (dessert)? Moscato d'Asti is a must. Typically finished at 5.5% alcohol, Moscato d'Asti provides a light finish to any Piedmontese meal. Avoiding a clash between the fruity wine and chocolate, two non-chocolate Piedmont specialties are:
panna cotta (literally "cooked cream")
and crostata (a fruit tart)
Pairing suggestion: La Spinetta Bricco Quaglia Moscato d'Asti.
Now that you have some of the basics of Piedmont wine and food pairings you can create a Piedmontese meal with confidence and finesse.
If you do, share some of your photos with us on our Instagram or Facebook page!
Receive timely updates and promotions and a free Guide to Wine Tasting Like a Pro-Click Here!