|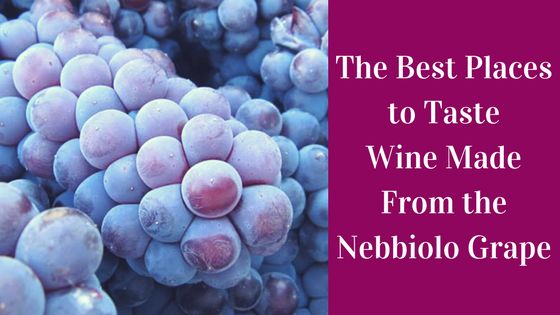 Where Can You Find the Best Nebbiolo Wines of Italy?
Nebbiolo wines of Barolo are among the finest in the world. Critics love their full-bodied texture and deep flavors. The Nebbiolo based red wines of Barbaresco are underappreciated gems. Generally softer and more approachable than Barolo, due to warmer climate and shorter barrel aging requirements, Barbaresco wine is delightfully refreshing.
So you're on your way to Northern Italy and you'd like to try wines from each region. Or perhaps you're at home and thinking about tasting wines made from the Nebbiolo grape. Where do you go? What wineries should you focus on?
Here's a list of wineries to visit or to look for at your local wine store.
Gaja
Bruno Giacosa
Massolino
Barale Fratelli
Produttori del Barbaresco
Tenute Cisa Asinari dei Marchesi di Grésy
La Spinetta
Albino Rocca
Nebbiolo Wines: Barolo Wineries
The commune of Serralunga d'Alba is home to vineyards owned by some of Piedmont's finest winemakers. Both Angelo Gaja and Bruno Giacosa have been influencers garnering international acclaim for Nebbiolo based wines. They are  among an elite group of winemakers who own vineyard properties in Barolo and Barbaresco appellations (and elsewhere).
Gaja settled his main wine making operation in the town of Barbaresco.

The Gaja family has been making wine in Italy for over 300 years.
The winery is known simply as Gaja. Starting in 1967, Angelo Gaja started experimenting with modern vinification techniques.
He is credited with introducing the smaller French barrique into the winemaking process, moving Barbaresco into cult status.
Angelo's daughter Gaia Gaja (both pronounced "guy-ah") is now an active partner in the family business.

Bruno Giacosa is a third generation winemaker whose daughter Bruna Giacosa is assuming leadership of the family business.

Among his innovations are introducing the first single-vineyard (Cru) bottling in Piedmont (1964) and helping to bring the white grape Arneis from Roero back from near extinction (1970s).
Bruno Giacosa makes wines only from single-vineyard properties in Barolo and Barbaresco.

Massolino, run by fourth-generation brothers Franco (viticulture) and Roberto (winemaker), is also located in Serralunga d'Alba.

An ambitious renovation project transformed the family's 1930s-era winery into a state-of-the-art winery operation by cleverly expanding the area underground.
The historic structure is intact – albeit with a fresh and welcoming new look.
In addition to single-vineyard Barolos, Massolino makes red wines from other important grapes permitted in Piedmont, as well as Chardonnay and Moscato d'Asti.

Barale Fratelli is the 19th century manor house nestled in the historic heart of the Barolo commune. Compared to others, it might be considered an "urban" winery!

The winery was established more than 150 years ago, and today it is run by fourth-generation Sergio Barale and daughters Eleanora and Gloria.
The winery offers four single-vineyard traditional-style Barolos; a riserva Barolo from the Bussia vineyard in Monforte d'Alba; and several DOC wines from various parts of the region.
A special treat from Barale Fratelli is Barolo Chinato (pronounced "kee-na-to), a slightly bitter spicy wine aromatized with herbs and fortified with spirits.
Nebbiolo Wines: Barbaresco Wineries
Produttori del Barbaresco is a cooperative of 54 members.

It was founded in 1894 by Domizio Cavazza, then-director of the Royal School of Enology in Alba.
All wines from Produttori are made in the traditional style – long maceration and aging in large, neutral casks.  This helps to showcase the terroir of the region.
There is some variation in quality among these many co-op members.  Still, Produttori offers an unparalleled opportunity to sample the diversity of the region.

Tenute Cisa Asinari dei Marchesi di Grésy owns four estates in the region.

The di Grésy family roots in Piedmont trace back to 1650.
The current winery operation was established in 1973 by Alberto di Grésy. In 2013, he was joined by his children Alessandro and Ludovica.
The most important vineyard, owned exclusively by di Grésy since 1979, is Martinenga in the heart of Barbaresco. The vineyard is nestled in a natural amphitheater.

La Spinetta is a newer winery compared to others in Barbaresco.

Founded in 1977, La Spinetta sits north of the town of Barbaresco in Castagnole delle Lanze.
Following the entrepreneurial spirit of trailblazers such as Gaja and Giacosa, owners Carlo, Bruno, and Giorgio Rivetti purchased vineyards throughout Piedmont and Tuscany.
The Barbaresco collection consists of four single-vineyard wines: Gallina, Valeirano, Starderi, and Bordini.
La Spinetta exports 45% of its wines to the USA.

Albino Rocca's history goes back to the 1940s. That's when Albino Rocca's father started out as a farmer selling grapes to winemakers.

The family inherited vineyards in the 1960s, and thus was born the Albino Rocca winery.
His granddaughters Daniela and Monica run the business today after their father, Angelo, passed away.
The Roccas own three important Barbaresco Crus: Vigna Rocchi, Ovello Vigna Loreto,and Vigna Montersino.
In all, Albino Rocca produces six different Barbaresco wines along with a small selection of Piedmont reds and whites.
This list includes some of the best wineries from world-class wine appellations producing wines from Nebbiolo grapes in Italy. Babaresco wines are less tannic, and more homogenous in style and flavor, than Barolo.  Barolo is the new global darling of the bold-red-wine club.
You may not be able to find all these Nebbiolo wines at your local wine shop. If you're interested in tasting the full range of wines from these regions, book a wine tour to Italy!
Receive timely updates and promotions and a free Guide to Wine Tasting Like a Pro-Click Here!