|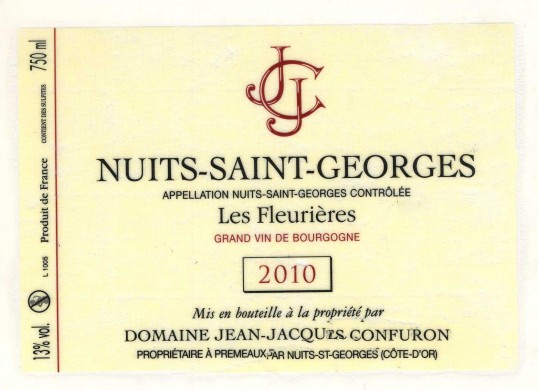 Discover Nuits-Saint-Georges Wine
Following the Vosne-Romanee region to the south, the Nuits-Saint-Georges portion of Burgundy is the last region of the Côte de Nuits, for which it provides the name. It is not a large region, barely 750 acres, and of that total, some 360 acres are in production for the famous premier cru vineyards upon which the fame of Nuits-Saint-Georges rests. For Nuits-Saint-Georges, like Saint Julien in the Bordeaux area of the Medoc, contains no grands crus. And like Saint Julien for the Bordelais, there are many Burgundy lovers for whom Nuits-Saint-Georges is their very favorite region of Burgundy.
How can this be the case?
There are over 40 premiers crus, and they are of high quality.
Their relative scarcity should be noted – 40 premiers crus which total just 360 acres means that each premier cru is in limited supply.
Let's look at several of the best known.  Les Saint Georges is 18.6 acres, Les Vaucrains just 13, and Clos de la Marechale is 23.6 acres. The others can be even smaller – Les Cailles, for example, is just 9.4 acres.
Wine lovers are beginning to discover them, and prices are rising accordingly. Since that is the case, I would suggest that you begin your enjoyment of these wines with a village appellation Nuits-Saint-Georges from a fine producer. These wines have been rising in quality, and are a dependable introduction to the region. Try a Latour Nuits-Saint-Georges from the flavorful 2010 vintage ($58). You will savor an excellent wine, with flavors of fruit and good structure. It is perfect with your roast for a festive Sunday dinner.
Premiers Crus
I visited Nuits-Saint-Georges, and even signed the municipal guest book. And it was not difficult to find the most favored premiers crus – take your own map with you during your visit, to make sure that you find your own favorite, such as Les Cailles, Les Portets, or Les Boudots. I recall enjoying a Les Boudots from Louis Jadot's 1988 vintage, and was surprised to note its rich, expansive flavor, something like a Mouton Rothschild at far less cost. That flavor rather typifies these wines, which benefit from several years of aging in your cellar at least. A Robert Chevillon Les Saint Georges from the same vintage struck me as "an excellent wine, full of character."
As is often the case in Burgundy, where classifications are geographic (so that several different producers may claim the same classification), the quality of the wine producer is important. So let's list several more reliable producers of high quality wine. In addition to Robert Chevillon and Louis Jadot, fine wine producers from the region include:
the Domaine Jacques-Frederic Mugnier
the Domaine Henri Gouges and
the Domaine Ambroise.
My favorite premiers crus are the following three wines:
Clos de la Marechale,
Les Saint Georges, and
Les Vaucrains.
Recent superb vintages include 2005, 2009 and 2010.
Henri Gouges Les Saint Georges is an excellent wine, and their 2009 is $160, with the 2010 vintage selling for $174.
Henri Gouges Les Vaucrains is a superior wine, with prices to match (2009 vintage $119, and 2010 vintage $115). I have seen a magnum of the 2009 Les Vaucrains for sale at a pricey $269. It would be a good offering for a New Year's holiday dinner with close friends, for whom you wish to create a long remembered occasion.
Mugnier's Clos de la Marechale (2010 vintage, $99) may be for the moment the best value of the wines surveyed, if you can find a bottle at your retail wine store. They are careful to imply that the name of the premier cru had nothing to do with Marshal Petain, for historical research shows the name was used in the late nineteenth century! So you may savor your Clos de la Marechale, content that you and your guests are enjoying one of the finest, most flavorful wines of the Côte de Nuits – or of all Burgundy, for that matter!
I hope you will enjoy getting to know the wines from this fabled region.
Please let us know your own favorite Nuits-Saint-Georges wine! Comment below!
Sign up for our eNewsletter and receive our FREE wine tasting guide.