|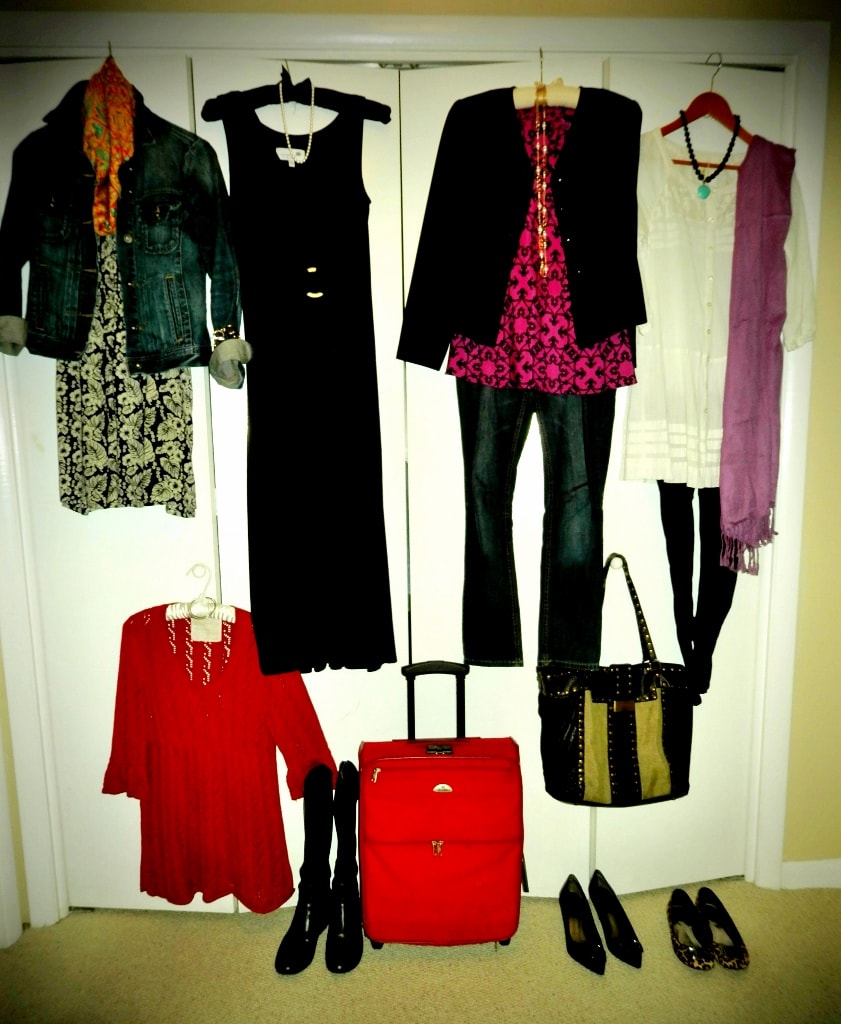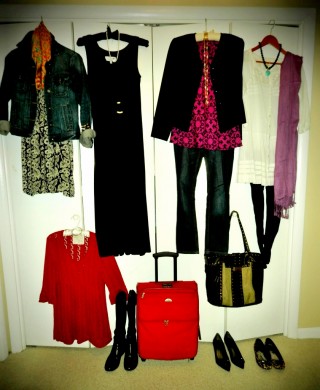 Our packing guide for your wine tour can mean the difference between a smooth trip and one that is filled with stress and headaches.  Seasoned travelers know that less is more when it comes to choosing what pieces—and how many of them—you put in the suitcase.
First, consider this: do not bring a suitcase.  Instead, throw caution to the wind and choose a high quality carry on.  Why?  Because large pieces of luggage are no fun to haul around, and no one wants to lose luggage, which happens a lot more than it should.  Also, there is something liberating about traveling light, and not being overwhelmed by too many choices while traveling. This can change the way you look at travel and allow you to focus on the journey instead.
Now that you are considering this new way to travel, you will need to invest in a high quality carry on.  Beware: not all carry on bags are created equal.  Choose one that is lightweight, with heavy duty rolling wheels, and that has a size that will fit most airline guidelines for carry ons.  And consider a bright color rather than black if you can. I usually recommend a 20″ bag, but I only travel with a 18″ because that size will be accepted on long haul and shorter domestic flights on smaller planes.  I bought my red Samsonite about 15 years ago and NEVER leave home without it, whether it's for a month or one week!  Three things to avoid when choosing your carry on: hard cases that do not have as much give as fabric, multi directional wheels that can easily get caught in the wrong places,  and expandable carry ons which are too thick.
Next, you may ask how can you fit everything you need in one little carry on and one large handbag?  This is the trick and our best packing guide I still use every time I pack.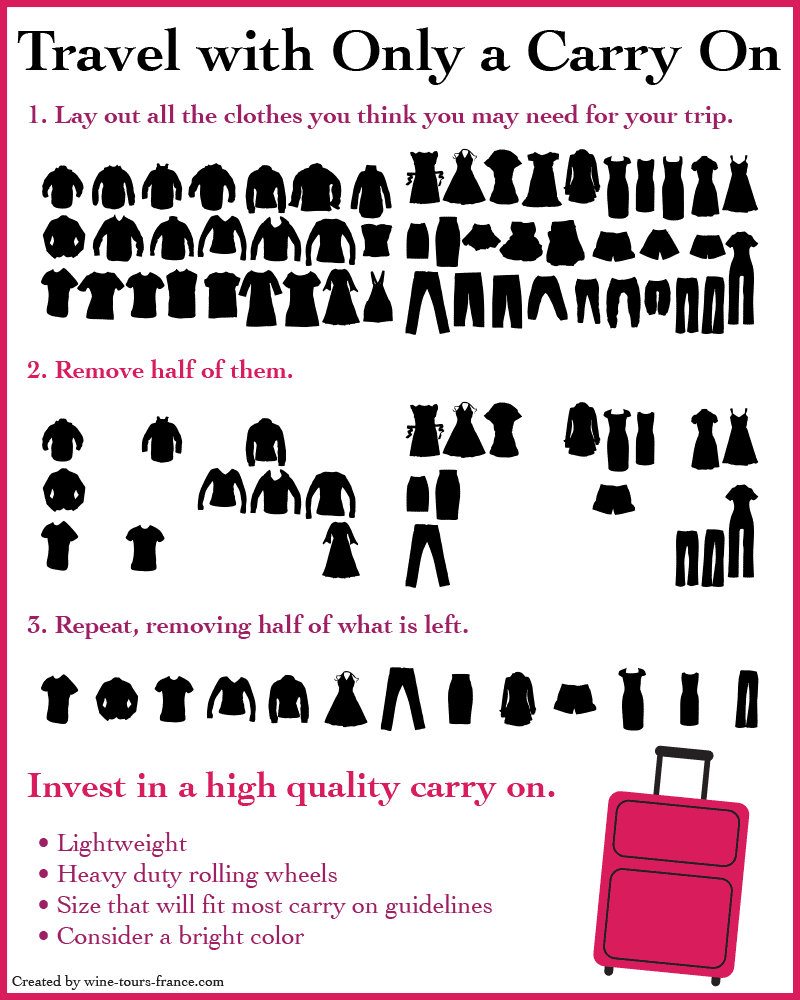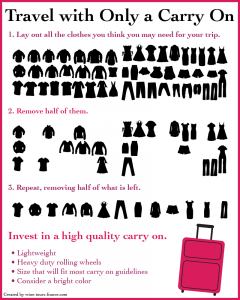 What is in my carry on?  Versatility is key when considering what to pack. Start with neutral bases (blues, grays, blacks, beige's and whites)—tops, skirts, and dresses that can be worn in a number of different ways. Complimenting them with belts, colorful scarves, hats, or jewelry enables you to take your outfit from day to night with ease.
 Here is my packing guide, the top 10 pieces that serve as a base for my trip, adding or removing seasonal items as needed:
1. Maxi dress in a dark color which can be worn day or night
2. A pair of dark rinse jeans which again can be worn day or night
3. A black or dark blue tailored jacket
4. A colorful sweater
5. A colorful shirt
6. A knee-length dress or skirt
7. 2 pairs of shoes, one pair of flats or dark tennis shoes, and one pair of dressy heels that are comfortable.
8. A work-out outfit
9. Accessories:  necklaces,  earrings, bracelets;  several silk scarves, and umbrella
10. An evening bag
There will be room for more, and here is where you can add some trendy pieces to your wardrobe. If I stay longer than one week, I send out my clothes to be cleaned.
I like to dress for comfort when I travel on the plane. My workhorse travel outfit is usually black leggings, a cotton tunic, a light cardigan, and a pashmina scarf which can double as a blanket if I get cold. I usually wear my most bulky shoes (either boots from October-April or black sneakers) so that they don't take up valuable luggage space. I also take a dark blue denim jacket which can dress down the maxi dress and dress up the leggings with a black tunic. This simple, stylish outfit is, at its root, versatile, and it pairs well with all of the suggested pieces above.
Personal care products need to be packed according to Transportation Security Administration (TSA) guidelines. Travelers are allowed to bring liquid in no larger than 3 ounce containers and should be kept together in a 1 quart clear zip top plastic bag. For added convenience, the TSA has developed an app called Can I Bring My…? which allows you input items you may be unsure of.  Pack a neutral lip gloss, a deeper shade of lipstick, concealer, mascara, Argon Oil—which I use as moisturizer, makeup remover, hair conditioner, hand, and body moisturizer- in the Ziploc bag.  All my other make up essentials are powder based to avoid too many items in the Ziploc bag.
Once you reach your destination, you are sure to pick up some new items that will need a place in your bag on the way home. Try to consider, while you are packing, what those items might be: a new hat, gloves, or a scarf from France, for example, then make sure not to pack similar items from your closet.
Of course, it's hard to know what might catch your eye when you are abroad. For those instances, packing a nylon duffel like a LeSportSac,  or Longchamps fold able tote, can afford you more space for those unexpected purchases. When you fly home, use the duffel as your carry-on and check the more sturdy case.
Packing success can be achieved when you follow this packing guide, and take time to consider where you are going and what you might encounter. A small amount of planning at home can lead to big benefits at the airport and beyond!
Any thoughts on what we should add to our packing guide, or questions about our packing guide? Let us know!
Sign up for our eNewsletter and receive our FREE wine tasting guide.