|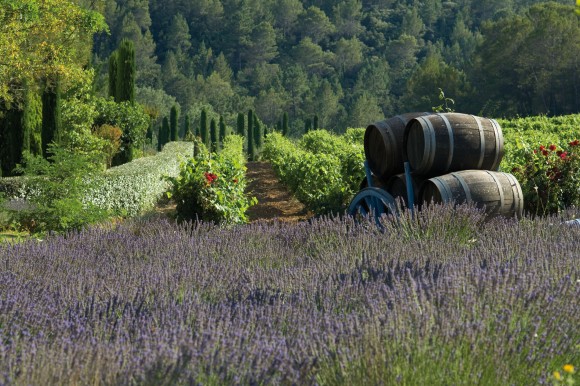 The movement towards growing grapes by organic or biodynamic methods is slowly growing in France, and there are now notable examples in Provence. These wines are still single digit in terms of overall production. However, some world famous producers, including the Domaine de la Romanée Conti and the Domaine Leflaive in Burgundy, Château Pontet Canet in Bordeaux, and Chapoutier in the Rhône Valley, now produce wines organically. That is a serious and trend setting development.
As noted previously ("Organic and Biodynamic Wines: Fad or Future Industry Standard?"), there are various schools of thought in the organic wines industry. They range from banning chemical additives such as pesticides or fertilizer to the prescription of certain natural preparations, such as medicinal plants and specified manures. The Return to Terroir group advocates a flexible approach, with various stages of adherence, including denying the use of sugars which artificially boost the wine's alcohol content.
All of these schools may be found, making quality wines in Provence. Let's look at four producers, featured in New York tastings by the Return to Terroir group. Each of these wines has something extra. Perhaps it is organic farming that makes the difference.
The Domaine Hauvette produces wines in Les-Baux-de-Provence, a small and very scenic AOC in Provence that has the unique distinction of requiring organic farming. Dominique Hauvette owns the property, which she describes as several decades of effort. She bought an initial 2 ½ hectares (6 acres), and expanded her holdings over the years. She says that the previous owner had been "obsessed with microbiological disease and insects," and she threw out 7 truckloads of leftover chemicals when she took over the property! Her well regarded red wine, a blend of Grenache, Syrah and Cabernet Sauvignon, now retails for $35. She does not label her wine as organic, fearing "marginalization" by consumers.
Château Sainte Anne, from Bandol, Provence is becoming a refined cult wine favorite, both for the Bandol red (60% Mourvèdre grapes) and the Bandol white (Clairette and Ugni Blanc grapes). Both retail in the $23 range for recent vintages. The 2005 Bandol red, if you can still find it, is said to be delicious.
The Château de Roquefort Corail 2011 ($16) is made at Roquefort-la-Bédoule, some 20 miles from Aix-en-Provence. Last year a freak hailstorm hit the property, which is at an altitude of 1,000 feet, and destroyed 100% of the growing crop in just 7 minutes! Some neighbors pitched in, pledging part of their own crops! Raimond de Villeneuve of Château Roquefort issued a special blend for the year, a testament to the definition of good neighbors! Currently Monsieur de Villeneuve is experimenting with Cabernet Franc cultivation. Let's hope it works as well in Provence, as it has in the Loire Valley.
The Domaine Henri Milan also produces fine wines in the Les-Baux-de-Provence AOC. Their 2006, a Rhône Valley style blended red wine made from grapes whose vines average 16 years old, gathered rave reviews in both New York and Australia.
Stop by and see one of these wonderful and unpretentious estates when you are in Provence. And oh yes, don't forget to try Château Miraval, owned by Brad Pitt and Angelina Jolie. The 2012 vintage is ready, and their new line of wines includes red, white and rosé wines. Of course, the grapes are organically raised!
William S. Shepard, Wine Editor
Related Articles:
Provence Tours: Discover the Rosé Wines of Provence
Organic, Biodynamic, Vegan, Natural wines… What It All Means