|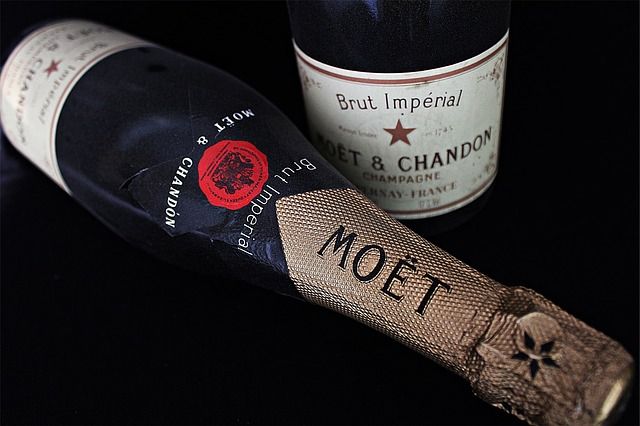 Champagne France Region: How to Discover This Sparkling Area
We made a last minute decision to go to Champagne France Region for the holidays-secretly, for selfish reasons, as Pierre's family was gathering in Soissons, close to Reims.  I couldn't resist the urge to go, so we packed up our family and set out for our mini exploration of Champagne France after celebrating Christmas.
The itinerary included a representative mix of the grand–large houses with millions of bottles sold every year–and the intimate–grower-producers who embody the heart and soul of the region. We also did a quick pit stop to Chateau Hotel Les Crayeres to see what was new on the horizon for 2009.
Champagne France Region : The Large Champagne Houses
We spent time at Lanson, Taittinger, and Moet and Chandon and were surprised by the number of visitors at this time of year.  Still, the groups were respectably small and the guides enthusiastic.  I appreciated the technical component of the Lanson visit; the guide explained rather well the process of making champagne and was open to questions, which is sometimes difficult in a group. The tasting of their Black Label Non Vintage Brut was pleasant, with notes of toast, citrus and honey, an easy choice for any occasion.
After a somewhat treacherous drive to Epernay following very icy conditions, I especially appreciated visiting Moet and Chandon and spending time with the Tour Manager and Tasting Room Manager, and they were kind enough to provide us with a private tasting of the 2000 vintage of Dom Perignon.
Dom Perignon is only produced in the finest vintages from grapes grown on 100% Grand Cru vineyards.
Fermentation is in stainless steel tanks.
Following secondary fermentation, it was aged for six years prior to release.
White fruit, pineapple, pear and my grandmother's brioche came to mind during the experience; with a long finish that was down right delightful.
 Champagne France Region : The Boutique Champagne Houses
I also spent time with Beatrice and Jean-Yves de Carlini, grower producers from the Grand Cru Village of Verzenay.  There are only 1100 inhabitants, and 90 grower producers!  Here I was treated to tour of the facilities, where I saw an impressive hydraulic horizontal press that is less brutal on the grapes than others.  This is a very costly machine, given that it stands idle most of the year, and shows the de Carlini's commitment to quality.
There are many obstacles these grower producers face.
There is limited supply of grapes means they can only sell a certain quantity of wine.
Rising costs for labor and reduced space in the village means the production area is really difficult to maximize for the best conditions.
Vineyard management of which they can only control to a certain degree, mother nature does not negotiate.
All this said, the de Carlini's work very hard at their craft, and their champagne reflects their labor (they do no export to the US unfortunately).
We did things a bit different, based on the suggestion of a new contact who was the one who suggested a visit to the de Carlini's. We started with the brut first, then the extra-brut (typically it's the opposite) and it did heighten the effect of the extra-brut, which I tend to prefer anyway.  A wonderful time and authentic experience.
I had about one hour free during our stay in Reims, so I headed over to Les Crayeres, a Relais Chateau with 20 rooms set on 14 acres on the outskirts of the city, just next to Champagne Pommery.  The rooms are spacious, and there is an air of style and refinement without pretention that I appreciate. The manager let me know what's new with this truly exquisite hotel, notably a more relaxed 2nd restaurant to complement their Michelin-starred gourmet restaurant.  It will open in April, and will be a nice option for guests.  The owners, the Gardinier's, also own Phelan Segur, a wonderful cru bourgeois estate in Bordeaux which we send clients to often.
All in this entire detour to the Champagne France region was a treat for all the senses, and a wonderful way to spend time with the family and sneak some quality visits in as well.
Now it's your turn!