|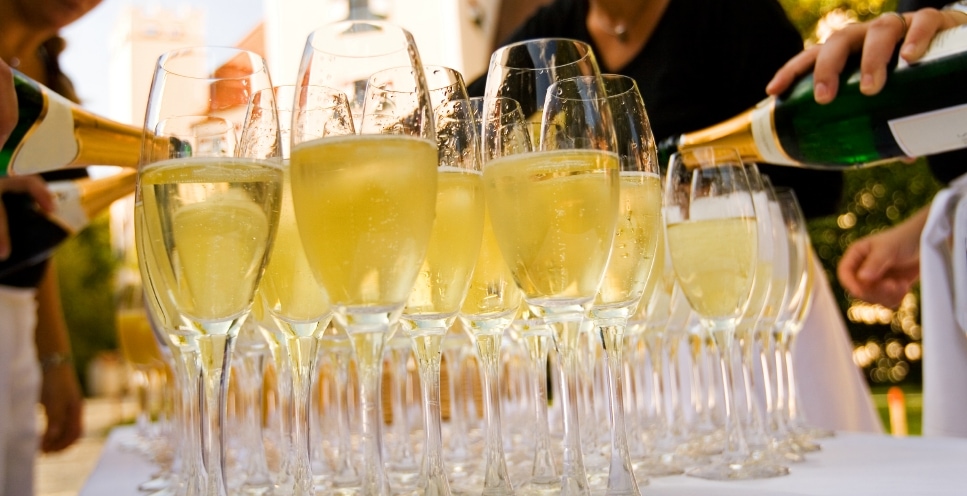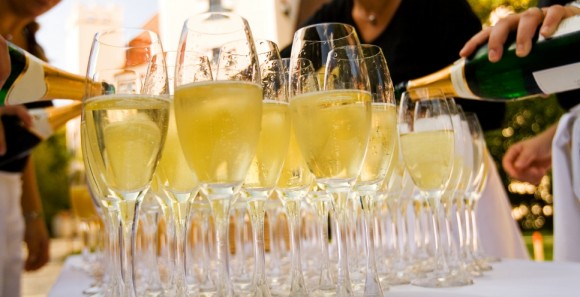 The annual champagne tasting at Wide World of Wines in Washington, D.C., let us preview an assortment of fine champagnes for the holidays. Champagnes are a blend of Chardonnay (flavor and consistency), Pinot Noir (depth), and Pinot Meunier grapes (a touch of spice). "Blanc de blancs" will use just Chardonnay, while "blanc de noirs" is Pinot Noir and Pinot Meunier based bubbly.(More on the Champagne region found on our blog Visiting Champagne Part 1)
Here are some tasting notes, with the sale prices that were offered. Champagnes are non vintage unless otherwise noted. The better recent vintages remain 2000, 2002 and 2004, but we still await a vintage as good as the landmark 1995 or 1998.
Laurent Perrier, France's largest family owned champagne house, produced an outstanding 2002 Vintage ($50), at 50% Chardonnay and 50% Pinot Noir. Their Brut Rosé ($68) is 100% Pinot Noir, blended from 10 different Pinot Noir village crus. It had a nice touch of raspberry.
Janisson, at Verzenay, Champagne, is a small producer in the Montagne de Reims region, which owns its own vineyards. The Janisson Bleu ($40) is a blanc de blancs. It had a touch of mineral taste, and was one of the most outstanding champagnes tasted. The Janisson Bleu Grand Cru ($40) is a very rich wine, which spends 4 years on the lees. It was one of my favorite wines of the tasting, and a good value at the price. Their Grand Cru Rosé ($40), 60% Chardonnay and 40% Pinot Noir, was nicely balanced.
Ayala, said to be "the only Latin owned champagne house," takes its name from a Colombian diplomat who married into a champagne family in 1860. They add very little, or no dosage (sugar added during fermentation, which will increase the sweetness level of the resulting champagne). That produces a wine which, by comparison, may seem austere. However, their Brut Rosé ($50), with 51% Chardonnay, 30% Pinot Noir, 10% Pinot Meunier, and a further 9% of still Pinot Noir wines, exhibited more finesse than one often finds in rosé wines, with no cloying sweet taste.
Henriot champagnes have again been family owned and managed since Joseph Henriot left the presidency of Veuve Clicquot in 1994. The Henriot  Brut Souverain ($36), 40% Chardonnay and 60% Pinot Noir, had a satisfying taste, with just a touch of lemon. Henriot Blanc de Blancs Souverain ($50) was creamy and quite good, just a bit austere at the ending, and a clear success. The salmon colored Henriot Brut Rosé ($55) was delicate in style, a rather creamy mousse effect, again a dry finish.
Roland Champion is a small producer in the Côte des Blancs region (just 7,000 cases!), located in the Grand Cru village of Chouilly. The house was founded in 1951. The Brut Blanc de Blancs Chouilly Grand Cru ($35), rather dry, is aged 30 months. The 2004 Vintage Special Club Chouilly Grand Cru ($52) was very good, the most pleasing of the Champion offerings. This is a hard to find champagne that you will enjoy.  
I end with two champagnes also enjoyed at last year's tasting, which remain standouts in flavor. One is heavier in style, the other light. Take your choice.
Bollinger Special Cuvée ($50) was a standout, with 25% Chardonnay and 60% Pinot Noir and 15% Pinot Meunier. With its majority of Pinot Noir, this is a fuller style of champagne, very satisfying. I would have it at the conclusion of a meal. It is too filling to drink at the start of dinner.
Gosset, founded in 1584, is the oldest producer in Champagne. They tend to produce champagnes in a lighter style. Their 2000 Vintage Gosset Millésime ($85) was fine, a quality champagne which was clear, light and bubbly. 
What champagne do you normally celebrate with? Tell us below!
Sign up for our eNewsletter and receive our FREE wine tasting guide.