|
Getting to Beaune is not an easy proposition if you live anywhere outside of western Europe. I am so glad I decided to arrive a day early, catch my breath, and awaken fresh for the gastron
omique "workout" that lay ahead. French Wine Explorers, a tour operator specializing in wine tours in France, planned the Grand Cru Tour of Burgundy, and arranged my booking of an extra pre-tour night at Le Cep, which is a highly recommended amenity.
After sorting out three trains from CDG to Gare de Lyon, Dijon and finally to Beaune, it was lovely to have a walk about Beaune Centre Ville in the gentle October rain and set my internal compass. (A word of advice: book your TGV train segments well in advance because there is limited direct service from the airport to Beaune, or even to Dijon, for a connecting train.)
As soon as the train pulls away from Dijon, you know that you are in Burgundy and have arrived in the Côte d'Or. Each train stop reveals the name of yet another a famous town – Gevery-Chambertin, Nuits-Saint-Georges, Vougeot – and the unfolding patchwork quilt of tiny vineyards confirms that you are in a wine place like no other.
Sunday is generally a quiet day in Beaune, so the sounds of many languages, gentle pop of corks, slicing of crunchy bread, and hissing of espresso machines were crystal clear and delicious. I ended a very long day with a lovely meal at Le Gourmandin, just a few blocks from the hotel, and launched my Burgundy experience with Boeuf Bourguignon, fritesand a glass of Chambolle-Musigny.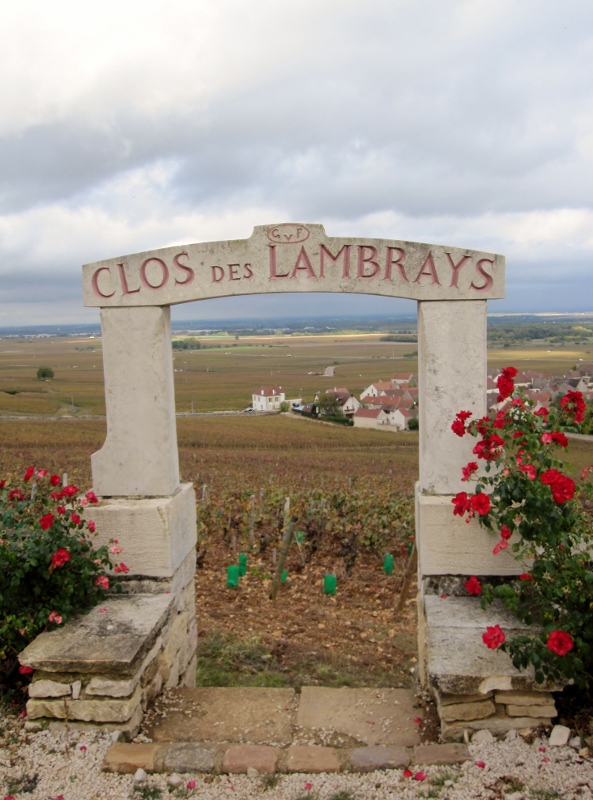 Our accommodation for the Grand Cru Tour of Burgundy was the four-star Hotel Le Cep in historic Beaune, the beautiful heart of Burgundy. The buildings in this area were all built from the 14th to 18th centuries. The hotel's 64 rooms are furnished with exquisite antiques, each bearing the name of a famous Burgundy cru. My room: Romanée-Conti! It is luxuriously spacious, with tall windows overlooking the hotel's courtyard on one side and garden on the other. Unless hotel guests are walking about the property, it is perfectly still and quiet.
Our tour group included a very interesting global mix of people: a couple from Melbourne, Australia; a father/daughter, boyfriend and close family friend (who is also a professional guide) from Bulgaria; and two of us from the United States (San Francisco and Cincinnati). The official launch of the tour began with an introduction to Burgundy wines given by our local expert, Laurent. Formally trained as a caterer in France, Laurent has worked in several countries and on cruise ships as maitre d' and sommelier before returning to France in the early 1990s to Chateau de Gilly. It was there that Laurent saw the opportunity to guide visitors through the complexities of Burgundy!
Our plan for the week: taste wines made from all 32 Grand Cru vineyards in the field, in the winery and in Michelin starred restaurants to taste the nuances of the wines in various combinations across fields, vintages and winemakers!!
Story and Photos by Kathy Merchant, DWS, AIWS
Cincinnati, Ohio USA
Resources:
French Wine Explorers
www.wine-tours-france.com
1-877-261-1500
Related Articles:
Call Us Today at 1-877-261-1500 or email us at [email protected]
Copyright ©2011 French Wine Explorers