|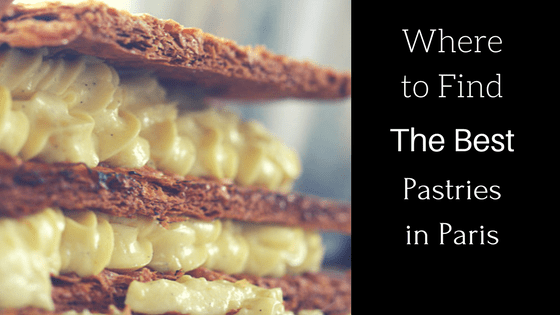 Where Can You Find the Best Paris Pastries?
The world of Paris pastries used to be somewhat simple. In every pastry shop window, you had your choux pastry-based éclairs and religieuses. You also had your stacked millefeuilles (also known as Napoleons), and a variety of fruit tarts glazed with apricot jam to make them shiny and appetizing. The choices rarely varied. Many of the pastries themselves, hailing from industrial factories, seemed to resemble one another.
But the world of pastry is evolving in Paris. Now a host of innovative pastry chefs are doing new and intriguing things in the French capital. Here are a few of our favorite Paris pastries to sample.
Cream Tartlet – Liberté
Just off the trendy Canal Saint-Martin, Liberté offers a host of contemporary plays on classic Paris pastries, from cream puffs to lemon tarts to fraisiers. But our favorite is the cream tart, both for its simplicity and for its exquisite execution.
This tart is composed of a crisp and flaky base topped with not one but two types of homemade cream. One is a pastry cream bursting with rich vanilla flavor. The other is a light and ethereal "aigrelette" whipped cream. It has a hint of pleasant sourness to counteract what could become cloying sweetness. The result is a pastry that combines textures and flavors to utter perfection.
Liberté – 39, rue des Vinaigriers, 10th
100% Vanille – Plaza Athénée
This classic French hotel has taken a decidedly modern look at Paris pastries with the hiring of pastry chef Angelo Musa. Musa's travels in Asia, especially Japan, have brought him to modernize many classics of French pastry with the addition of ingredients like yuzu and ginger.
But none of his creations is quite so surprising as this study of vanilla, comprised of a vanilla cake, a vanilla crisp with fleur de sel, and vanilla cream and mousse. Musa notes that for him, the sign of a good pastry is a marriage of contrasting textures, and that's exactly what he's done here. The result brings out the best in this ingredient, which despite its connotations of being boring is anything but.
Plaza Athénée – 25, avenue Montaigne, 8th
Mille-Feuille – Des Gâteaux et du Pain
A classic millefeuille – also known as a Napoleon – is a pastry constructed with layers of puff pastry and layers of pastry cream, generally topped with royal icing. When done well it's a generous and tantalizing treat. Many of the industrially made versions are lackluster. They lack the play of textures between a well-made crisp and buttery puff pastry and an unctuous, flavorful pastry cream.
Luckily, Claire Damon of Des Gâteaux and du Pain has changed that. The puff pastry for her millefeuille is made with fresh butter and caramelized for a burnished, inviting surface that needs no sickly-sweet icing to gild the lily. The sweetness in this version of the dessert comes from a light pastry cream infused with the flavor of real Tahitian vanilla.
While a classic millefeuille has at least two layers of cream, contributing to its name, which translates to "a thousand sheets," Damon's simpler version, with just one thick and generous layer of cream between two puff pastry squares, is even better.
Des Gâteaux et du Pain – 63, boulevard Pasteur, 15th
Vanilla-Pecan Éclair – L'Éclair de Génie
The éclair (French for lightning) is a classic of French pastry for good reason. The simple combination of choux pastry dough and pastry cream is enough to make anyone devour it as quick as lightning.
But while an éclair is usually one option of many in a pastry shop window, Christophe Adam's l'Éclair de Génie chain specializes in éclairs. This doesn't mean that it's mastered the perfect dough and pastry cream. It means that it also has room to experiment with flavors beyond classic coffee and chocolate. There are many to choose from. But this simple combo of Madacascar vanilla pastry cream and caramelized pecans is a delicious departure from tradition.
L'Éclair de Génie (several locations)
Gluten-Free White Chocolate and Grapefruit Tartlet – Helmut Newcake
It used to be that it was impossible to imagine a gluten-free pastry in bread-loving Paris. But the times have changed. Helmut Newcake was one of the original gluten-free pastry shops in Paris. It offers perfectly executed gluten-free versions of French classics like the éclair or the cannelé. But it also offers innovative, modern pastries like this tartlet. A gluten-free almond shortbread crust is the base for a white chocolate ganache topped with the light, pleasantly bitter flavor of grapefruit. It's a true delight!
Helmut Newcake – 28, rue Vignon, 9th
Though the world of Paris pastries is rooted in tradition, it is allowed to flourish under cutting edge chefs who, like gastronomic scientists, experiment with cream, sugar and cake to create unique and innovative delights, definitely worth trying!
Receive timely updates and promotions and a free Guide to Wine Tasting Like a Pro-Click Here!