|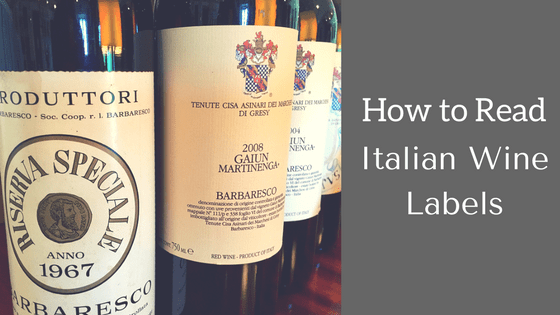 Finding a wine you like can be confusing, no matter where in the world you live or shop. Most retail shops organize wine by country, but some use grape variety or style as the theme. Mastering Italian wine is a formidable task. There are about 2,000 different indigenous, traditional, and international grape varieties. Consumers have two good shopping options. The first is to tap the knowledge of a trusted wine merchant. The second is to learn the crazy quilt of Italian classification and labeling systems.
What's the best way to determine what's inside the bottle? Here's an easy reference guide to help you understand the intricacies of Italian wine.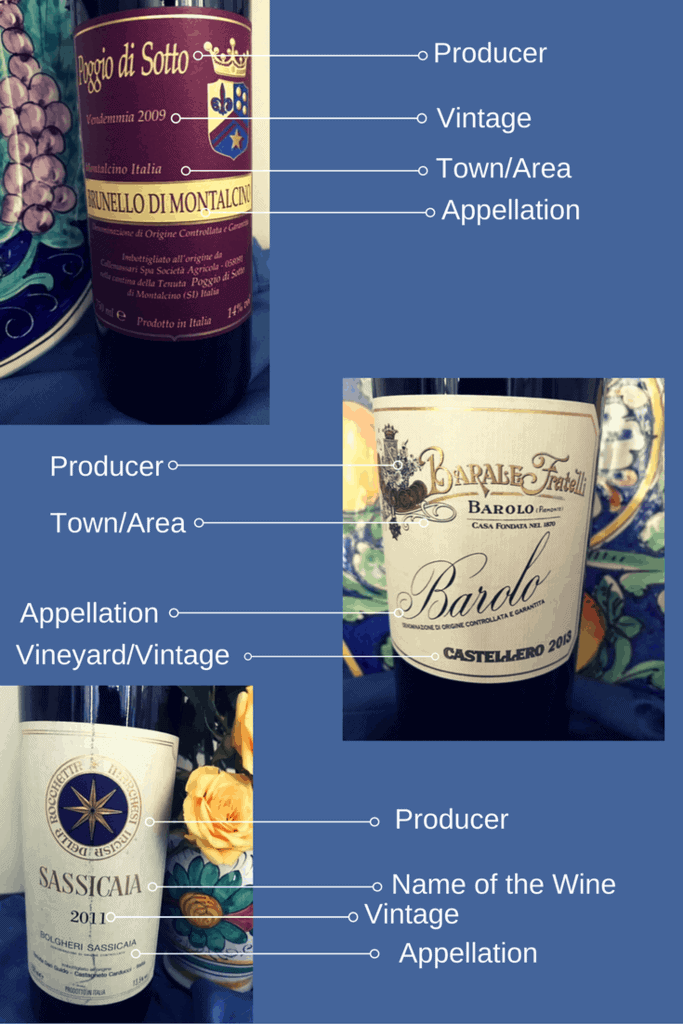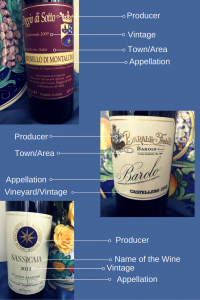 Italian Wine Classification
Italy regulates both place of origin and standards for growing grapes and making wine. The top categories are super-regulated.
DOCG is the highest classification (Denominazione Origine Controllata e Guarantita) meaning controlled place of origin and guaranteed wine growing practices.
DOC (Denominazione Origine Controllata) like DOCG has place and grape requirements but may follow fewer production rules.
IGT (Indicazione Geografica Typica) is true to a regional style. Winemakers have more creative latitude. They can use grapes that are both Italian in origin and not Italian in origin, like Merlot.
TABLE WINE  is generally sold only to locals and not exported.
Italy has 20 defined wine regions.
There are 408 named quality appellations: 74 DOCG and 334 DOC.
Tuscany and Piedmont are the top regions from a quality and commercial standpoint.
Piedmont has 17 DOCG and 42 DOC. Tuscany has 11 DOCG and 41 DOC.
So what does an Italian wine label tell you about what's in the bottle? The short answer is: It depends.  Let's start with the nuances of Tuscany and Piedmont, Italy's two most important quality wine regions. Together, Tuscany and Piedmont represent 38% of all DOCGs and 25% of all DOCs.
Piedmont does not use a regional IGT designation. But IGT is very important in Tuscany. The category "Super Tuscan" is an IGT, for example. Winemakers blend familiar international red grapes such as Cabernet Sauvignon and Merlot. This modern marketing strategy has been wildly successful.
Italian Wine: Name of Place vs. Name of Grape
A source of label confusion is the name of a place versus the name of a grape.
First, in Tuscany, there are three main wine regions, the primary red grape is Sangiovese.  
Sangiovese never appears on a label
Brunello is its regional name in Montalcino
Vino Nobile is its regional name in Montepulciano
The third region, Chianti, only uses the name of the region on labels.
Then in Piedmont, the primary red grape is Nebbiolo.  
Nebbiolo never appears on the label
Barolo and Barbaresco, Piedmont's two most famous wines, are both made from Nebbiolo, and are names of the towns as well. 
The puzzle pieces of place, grape, and quality come together on the bottle label. Finally, a last quirk in Italy is the use of brand names by Super Tuscan producers. Below is a graphic that illustrates an Italian wine label.
Save
Save
Save
Ready to plan your dream tour?
Start here to see our tours by region