|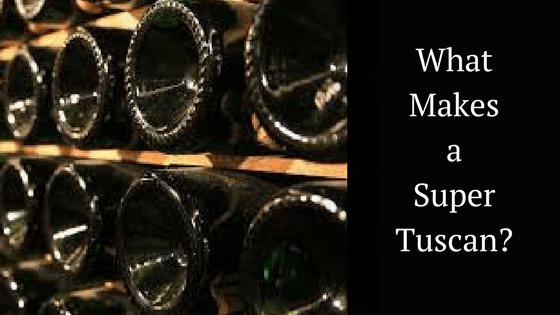 Using "super" as an adjective, as in super smart, is super common in everyday writing and conversation. There's data to support this notion. Use started increasing in the 1930s. It took off in the 1970s and surged by 500% into commonplace status from 1994 to 2012.  The term Super Tuscan was way ahead of this curve. It was coined in the early 1980s before "super" became super cool.
So what is a Super Tuscan and what makes it so special?

The evolution of Super Tuscan wines reveals the culture of modern Italian wine growing.
Italy experienced a long era when politics and economics almost destroyed the wine industry
.
Italy's flight to quality surged in 1963 with a new appellation system, called
Denominazione di Origine Controllata
(DOC), patterned after France
.
Not everyone was happy about the regulatory limitations, then or now.
In Chianti, DOC red wine production
was limited
to Sangiovese plus a few minor native blending grapes
.
Many winemakers felt that the Chianti region would
be doomed
to produce inferior-quality wine
.
Marchese Mario Incisa della Rochetta, whose Bolgheri estate
is run
today by their son Nicoló,
became frustrated with the new rules
.
He saw the growing global popularity of international red varieties such as Cabernet Sauvignon and Cabernet Franc – a style he loved and had planted in the 1940s

.

The terroir of Bolgheri is

similar to

Bordeaux,

perfectly

suited to growing quality international varieties (but not

necessarily

Sangiovese)

. In a bold move, the Marquis hired famous enologist Giacomo Tachis.

The first commercial vintage of

Sassicaia

was born in 1968. It

was made

outside the regulations, without Sangiovese. It wasn't called Super Tuscan. It had to

be labeled

"table wine" (

vini da tavola

).
Sassicaia opened the door for other winemakers. Most notable of these was the Marchis' cousin Piero Antinori.
He introduced

Tignanello

in 1971.

It is

widely

considered to be the first real Super Tuscan because it blended native Sangiovese with international Cabernet Sauvignon

.

Tignanello still had to

be classified

as table wine. T

he price rivaled quality offerings such as Brunello di Montalcino and Barolo

.
New Opportunities
The reception was
understandably
cool in Italy. Yet, these unique new wines soon began to enjoy great success in foreign markets.
American wine critic Robert Parker is

widely

credited with inventing the term Super Tuscan

. By 1992, it was clear to winemakers and regulators that they had to reach a compromise.

If the wines were

substantially

better than table wines, but not capable of meeting the delimitation of the quality appellation, then what

?

A new category called

Indicazione Geografica Tipica

(IGT)

was created

to limit and manage quality and convey the typicity of the region

.

The highest quality level,

Denominazione di Origine Controllata e Guarantita,

or DOCG, was also introduced in 1992

.
Sassicaia continued to use the table wine designation until 1994 when the existing Bolgheri DOC (est
. 1983)
was modified
to include the prestigious wine in a sub-zone. This
was formalized
in 2013 by establishing Bolgheri Sassicaia DOC. It is the only case in Italy of an appellation
being granted
to a single estate.
Today a Super Tuscan wine comes in many styles ranging from 100% Sangiovese to blends of Sangiovese with international varieties, to Italian versions of the classic Bordeaux blend using international varieties (
primarily
Cabernet Sauvignon, Cabernet Franc, and Merlot)
. Syrah is also used. On the label, a Super Tuscan will generally say "Toscana IGT" or "Bolgheri DOC." Many Super Tuscans, including Tignonello and Sassicaia,
are named
(branded). Instead of the grape or region, the name
is displayed
prominently
on the label.
Trends with Super Tuscans
Recently, three trends are working against Super Tuscans in today's global market:
After more than two decades of booming success, the market cooled as new entrants diluted the quality and ratio of supply to demand

.

Second, the cost of the original Super Tuscans escalated to a price point out of reach for many wine enthusiasts

.

And finally, the wine industry's "back to the future" movement, which

prizes native and traditional grapes, is very strong

.
Want to learn more about Tuscany and Super Tuscans? Check out our Italy Wine Tours page.
Profile of Tenuta dell'Ornellaia
In 1981, Ornellaia
was founded by
Marchese Lodovico Antinori. The first vintage (1985)
was released
in 1988. In 1999, the Antinoris partnered with legendary American winemaker Robert Mondavi.
In rapid succession, Mondavi took full control of the winery in 2002 and transferred 50% to Marchesi de' Frescobaldi
.
In 2005, when the Mondavi enterprise
was sold
to Constellation Brands, the Frescobaldi family took 100% control of Ornellaia
. Winemaker Axel Heinz has worked with the Frescobaldis since 2005.
With 700-plus years of history in the Tuscan wine industry, the Frescobaldi family also owns six other estates:
Nipozzano

CastelGiocondo

Pomino

Ammiraglia

Castiglioni

Remole
Along with several other winery properties.
The property's flagship wine is
simply
called "Ornellaia." It is a red cuvée of Cabernet Sauvignon, Merlot, Cabernet Franc, and Petit Verdot. Other wines in the Ornellaia portfolio include:
Le Volte, which includes Sangiovese in the blend
a "second wine," called Le Serre Nuove
a red blend, available only at the estate, called Variazione in Rosso
Poggio alle Gazze, made from Sauvignon Blanc
Ornus, which is a late harvest Petit Manseng
a Grappa Riserva
and the newest offering, Ornellaia Bianco
As you can see, Super Tuscans are varied with a style all their own, and worth the time to explore!
Ready to plan your dream tour?
Start here to see our tours by region