|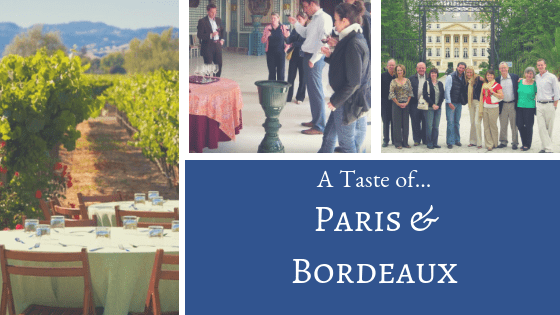 Luxury Paris Bordeaux Wine Tour Video
In this Paris Bordeaux Wine Tour video we give you a glimpse inside our tour highlight features. From cultural experiences to delicious food and wine, this Paris Bordeaux Wine tour is the perfect combination for a week of the good life!
(Transcript) Find all the elegance, romance and excitement of Paris, paired with the iconic Bordeaux wine region on a seven-day Town and Country experience.
Discover the major landmarks and hidden gems of the City of Light, the most beautiful city in the world. Then travel to Bordeaux and discover all the beauty and splendor of wine touring.
Welcome to Paris
Paris is a city that feeds the soul, exuding history, culture and romance. The is the center of haute couture, and contains some of the world's most illustrious art and architecture. It is one of the most visited cities in the world and its lights shine brighter than ever.
Customized Paris Experience
Today you get to choose your experience: take a private professionally guided tour of Paris including a visit to a museum such as the Louvre or the Musse d'Orsay. Or you could visit a local market and then take what you find for a small group cooking class with a local chef. Or maybe enjoy a small group foodie tour of St. Germain or the Marais to discover the best culinary spots with a local expert.
Exploring Paris on Own
On day three you'll have the opportunity to enjoy Paris on your own with our suggestions.
Bordeaux
Depart today for Bordeaux. We provide a private transfer to the Paris train station and first class rail tickets on a high-speed train to Bordeaux. When you arrive in Bordeaux, you will be met by your English-speaking, wine expert guide/driver. Then travel south to the Graves region where a great tour and tasting awaits you. After a welcome lunch, and perhaps another tour, check into your hotel in the heart of Bordeaux, the 5* Intercontinental Grand Hotel de Bordeaux and Spa.
The Medoc
Today you'll visit the Medoc, world-renowned for its Classified Growth chateaux, following the 'Route des Chateaux' through the famous villages of Margaux, Pauillac and Saint Julien. Enjoy a VIP tour and tasting at a Grand Cru chateau, followed by another tasting and a private wine pairing lunch. Finish the afternoon off with a final tasting at one of the foremost producers of wine in the St. Julien region.
St. Emilion
Today we visit St. Emilion, designated as a UNESCO World Heritage Site. Enjoy VIP tours and tastings at estates such as Chateau Beausejour Becot with its ancient underground cellars, or the great Classified Growths such as Chateau Figeac or Chateau Angelus. Following lunch, explore the beautiful medieval village on your own, its monuments and many shops and galleries; including some of the region's best wine shops.
Au Revoir
Today we say goodbye to Bordeaux. You'll have a private transfer to the Bordeaux train station, and you'll take the high speed train back to Paris.
"If we were doing it over again, we would do it exactly the same. It was a perfect balance between guided tours with very knowledgeable tour guides and large chateaux and very small chateau. And time off on our own to o what we wanted to do: some sightseeing, have a dinner on our own, and so absolutely perfect, wouldn't have changed a thing."
Contact us today and plan your Paris Plus Bordeaux Wine Tour!
Sign Up for our eNews articles and receive our Free Guide to Wine Tasting Like a Pro!