|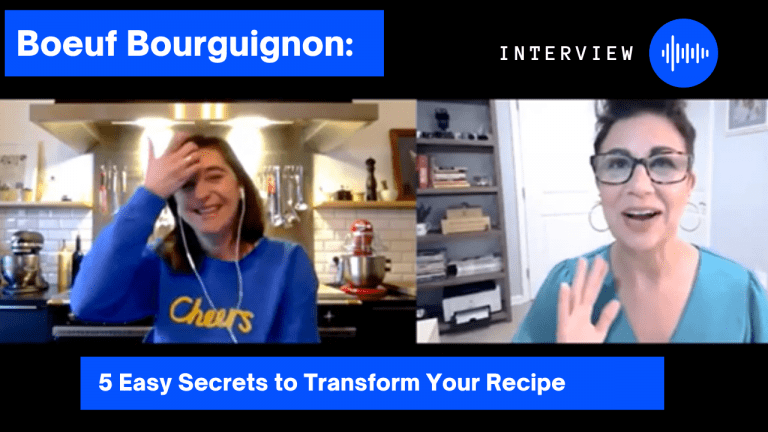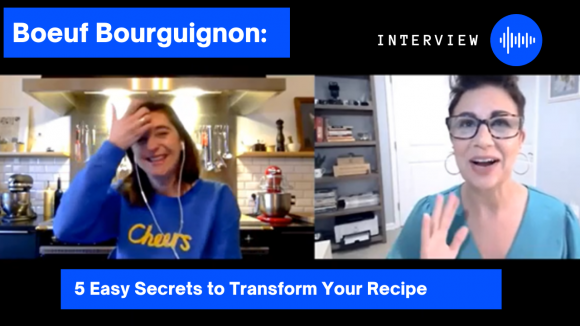 In this video, we interview our chef friend Adeline in Burgundy on 5 secrets to Boeuf Bourguignon magic.
We talk about the following secrets to transforming any Boeuf Bourguignon recipe:
What cut of meat is best for Boeuf Bourguignon
How to marinate
What is the best wine for Boeuf Bourguignon
Bouquet garni
Secret ingredient to add at the end
Also covered:
Surprise meat cut you should try -for those who are adventurous and want to replicate one of our favorite Burgundy producer's recipes.
Deep dive into 3 wines at 3 price points from Burgundy
What do you serve as a side dish
What is a good cheap French or American wine for cooking
Beef bourguignon is a beef stew braised in red wine, often red Burgundy, and beef stock. It is flavored with carrots, onions, garlic, and a bouquet garni. Garnishes include pearl onions, mushrooms, and bacon.
It is a popular French dish. The name probably refers to the use of wine from Burgundy. However, beef bourguignon is likely not a regional recipe from Burgundy. It started as a peasants' recipe, possibly dating from the Middle Ages (400-1400 A.D.), as a way to slow-cook tough, unwanted cuts of meat using ingredients they had on hand.
Beef Bourguignon was first mentioned in cookbooks in 1903, by chef Auguste Escoffier. We often associate this dish with Julia Child. Her recipe in Mastering the Art of French Cooking is a timeless piece of art, and this video helps you to recreate that magic at home.
We feature this meal on many of our Burgundy private and small group tours!
Ingredients for 6 people as the main course:
2 ½ pounds of stewing beef (such as chuck pot roast, sirloin tip, top round) cut into 2-inch cubes
1 bottle (750ml) of medium-bodied dry red wine, preferably from Burgundy or a good Pinot noir from California / Oregon
2 Tbsp Crème de Cassis de Bourgogne (Blackcurrant liquor)
4 medium carrots cut into 2″ pieces
2 chopped small yellow onions
1 cup chopped celery
2 minced garlic cloves
1 bouquet garni (1 sprig of fresh thyme, 1 stalk of celery, 1 bay leaf, 3 sprigs of fresh Italian parsley, wrapped in green leeks with kitchen twine)
6 tablespoons unsalted butter
4 tablespoons of all-purpose flour
4-6 slices of thick-cut bacon, chopped
7 ounces white button mushrooms, halved or quartered
3 cups of beef stock
7 chopped fresh black peppercorns
Canola oil
20 pearled onions (fresh or frozen or in jars)
1 teaspoon granulated sugar
Recipe for Boeuf Bourguignon:
🔹Marinate the meat overnight with the wine and black peppercorns.
Now if you don't have time, Cover the meat with sparkling water and set it aside for 15 minutes.
Then drain the meat and pat dry, season with salt and pepper.
Next, assemble the herbs and make the bouquet garni.
In a large heavy pot or a heavy-duty Dutch oven sauté the bacon until crisp. Set the bacon aside. In the same pot heat 1 tablespoon of canola oil with 2 tablespoons of butter. Then working in batches fry the beef until browned on all sides about 5 minutes.
🔹 Set aside the beef in the plate and add the carrots, celery, garlic minced, and onions in the pot on medium heat. Cook them for about 5 minutes stirring regularly. Return the browned beef in the pot.
🔹 Sprinkle the meat and veggies with flour. Cook at medium heat for about 2-4 minutes to let the flour be cooked, stirring regularly.
🔹 Pour the wine and enough beef broth into the pot to cover the beef. Add the bouquet garni. Cover with a lid.
🔹Cook on medium-low heat for about 2 hours. Every 30 minutes, get rid of the foam on the surface. At that point, you also can cook the beef Bourguignon in a slow cooker for 4-6 hours on low.
🔹 In the meantime, cook the pearled onions in a saucepan with 2 tablespoons of butter and 1 teaspoon of granulated sugar. Cook covered for about 20 minutes until they are soft and golden. Stir regularly to avoid burning.
🔹 In another pan, heat 1 tablespoon of canola oil and add the mushrooms and cook them for 10 minutes until firm.
🔹After the 2 hours of cooking add the mushrooms and onions to the pot and cook again for 2-4 minutes and then add the Crème de Cassis. Give a good stir.
🍽 Serve the beef bourguignon with some cooked tagliatelle or linguine, small steamed potatoes or potato purée.
🔹🔹Gourmet tip: This simple and satisfying one-pot dish is perfect for freezing. For deeper flavors, it is best to cook Beef Bourguignon a day ahead. Cook the stew a day before, cool uncovered on the stove, cover, and refrigerate. On the final day, skim the fat from the surface, reheat over a gentle heat, and serve.