|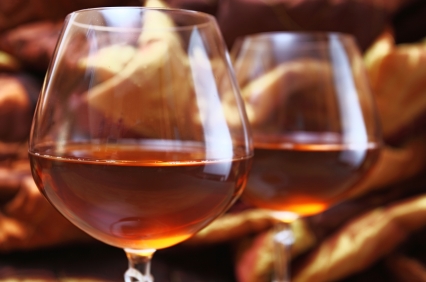 Tasting a fine cognac after dinner is a great pleasure. Strong and flavorful, I enjoy it with hot coffee and chocolate candies. There are many grades of cognac, though, with different taste characteristics. How can you tell which one is the right cognac for you?
Cognac is a brandy, a spirit produced by distilling wine from grapes. (There are also flavorful spirits produced by distilling fermented fruits, and these usually colorless spirits are called eaux-de-vie.) Cognac is actually distilled twice – thereby inviting comparison with Armagnac, which is distilled just once. Some say that Armagnac is the sturdier spirit, and Cognac more elegant, because of this essential difference.
Cognac comes from a delimited region of western France, in the Charentes and Charentes-Maritimes. There is even a town of Cognac, which used to have a film festival each March that attracted screen celebrities, including Lauren Bacall and Michael York. The film festival is now history, but the town itself is worth visiting, for here are all of the great producers of cognac, and they do welcome visitors. You'll also enjoy seeing the Château Baron Otard, where the future King François Ist was born.
There are six different crus of cognac. They are Grande Champagne, Petite Champagne, Borderies, Fins Bois, Bons Bois and Bois Ordinaires. The champagne crus  are more subtle and elegant, while the last four, while differing, add flavor and depth. Blending them is a prized art. And it is a mistake, I believe, to take these six different crus as necessarily indicating steps of ascending quality. Some producers, like Rémy Martin, do specialize in the Grande and Petite Champagne crus with at least half Grande Champagne, producing a "fine champagne cognac," while others blend all six together. Which you prefer is a matter of individual taste.
When cognac is aging in oak casks, some of it escapes … "le part des anges" (the angels' share). Inevitably, the secluded storage area is called Le Paradis. When you visit one of these areas and taste aging cognac, you'll be transported to a different level of enjoyment. It is clearly the equivalent of visiting a first growth estate in Bordeaux, and a memory that you will long treasure.
I have tasted cognacs from 1864 and 1888 in their oak casks in the Hennessey Paradis. The experience was memorable – and neither was a Grande or Petite Champagne. The 1864 was in fact a Bons Bois. It was still living 125 years after the grapes were harvested, full of rich, evolving complex flavors. For when a cognac is in the cask it is still aging – as soon as it is bottled, unlike fine wines, the aging stops. So a cognac from the year 1900 that was bottled in 1920 and sampled in 2013 would be … just 20 years old!
Cognacs have various aging designations, according to the governing Bureau National Interprofessionnel du Cognac.  V.S. Cognac ($30) has spirits whose youngest brandy component is at least two years old. V.S.O.P. ($40) doubles the requirement to four years, and X.O. ($80 and up) requires that the youngest brandy be at least six years old, a requirement that will be raised to 10 years in 2016. The first X.O. is said to have been produced by Hennessey.
For a traditional product, cognac offerings have developed substantially during the last decade or so.
When I lived in Bordeaux, one of the finest cognacs I tasted was at the Tesseron home at Château Pontet Canet in Pauillac. It was produced by the family at their property in the Cognac region and sold to large producers. Beginning in 2003, however, they decided to release their own cognac, "all X.O. and beyond." They sell their cognacs in four designated "Lots," average price $78 to $496, to ecstatic reviews. Good news for the consumer is that a "Mini Collection" with samples of all four, is available for $47.
Single vineyard cognacs have also grown in popularity. These blend brandies from different years, but from the same vineyard. Now the connoisseur of, for example, Borderies, may indulge a Park Borderies 15 Years Old Cognac for $47.
And let's not forget the Rémy Martin 1738 Accord ($48). This Fine Champagne Cognac, aged 12 years, is 65% Grande Champagne and 35% Petite Champagne. It pleases both for flavor and price, comparing favorably I have found with pricier X.O. cognacs.
There is a fine cognac for your taste. Let us know which one you prefer!
 Sign up for our eNewsletter and receive our FREE wine tasting guide