|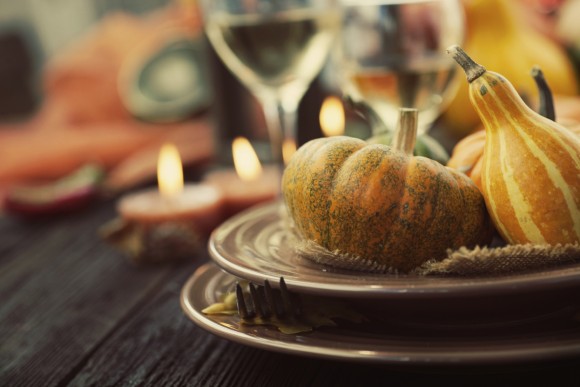 Celebrating Thanksgiving in Paris can seem like a contradiction in terms. And yet whether you're an expat living in Paris for the long haul or a tourist who doesn't want to miss out on the traditional festivities, there are a few things you can do to make sure that Turkey Day stays true to its name, even in Paris.
How to Celebrate Thanksgiving in Paris
Do it Yourself
If you are renting an apartment with a kitchen and want to make Thanksgiving on your own, there are a few resources that might come in handy.
You can find most of your groceries at a regular grocery store, including sweet potatoes, pumpkin, potatoes and vegetables you might like to serve. You'll also find butter and flour, but bear in mind that the butter in France has a higher fat content than you may be used to, and the flour will be ground more finely than American all-purpose, which means that any baked goods you might attempt to prepare won't turn out exactly as you remember them. When in doubt, refrigerated pie crusts are sold at all grocery stores and are a good bet to avoid making a mistake with your Grandma's time-honored flaky pie crust.
A few stores will help you locate goods not found at the regular grocery store, but at a steeper price than you may be used to.
La Grande Épicerie (38, rue de Sèvres) will have some things,
And two American grocery stores:
One aptly named Thanksgiving (20, rue Saint-Paul) and
The Real McCoy (194, rue de Grenelle) — both offer many items you're used to finding in the States, from canned pumpkin to Stovetop stuffing mix to Jiffy cornbread.
These stores also sell ready-made pies, in case you don't want to make your own, and the latter sells roasted turkeys so that you won't have to worry about fitting a turkey in a Parisian oven. All of these things should be ordered in advance to risk disappointment on the big day.
Should you like to roast your own turkey, you can get one from one of the two American stores or order one from a French butcher. Be sure to order in advance, as turkeys are not common yet this time of year in France, though the presence of Americans in Paris makes them easier to come by than in the past. Some butchers offer to roast your turkey on the rotisserie for you, so be sure to ask if this is an option.
You likely won't find chicken stock at all — do as the French do and use a bouillon cube instead.
Enjoy Thanksgiving in a Restaurant
If all of this seems just a touch too overwhelming, you could always entrust your Thanksgiving meal to another cook. Several restaurants in Paris offer a Thanksgiving menu on Thanksgiving itself and the weekend following, as the Thursday is not a holiday in France.
Joe Allen (30, rue Pierre Lescot), Paris' oldest American restaurant, offers a three-course Thanksgiving menu with a traditional dishes like vegetable chowder and a roast turkey plate with sides of stuffing, candied yams, green beans and cranberry sauce as well as pecan or pumpkin pie for dessert. However, some less traditional dishes are offered as well, including pumpkin enchiladas, baked ham, and foie gras — you are in Paris, after all!
For something a bit more casual, Breakfast in America diner (17, rue des Écoles) offers two seatings — one at 6:30 and one at 9 — for a traditional Thanksgiving meal including soup or salad, a traditional turkey plate and a choice of one of three homemade pies. The casual ambiance, particularly at the earlier seating, is ideal for groups with kids.
Of course, Thanksgiving in Paris doesn't have to be all about American food. You could also celebrate in a French restaurant with a bottle of Burgundy. After all, Thanksgiving has more to do with who you're with than what you're eating!
Have you celebrated Thanksgiving in Paris or elsewhere besides the States? Tell us about your experiences below!
Sign up for our eNewsletter and receive our FREE wine tasting guide.