|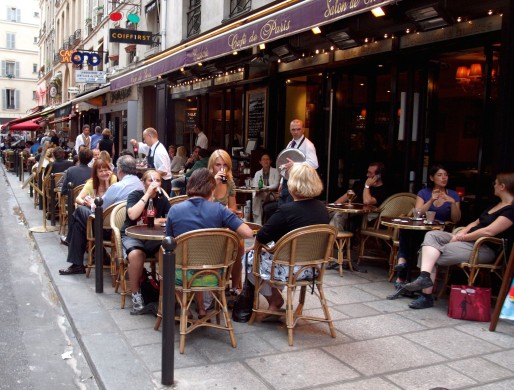 You may think that dining in France is much like eating out in any country. Walk into a restaurant, ask for a menu, order, eat, pay, leave. And yet if you're used to American restaurants, there are a few things about the French system that might strike you as odd. Never fear; with this dining in France guide, you'll be eating out in France like a pro.
5 Tips for Dining in France
Dining in France: Choosing a Type of Restaurant
One of the first things to bear in mind when choosing a restaurant in France is that not all restaurants are created equal. Differences exist between restaurants, cafés, brasseries and bistros, so be sure that you know what you want before you sit down!
Cafés and brasseries tend to be opened all day. Cafés will have a limited menu or no food at all, while brasseries will have a regular lunch and dinner menu and may also have a limited snack menu that you can order from in the afternoon including dishes like croque monsieur.
Bistros are usually not quite as fancy as restaurants, but both tend to close between lunch and dinner service. Of course, today, restaurant owners are playing with these approximate rules when naming their establishments, so you might encounter a restaurant with "café" in its name!
Dining in France: Ordering
Ordering in France, as in many places, usually starts with drinks.
You will often be asked if you would like an apéritif, which is a pre-dinner drink. Traditional apéritifs include kir, kir royale, and hard liquor like whiskey. Some restaurants will also have an apéritif cocktail. Beer is becoming a more popular apéritif, but wine is usually not ordered as an apéritif.
You may like to have water with your meal. In this case, choose between bottled and tap water. If you would prefer tap, ask for une carafe d'eau, or a pitcher of water. If you would like bottled water, ask for de l'eau minérale and specify if you would like it plate (flat) or gaseuse (bubbly).
When you receive menus, you will receive a wine menu advertising bottles, glasses, and often carafes or pitchets in 25 or 50 cl increments. A bottle is 75 cl, so you can choose accordingly based on how many people will be drinking at your table. The list will usually be arranged by region. It's a good idea to pick a wine from the same region as the restaurant's food or the food you have ordered, but if you're unsure or would just like some advice, your waiter or the sommelier will be happy to help!

When it comes to ordering food, you'll likely have quite a bit of choice as well.
At lunch, you'll often find a formule, or a set offering, often including a main and a choice of appetizer or dessert. This is usually a better deal than the full menu. You also may be able to order from a menu, which, contrary to its resemblance to the English term, is actually a prix fixe offering of appetizer, main, and dessert. (Another false friend to be careful of is entrée, which actually means appetizer in French! Plat is the equivalent of the American term entrée.)
If you would like to choose from the à la carte menu, you can ask for the carte and pay for each dish. The carte will be divided into appetizer, main and dessert, and occasionally there will be a cheese course. Most people today choose between cheese and dessert instead of electing to have both.
Nearly everyone follows up the last course — whether it be sweet or savory — with a café or espresso. Coffee with milk is considered a breakfast food, so try a café noisette — similar to an Italian café macchiato — or a café allongé — similar to an Americano, instead of a café or espresso.
Check to see if the establishment offers a café gourmand — a trendy combo of three small versions of dessert and a coffee. Some restaurants also propose a thé gourmand, which is the same concept accompanied by a tea instead of a coffee.
Dining in France: Pre-Dinner Snacks
Once you've placed your order — or sometimes before! — your apéritif will arrive. This is occasionally accompanied by a small snack, which may be chips or nuts or even a spread of some kind served with bread, called an amuse bouche. If you did not order an apéritif, you likely won't see anything to eat on your table until your appetizer. In other words… no bread.
You will see bread when your food arrives or a bit before. Eating bread before you begin eating your food is seen as bad form, as the bread is meant to accompany the food, not serve as a second amuse bouche. Because the bread accompanies the food, you will very rarely see butter served with the bread, unless you're eating breakfast or are eating at a very touristy restaurant.
Dining in France: Dealing with Food Allergies
France has become much more accommodating to food allergies in recent years, but you may still have a hard time in some places, particularly outside of Paris. One of the best ways to make a food allergy known is to print cards with the following phrase on them and show them to your waiter:
J'ai une grave allérgie à la/au/aux (insert translation of food item(s) here). Pourriez-vous m'indiquer s'il y a des plats sur la carte que je devrais éviter ? Merci !
The sentence translates to:
I have a serious allergy to

                              

. Could you let me know if there are any dishes on the menu I should avoid? Thank you!
Also be aware that vegetarianism and veganism are not as widespread in France as in many other countries, and some people do not understand what is implied by the terms. If you are vegetarian, some restaurateurs will assume you eat fish or even poultry; for vegans, some may assume that you do not eat eggs or dairy, but not that you avoid both. In order to be clear, print up allergy cards specifying all of the foods that you do not eat and show them to the waiter, as you would if you had an allergy.
Dining in France: Paying
Unlike in an American restaurant, you will not receive your bill once dessert has been cleared. You are permitted to stay as long as you like, and French people would interpret the bill being set down as being rushed out of the restaurant. When you want to pay, you will have to ask; the aloofness that many visitors to France interpret as rudeness is truthfully the waiter's attempt to allow you to finish your meal, coffee or conversation in peace.
When you are ready to leave, you can signal to the waiter and say, "L'addition, s'il vous plait." The waiter will bring the bill to the table at that point, but you are free to wait to pay until you are ready.
French restaurants tend to be more easy-going about splitting a bill than American ones, particularly because the credit card machine is brought to the table, so the waiter can enter exact amounts for each card with ease.  Note that Visa is more widely accepted than American Express cards in most restaurants.
Tipping is not required in French restaurants. For a short midday meal, a few euros will suffice. In a nicer restaurant, 10% is customary but not required.
Bon Appétit!
Receive timely updates and promotions and a free Guide to Wine Tasting Like a Pro-Click Here!