|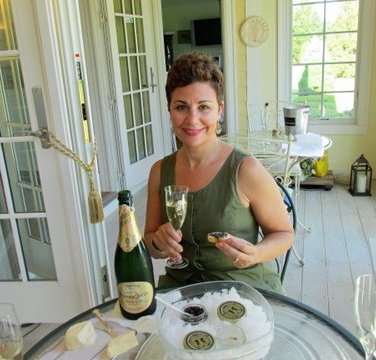 Not all caviar is caviar just as not all champagne is champagne. The term caviar is reserved for roe that is extracted from wild sturgeon caught in the waters of the Caspian and Black Seas, while other roe, such as salmon, should be called just that, roe.
Likewise the bubbly, golden drink often nonchalantly called champagne can only be called so if it comes from the Champagne region of France; all others are sparkling wine.
These two dynamos of all things refined share this culinary identity as well as a place at the table—creating an exquisite paring.
I have a certain affinity for caviar, it reminds me of my childhood visiting the Caspian Sea with my family—caviar was reserved strictly for the adults, but I have fond memories of them enjoying the delicacy on special occasions. My family was so accustomed to fresh, quality caviar that my Iranian grandmother brought a kilo of the prized roe with her when she visited my father in France!
I recently was at fundraiser where I met Paul Cullen, former guitarist for Bad Company turned gastronomic entrepreneur, and he introduced me to John Duke of Carter Caviar. John brought three caviars for us to sample that night and I was impressed by its high quality.
The taste of those flavorful, little pearls stayed with me after the party and I contacted John to procure some delicious Osetra class and to find out more about Carter Caviar and its operations.
"We started the company because my uncle, a head scientist at Mote Marine Labs, was working on a study involving sturgeon," explains John. His uncle told the family of the plight of the ancient fish and how, at Mote, they are farm raising sturgeon in a clean, sustainable environment. The family decided to go into the business of producing high quality caviar from the fish raised at the facility. Some proceeds from the sale then go back to assist in funding Mote's valuable research.
"What Mote is doing is producing farm raised sturgeon that is comparable to wild caught," John goes on to say. "Everything is hormone and antibiotic free."
There is a certain trick to farming roe from the sturgeon, "you have to know when the fish is getting ready to spawn," John explains. In the wild, you know when salmon are spawning—they start swimming up stream."
Salmon is another roe on the list of caviars Carter's provides as well as paddlefish, trout, and a variety of sturgeon: Black Gold—Osetra from Mote's farm, American Hackleback, Kaluga,  La Paz NC Siberian, Israeli Osetra, and California White sturgeon.
I asked John: what is the best way to eat his caviar, or caviar in general? His response was, "Do everything you can do to taste the caviar. Meaning, don't taste it on a regular spoon." He suggests you either place it on a spoon made of mother of pearl, or a thin rice cracker. "Sometimes people like to add a little crème fraiche on their cracker—which is great, too," he continues.
I also asked him what he likes to pair his caviar with, he responded: "I like to pair it with Dom Pérignon or a soft sparkling wine that's not too fruity." He explains everyone's palate is different and that he has heard of people pairing caviar with Belgian beer or even whiskey. "When we conduct tastings, we are constantly learning."
When I took some of their Osetra with me to my parent's house for a birthday celebration, I paired it with Perrier Jouët Brut Champagne and it proved delicious. My preferred way to taste any high quality caviar is straight up with a spoon or on delicate toast combined with unsalted butter. It is a creamy, salty blend that I highly recommend.
Caviar, like champagne should have a clean finish and though, technically, the name caviar is reserved for those wild caught fish swimming the seas a half a world away, Carter Caviar has achieved a certain level of quality that may just be unparalled this side of the Caspian Sea.
How do you take your caviar? What do you pair it with? Let us know below!
Sign up for our eNewsletter and receive our FREE wine tasting guide.