|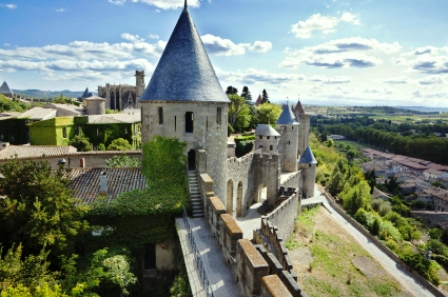 Sunny Languedoc-Roussillon, said to be the most productive wine producing region on earth, hugs the Mediterranean coastline. We are not talking about the historic Languedoc, which is well worth exploring on its own. That region, whose capital was Toulouse, roughly marked the area where "Oc" rather than "Oui" was spoken and the answer was "Yes." It is a scenic and historic area which rewards even the casual visitor. You and I will visit there soon.
For now, the term refers to the sunny area of France that hugs the Mediterranean coastline between Spain (Roussillon) and Provence (Languedoc), and produces a third of France's total production. Eastern Languedoc stops where the Southern Rhône Valley begins. The history of wine production goes back to Greek and Roman times. As you might expect, the grapes grown over this vast area span quite a list of probabilities, including local varietals such as Cartignan, the Rhône varietals of Grenache, Syrah and Mourvèdre, and traditional varietals such as Chardonnay, Sauvignon Blanc, Merlot and Cabernet Sauvignon. Most of the wine produced, as you might expect, is everyday vin de table. But there are notable exceptions, well worth seeking out.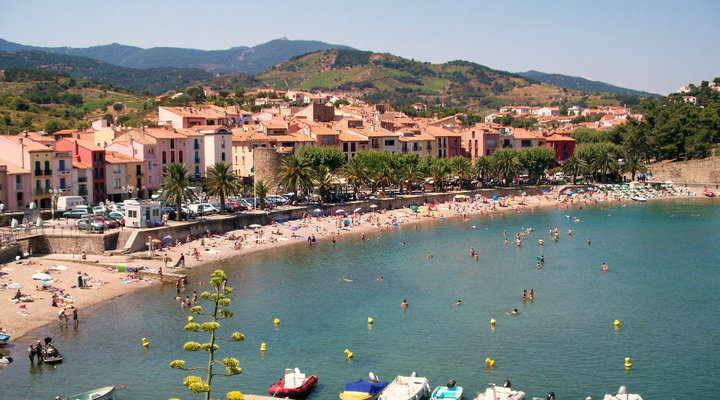 The wine regions in Languedoc-Roussillon are Corbières (one of the largest wine regions in France), which produces largely red wines using the Carignan grape; Côteaux du Languedoc, stretching from Narbonne in the west, first planted by Greek explorers half a millennium before our present era; Côtes du Roussillon, hugging the border with Spain; Fitou, south of Narbonne, which produces rich red wines in great quantity; Minervois, where grapes were first planted by Roman legionnaires; Saint Chinian, just north of Béziers (where a besieging Crusader bent on massacring the city notoriously said that "God will recognize his own"), and Costières de Nîmes, where the Languedoc meets the Rhône.
The countryside is made for tourism, and I'll just cite two of the great experiences of Languedoc-Roussillon. First is the magnificent walled city of Carcassonne, in the Corbières region. Restored by Viollet le Duc, Carcassonne will be a highlight of your trip to France. Have a blanquette de veau and ask your waiter which regional wine goes best with your choice. You will savor this memory for years! Second, is the fine sparkling wine, limoux. People from this region say that this is France's oldest sparkling wine, and they even claim that Dom Perignon got the idea for the champagne process while passing through Limoux! It may be a touch sweeter than you are used to, but it's certainly worth tasting this celebrated wine. And the price can't be beat!
Here are three regional wines, none of which will strain your wine budget. The Saint Hilaire Limoux Blanc de Blancs Brut 2006 ($11.99) will start your evening pleasantly. For a white wine selection, try Jean-Luc Colombo Viognier La Violette 2007 ($14.99). I have enjoyed the Viognier varietal wines that have been grown in Virginia. Here is our chance to try that tasty white varietal from sunny France. And for a rich regional red wine, select a Baugier Thunevin Côtes d Roussillon 2005 ($14.99), a blend of Grenache Noir, Syrah and Carignan grapes.
Wines Of The Month
But not all Languedoc-Roussillon wines are inexpensive! Gerard Gauby and his son Lionel, of Domaine Gauby near Perpignan produce well crafted biodynamic wines at the $35 level. At the top end of the scale, their flagship Muntada (Domaine Gauby Muntada Côtes du Roussillon), painstakingly produced from Grenache noir (45%, average age 50 years), Carignan (45%, average age 120 years), Mourvèdre (5%, average age 20 years) and Syrah (5%, average age 15 years) is an intense, ruby red wine, balanced, and made to last for a generation. At $80 a bottle when you can find it, that is not an unreasonable expectation!
Bill Shepard, Wine Editor
Discover more wine regions in France:
Copyright ©2010 French Wine Explorers