|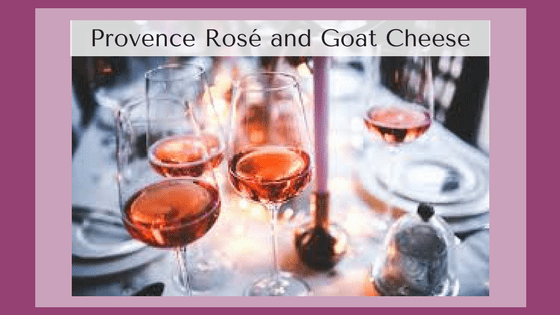 Provence Rosé Wine and Goat Cheese: A Match Made in Heaven
Imagine the summer sun, a picnic with some Provence rosé wine and goat cheese, with fresh bread, tomatoes, olive oil and olives. This is the epitomy of the simplicity and the joie de vivre of Provence life. And it is even better if accompanied with a glass of wine!
Goat cheese (chevre) is the cheese of Provence. The goats survive on the garrigue (scrub land) of the rocky hillsides when little else does.
There are many different styles of goat cheese and they are much whiter than sheep or cow milk cheeses. Here are four variations:
Fresh young goat cheese.

Profile: snowy white, mildly acidic, with a hint of creamy sweetness.
These are sold as small rounds at markets during the summer from May to October.
These cheeses can be preserved in olive oil with herbs, rolled in fresh or dried herbs or crushed pepper.

Creamy goat cheese

Profile: harden with age, becoming drier, saltier and more tangy. With age they slowly shrink to become hard discs.
Their color also darkens with age. Market stands often sell three week and six week old cheeses next to their fresh cheeses.
After a few more months their strong flavor becomes an acquired taste! These older cheeses are sometimes crumbled into tians-a dish of finely chopped vegetables cooked in olive oil and then baked au gratin.

Buche de chevre is a log of goat cheese, similar in style to Camembert.

Profile: it has a creamy-white soft crust with a gooey center. This cheese can be quite salty and strong.
It is the style of cheese often served grilled on a slice of baguette with a salad- salade de chevre chaud.

Tomme de chevre  Tomme is a large wheel of hard cheese found in the sub-alpine districts of Provence. Goat's milk is often blended with sheep's and cow's milk to make larger tomme.

Profile: a nutty fruit character. They are creamy when young with a good acidic bite.
With age they become darker and stronger, resembling (vaguely) a mature cheddar.
This cheese also melts well. In western Provence, tomme is delicious melted over polenta.
For other goat cheese variations, check out our article on goat cheeses from the Loire Valley and favorite wine pairings here: The Loire Valley, France: A Haven for Cheese Lovers.
Provence Rosé Wine Pairings with Goat Cheese
With such different flavors, the choice of rosé can seem impossible! Here are some recommendations:
Young Provence Rosé Wine, Young Cheese
The majority of Provence rosés have fresh crisp acidity, hints of red fruit and a touch of minerality.

This style proved to be an easy match with most cheeses, but especially so with the young fresh cheeses.
Their delicate flavors do not compete with the taste of the cheese. The acidity matches the tangy cheese acidity.
This is the perfect summer combination.
An evening variation would be to serve bite-sized toasts with fresh goat cheese. Pair them with a glass of bubbly Provence rosé wine.
Older Cheese, More Ripe Fruit Style Provence Rosé Wine
Rosé wines with more ripe fruit character are also an interesting match.

These fuller bodied wines did less well with the young fresh goat cheese.
Instead, these wines balance the stronger flavors of the slightly older cheeses. The cheese emphasizes the fruitiness of the wine.
Look for darker, fruitier, but not sweet, styles. Avoid oaked rosés where a stronger oak flavor might dominate. Serve with olive fougasse, the Provencal version of foccacio.
Older Provence Rosé Wine with Goat Cheese Young or Old
Curiously, the milder flavors of older Provence rosé wines are also good with goat cheese.

With a year or two of age, the wine can develop hints of honey, spice, bitter orange and mellow red fruit.
Look for Provence rosé wine from Bandol. Those made with a higher percentage of Mourvedre take on beautiful mature flavors. These flavors become more apparent when matched with oldest cheeses.

The addition of a bowl of walnuts and dried figs or walnut or chestnut breads would complete this match. This pairing has the rich mellow flavors of autumn.
The powerful flavor of the buche de chevre, is the hardest to match with a Provence rosé wine. I am tempted to suggest nothing more than fresh baguette and a green salad to accompany this cheese.
The distinctive flavors of goat cheese, matched with the right Provence rosé wine, can create a truly exciting cheese board.
Sign Up for our eNews articles and receive our Free Guide to Wine Tasting Like a Pro!