|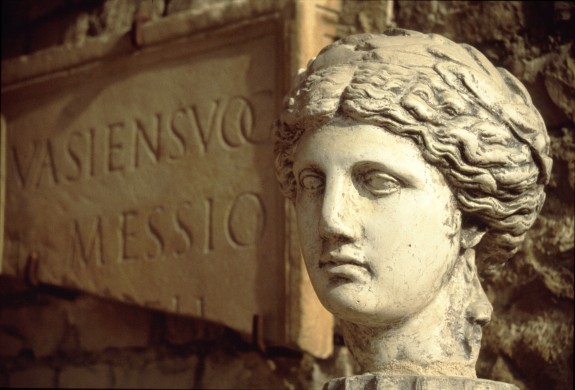 I'm spending a week with other travel professionals for a wine tourism conference in the Cotes du Rhone around Avignon.  We were a group of 25 or so professionals specializing in wine and culinary tours, many from Europe or the far East.  This gave for a very interesting mix of discussions and opinions about what we do and how we do it.  Our common bond was our love of travel, fine wine and good food, so we were all in good company.
There has been a lot going on in the wine and culinary arenas, and I came to see firsthand what's new and exciting to offer our guests.
Exploring the Southern Rhone Wine Region
Day one found us in Vaison La Romaine, with its wealth of roman and medieval heritage.  What I love about this village is that it's full of charm with its narrow streets and winding alleyways, and it feels authentic, not overrun by souvenir and kitschy shops.    There are other, may be more noteworthy sites but this one was without the crowds or tour buses filing in and out. Our guide was excellent at conveying the significance of the ruins without turning the visit into a chore.
Ok, we've gotten a good impression of some history-now it's time for wine!
We had a wonderful introduction to the wines of Gigondas at a new restaurant that specializes in commented wine tasting and small plates.  The view was fabulous and the meal perfect, especially for those of us who prefer lighter fare for lunch instead of a multicourse meal. It's run by the cooperative of the area, which groups many of the winemakers, and headed by a salt-of-the earth winemaker and our new best friend for the afternoon.
The meal was perfect, each wine and small plate pairing was so unique and the choices were thoughtful and sometimes thought provoking.  I particularly enjoyed the Gigondas Rose (ok I know what you're thinking) which was quite hearty (at 15% alcohol, this would be better in the fall than summer-I'd probably faint if I had it on the terrasse in the heat!)  Then we moved on to more Gigondas wines, and the reds were really of distinction.  Here lie some true undiscovered and undervalued gems (Gigondas is often referred to as "poor man's Chateauneuf du Pape"). But in my humble opinion, Gigondas wines need no referral; they stand well on their own legs.
Off to Chateau de Mazan for a dinner and discussion of the wine region hosted by my friend and guide Olivier, our wine expert during our tour (this was by pure chance as this tour was planned by the local tourist board). Making sure we understood our subject at length-we all probably stayed up a bit too late, luckily we were professionals and all were eager to make the early morning call to meet the bus (some more than others).
Tomorrow, we hit the 3 C's: Chateauneuf, Chocolate, and Chateaux!