|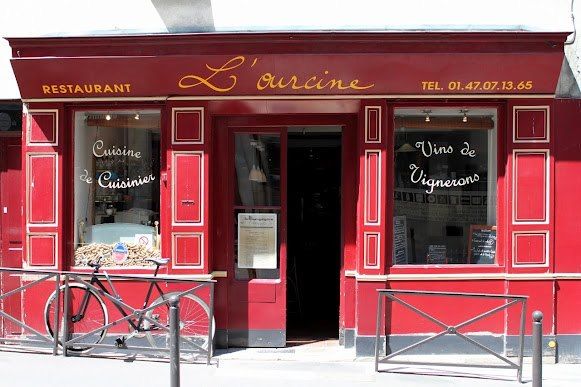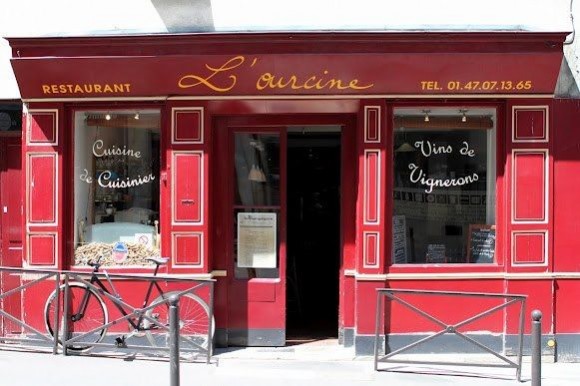 Paris Chef Spotlight: Sylvain Daniere Q & A
We sat down with Paris chef Sylvain Danière, owner of l'Ourcine on Paris' left bank. The chef opened the restaurant in 2004 and completed a full renovation in 2012-2013, closing the restaurant for a year. Chef Danière's experience includes catering work at Harrods in London, traditional restaurant kitchens like famed Paris brasserie Closerie des Lilas and the Plaza Athénée and smaller kitchens like la Régalade. It was in this frame of mind that he opened l'Ourcine, a restaurant whose motto is "Cuisine de cuisiniers, vins de vignerons" (roughly translated as food made by chefs, wines by winemakers)– a motto that shows the importance of origin and authenticity here.
1. What wines do you think go well with your cooking?
Well, my cooking is about working with fresh ingredients, and everything is made in-house, respecting the flavors, the ingredients themselves and the cooking techniques. So we really like to work with winemakers who work with the same frame of mind, for example natural wines or at least a well thought-out philosophy of agriculture.
Other than that, there isn't really one wine that goes well with my cooking. I like to work with winemakers who are in a frame of mind that's close to my cuisine. Organic, why not, but not necessarily. At the very least, in a spirit of respecting the earth, respecting the product, where we're not paying attention so much to the quantity of the harvest but to the quality. So not necessarily certified organic, but at least people who are working… cleanly, I'd say.
2. What are some of your favorite food and wine pairings?
Nothing really specific…. It's really more about a feeling, you know? If I like it, there you go. And because the menu changes constantly, you judge every pairing individually. There's no year-long menu, it changes all the time, so in two weeks the whole thing will have changed, and the wine list works in the same way — except for a few classics we really like.
There's also the fact that while wine-food pairing may be true, but at the same time, I'm not really a fan of that way of thinking. What I mean by that is that there are lots of different wines that could pair well with one dish, and a food and wine pairing is really very personal, at the end of the day. It's the suggestion of a sommelier, a server or even a chef, but it's not an absolute truth. It's a personal opinion. They think it's perfect. You can taste it and see that it's good, but it might not be perfect for you. So we try to get out of this mentality and always be in the mindset of renewal and novelty.
And on top of everything, I'm not all that fussed about pairing white wine with fish, etc. There are some nice lighter red wines that can go very well with fish. The menu changed yesterday, we had some red mullet on the menu, which is a fish that's fairly similar to bass, but a bit stronger in flavor, and it can go nicely with a red wine that's even a bit stronger, like a Moulin à Vent from Pas de Calais, which is powerful for a Moulin-à-Vent, for a Beaujolais, so these are red wines that are pretty light but also very pertinent, and they can go well with stronger fish like red mullet. I'm not a huge fan of pairing those sorts of dishes with a dry white.
3. What are some of your favorite wines?
I really like wines from Pas de Calais. I also work a lot with vintners in Burgundy, which I like a lot. I've had some great Burgundies with my family, things that have just been languishing in the wine cellar, and you're not too sure what they are anymore, so we've had some lovely surprises that way. The best surprises are usually things like that.
4. What are the trends that you would like to see more of in restaurants today in Paris?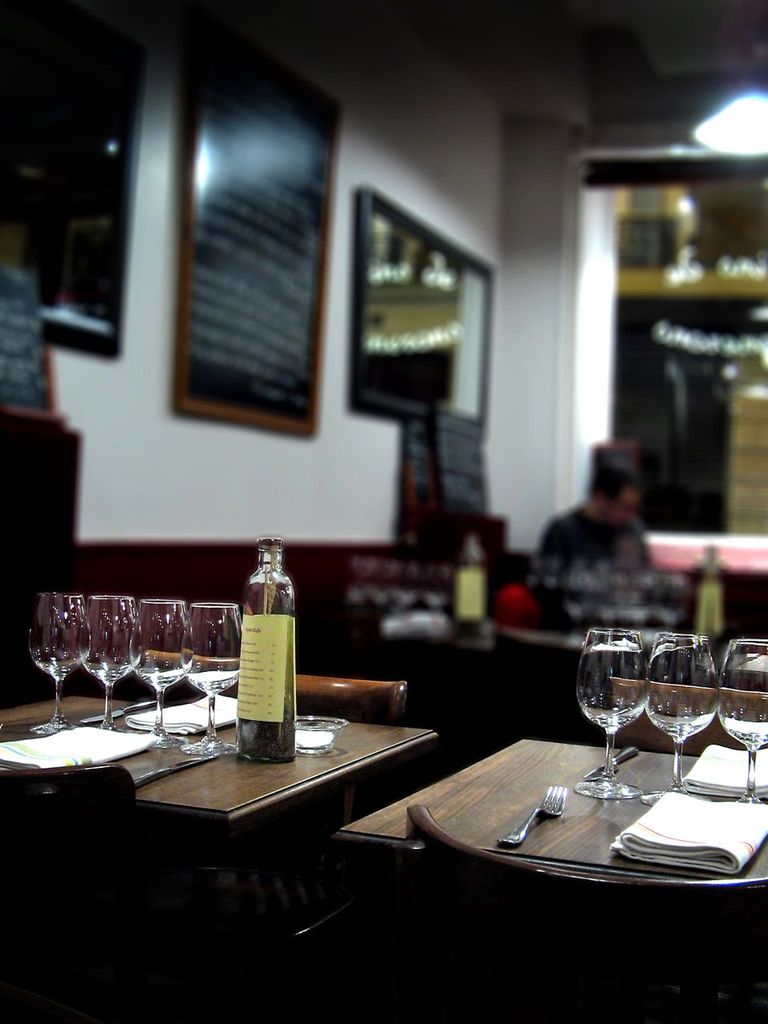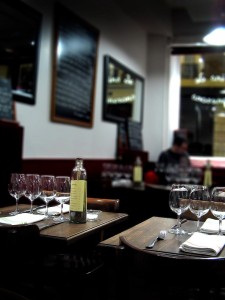 This whole trend inspired by culinary shows of having very young, trendy chefs, very fashion-conscious, with modern décor… it can create a nice ambiance, and I think it makes everyone very conscious of what they're doing. So everyone's working with wines that are made intelligently — that's the trend and has been for awhile, but I think even more so now.
But sometimes I feel like people can go too far on that, ride the wave of the trend a bit too far, and some do well by doing that, but other times, it's too ephemeral and so people follow the trend, it works really well, and then I'm not convinced it sticks around.
What I would like to see that isn't around, I'm not too sure, because there are all sorts of new things happening right now. There are things that are really more about personal taste than anything else. It's kind of superficial. Even in hosting and service, it's a bit more casual, a bit less traditional. There's no more mâitre d'. I don't think we should completely remove that idea of a front-of-the-house service, but it's nice to see that lots of servers are familiar with the cooking, and lots of cooks know about service, so it's becoming more of an idea, like you see in modern restaurants, a couple or two men or two women and they're very well suited, so the guy doing front-of-house is very well acquainted with the kitchen and the chef is spending time in the front. Those interactions, I think that's maybe the up-and-coming style. People like it.
If I were to change restaurants, that's what I would like to do. Where the client knows more about what's going on on the plate, either via the construction of the restaurant, or because of the mentality of implicating people more in the products and the ingredients and what they're eating. I think that's really the trend — getting people involved in what they're eating.
5. What's the trend in your mind, either in food or wine, that you would like to see disappear?
I don't know. I don't really want to see things disappear. I think that things that aren't great tend to disappear all on their own. I think it's interesting to see what can be done, I think there are lots of different things going on. I'm kind of tired of the burger trend, but that's more me being fed up with it than anything else. It's a nice way to make money, it doesn't cost very much. But it quickly became kind of ridiculous. Some people are doing good things, but it has become a bit too much at this point.
6. Could you tell me a bit about how you find the inspiration for your menu?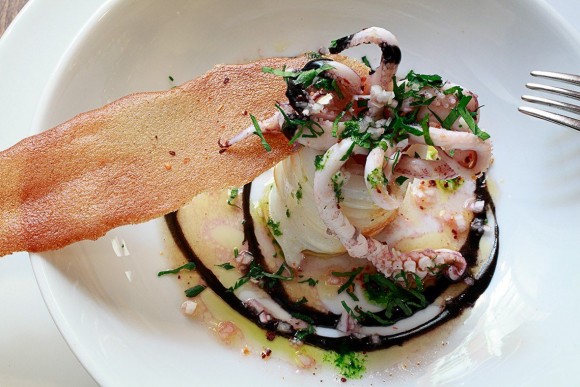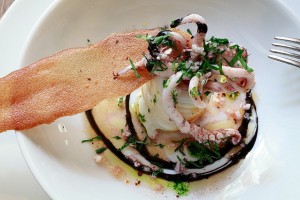 I like when people participate and give their ideas. I think that helps with moving forward. If I'm the only one deciding, it's not as interesting. I don't really go to Rungis (market) that often, because I'm very busy. But I don't really over-think it ahead of time.
I try to work with the seasons as much as possible and just go with my gut and with what my suppliers have, especially with fish. With meat it's harder, because you can get pretty much everything all the time. Except for now, of course, when you have milk lamb, but with fish it's more fun, a bit more interesting, and so I work with a fisherman in Brittany who calls me and tells me "Today I have, this, I have that — I have this, but it might not be that great…" And he knows all the small fishermen from the area who do quality stuff, so that's what I like.
Fruits and vegetables are the same, I look in Brittany, in the South of France, so it's kind of like going to the market. I like to work that way — that's how I was raised at home, so I like to do that.
It's hard to think too far in advance for the style of restaurant I have. That would be another style, more gastronomic. We do just a few portions of each dish, 20, 30, 40 of each, and when it's gone, it's gone.
7. Being in a modern bistro, how do you try to rework classic dishes?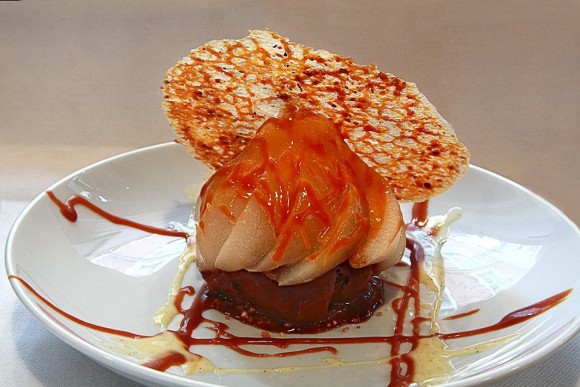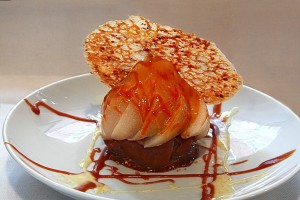 There are people who say, "I do revisited classics." And that's really their thing. I have classic bases, I have classic training. And I'd say that I do everything based on my gut, so there are dishes that are a bit lighter than the traditional, like a veal onglet with shallot sauce, but we'll do a whole confit shallot instead of sweated shallots in a sauce like in a more classic bistro.
We'll try to bring more from a technical point of view, but still remain in the classics, so it can be kind of random. Sometimes we'll do something like celery, foie gras and coriander, so totally not a bistro dish, except for the foie gras. I know that Fooding once put in their guide — "they need to know what they want, gastro or bistro" — but I think that's what's interesting: flirting with tradition and also doing things that are a bit more eccentric.
Do you have a favorite chef in Paris? Who would you like to see us interview next? Tell us below!
**All photos are courtesy of L'Ourcine's Facebook page.
Sign up for our eNewsletter and receive our FREE wine tasting guide.