|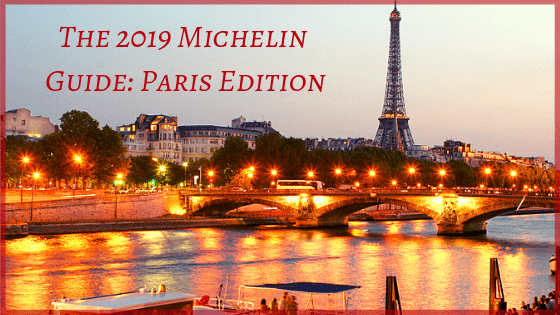 Paris 2019 Michelin Update: What's New In the Stars? 
Who were the winners and losers in the Paris 2019 Michelin update for Paris restaurants? This year, the food world's most prestigious guide added 68 new tables to its pages, including 18 in Paris. With a nod to trends for the Parisian food scene; this is what the Michelin guide has in store.
New Trends are Getting Recognition



A few modern Parisian tables have earned their first star:
The innovative cuisine of chef Iñaki Aizpitarte received a long-awaited Michelin star. The Basque native heads the kitchen at Le Chateaubriand. Her talent's recognition has started a welcome trend. 

Grégory Marchand's Frenchie

is among Paris locals as the place to go for

inventive, seasonal food

. He has a noticeable presence in the 2nd arrondissement's rue du Nil. The small area is home to his restaurant, wine bar, to go venture and wine cellar. And Marchand's hard work

is rewarded

with his first star.



Sardinian

Chef Simone Tondo

is the genius behind

Racines

.

The Italian-influenced small plates restaurant

is located

in the picturesque 19th century Passage des Panoramas

. A

small, seasonal menu

and a long list of natural wines has earned this spot its star.



Chef Tomy Gousset's

eponymous

Tomy & Co

. is known for its modern approach. His use of color and freshness to bring out the best in his often

offal-forward menu

.



Climbing Through the Ranks, Stars Added



One Parisian restaurant
was elevated
from one to two stars.
David Toutain's La Scène
at the Prince de Galles hotel
is run by
by
Stéphanie Le Quellec
.
36-year-old Le Quellec has been chef at

La Scène

since 2013. With a chic decor, she highlights a

Mediterranean sensibility with a modern flair

.

Le Quellec's second star is also indicative of another trend.

Women are climbing through the ranks

of the male-dominated guide. Eleven women earned a star this year. One of the eleven is

Julia Sedefdijan of Baieta

.

Chiho Kanski

is another. She runs the

Virtus'

kitchen alongside

Marcelo di Giacomo

.



Notable Lost Paris Michelin Stars (and Other Possible Disappointments)



The Paris 2019 Michelin Guide announcements are a time of celebration. But there are always
a few disappointed parties.
After twelve years at the top,

Pascal Barbot's Astrance

lost its third star.



Alain Dutournier's Feuillants

and

David Bizet's Taillevent

lost their second star.



Several restaurants lost their only star:



And the infamous

Jules Verne

, atop the Eiffel Tower.

Alain Ducasse

, the French super-chef, ran it for ten years. Leaving its kitchen only after losing out to chefs,

Frédéric Anton

and

Thierry Marx

this summer.



While not in Paris, the odd situation of
Chef Sébastien Bras
deserves a note.
Last year he refused a

three star rating

from the guide.

He cited the pressures associated with a three star rating. In 2018 he continued to make

innovative cuisine

at his restaurant,

Le Suquet

in the Aubrac region.

Despite no efforts to adhere to the guide's rigorous standards, he still received two stars in 2019

.
Some swear by the guide, others disregard it completely. The question that remains is: "How much does the Paris Michelin Update affect your choice for dining in Paris?" Let us know on Twitter, @FrWineExplorers or on Facebook, @FrenchWineExplorers. We'd love to hear from you!
Sign Up for our eNews articles and receive our Free Guide to Wine Tasting Like a Pro!