|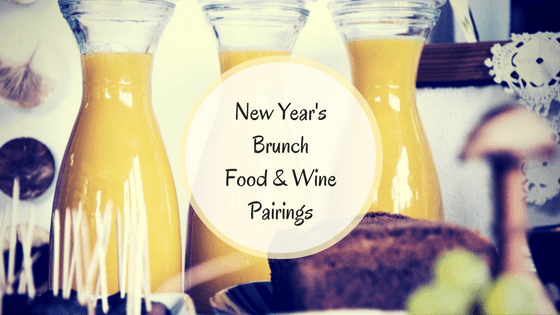 Note: This article on New Year's Brunch pairings is the 100th blog post written by our Wine Editor, William Shepard.
William Shepard has lived extensively in France and speaks French fluently. He taught at the Lycée Jean Giraudoux, Châteauroux (Indre-where Pierre Bernasse is from!) in his youth. He went on to become a diplomat, with tours as Consul or Political Officer at our Embassies in Singapore, Saigon, Budapest and Athens. He then served as Consul General in Bordeaux, where he got to know each of the 20 départements (districts/counties) of the Southwest region thoroughly.
Bill has visited and assessed the wines at over sixty of the finest wine châteaux of Bordeaux, Burgundy and Champagne, including every first and second growth of the Médoc region of Bordeaux, every first growth of Pomerol and St. Émilion, as well as Château d'Yquem, the Domaine de la Romanée-Conti, the Domaine Comte de Vögué, Taittinger and Pol Roger, and other leading estates, from Alsace to Châteauneuf du Pape.
Cheers to 100 great articles!
New Year's Brunch Pairings: The Best Food and Wine Menu
This is the year that you have decided to host a New Year's Brunch. It's a decision that your lucky guests will applaud. Here are some suggestions that will help ensure a tasty and memorable event. I have included suggestions for food to be served, plus a variety of refreshing wines.
First, bear in mind that this is not likely a seated event, instead an informal gathering of friends.  Your guests will be walking about, admiring your home and hospitality. So don't forget the flowers, as fancy or colorful as you wish. Flowers at a festive event add a joyous touch. Without them, something is missing.
How could anyone forget that New Year's Brunch comes right after New Year's Eve? That means that your guests will have stayed up late celebrating. This creates a temptation to continue celebrating the New Year. Don't fall prey to temptation. I would suggest making available mimosas or Bloody Marys, with vodka or gin of your choice. These should be premixed, so they are not too alcoholic. This is not the time for an open bar!
For New Year's Brunch pairings, the wines, including sparkling wines or champagnes, should be well chosen.  There is nothing that exudes a festive atmosphere more than sparkling wines or champagnes. And since it is a mid-day event, I would suggest a champagne of the lighter school:
Perhaps a Taittinger nonvintage brut "La Francaise" ($38)
Mumm's Cordon Rouge (NV $34) also would be a flavorful choice
Now the word is going around – France also produces oceans of superb sparkling wines. These are not  legally allowed to have the champagne designation, but they are excellent drinks, at a fraction of the price of champagne. (A Cremant de Limoux, for example, retails for just $15. And this is where the champagne process was first created, in the sixteenth century)!
What foods should you serve?
First, a baked ham will center your meal. It is tasty and filling, and goes down well for brunch.
An assortment of favorite appetizers would be well received. Try:
Some assorted cheese puff pastries
Beaten biscuits or small croissants
Deviled eggs
Tiny Cherry Tomatoes
Miniature Quiche Lorraines
And Pate on small toast rounds
You may also wish to feature some regional specialties. Here on the Eastern Shore of Maryland, for example, baked oysters, or crab puffs would be a welcome treat. And for dessert, nothing is more festive than the official Maryland dessert, a Smith Island Cake. It brings to mind the legendary Dobostorte, a layered chocolate cake from Vienna or Budapest.  Your favorite family fruit pie recipe would also be appreciated.
For all of these treats, I would suggest a cool, refreshing and rather light wine, either white or rosé. It is not really the right time for more complex red or white vintage wines – save them for dinner!
Rosé wines from the Loire Valley would be a good choice. They are refreshing and not expensive, and would showcase your foods perfectly.
Try a fine quality Sancerre Rose, 2015 Jean-Marc Crochet ($17), rather surprisingly made from 100% Pinot Noir grapes
A fine Cabernet d'Anjou Rose from the Chateau le Champiteloup (2014, just $11)
A Muscadet sur lie from the Loire Valley would be a fine choice for a white wine. They are refreshing, of high quality, and not expensive. Make sure that you purchase the sur lie designation. It insures that your Muscadet will have some weight, and complement your foods well.
My favorite Muscadet is made by the Marquis de Goulaine, and retails for $17.
With dessert, don't forget a toast to the New Year, and open a fresh bottle or two of the champagne or sparkling wine of your choice. It's a grand way to start the New Year!
Sign Up for our eNews articles and receive our Free Guide to Wine Tasting Like a Pro!