|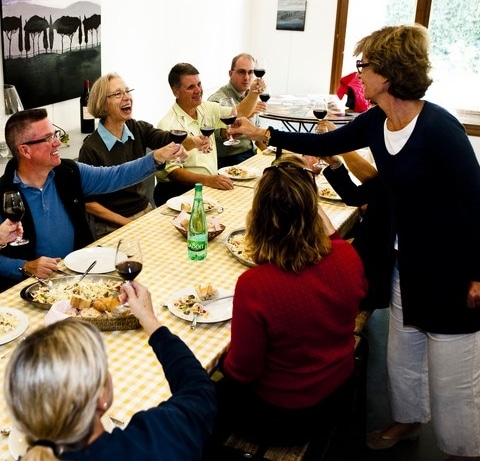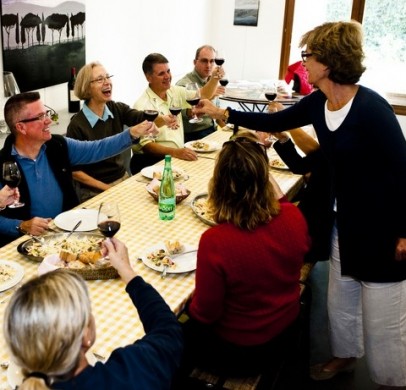 Many dinners are enjoyed with a single wine, which matches the main course.  You can go one step further and offer a French wine pairing for each course to set the stage for a memorable meal.  For example, you could offer guests a glass of Chablis with their hors d'oeuvres, and it is natural to take the glass to the table, where it will serve to match the first course, with the wine topped up with a fresh bottle. Chablis such as Fèvre's "Champs Royaux" (2011 $19) works well because it is a light and flavorful white wine, which sets the stage for courses and wines to come. Progressing through the dinner, a well chosen red wine will complement your roast, and then be a treat with a cheese course.
We have already touched on several of the sensible notions regarding a multicourse dinner, and the order of wines. Wines should go well with the courses they accompany. Lighter wines come before deeper ones, and white wines precede red wines.
Let me add a few more notions that I've found useful. The first is that the taste of wines, and the weight of the wine, may vary a great deal within each variety. For example, Chablis can be a light wine with citrus highlights, or, if it is one of the seven Grand Crus, it can add weight to flavor. I would be careful about serving a Grand Cru Chablis, say a Les Clos, with a first course for that reason. If the wines that follow are similarly deep and rich, the total effect may be too much – like eating chocolate at every course! Balance and contrast are better goals.
Just as white wines may be full-bodied, the fact that a wine is red does not mean that it is weighty. Classically, one of the best known and most expensive red wines, Château Lafite Rothschild, is a rather light and smooth wine, albeit one full of flavor. A strong wine should therefore not precede Lafite. Oddly enough, at expensive Bordeaux Vintage Dinners, this feature is often neglected, as the wines are often served in alphabetical order in English, which makes no sense at all!
With this in mind, let's consider three dinner menus, with some wines that might go well with them. First, let's start with the following:
Oysters and Mushrooms au Gratin,
Cornish Game Hens with Cumberland Sauce,
a cheese course,
and a lemon soufflé for dessert
The classic white Bordeaux to serve might be a fine Graves, a region that deserves to be better known for its excellent white wines. A favorite in Bordeaux is white Château Carbonnieux (2009 $35). It is medium weight, very refreshing, and prepares the palate well for what is to come. With the Cornish Game Hens, a red Burgundy would be a good choice, say a Nuits-St. Georges (Latour 2010, $52). Save some wine for the cheese course to follow. Offer your guests a real treat with the dessert – perhaps a sip of fine Sauternes (Château Coutet 2005 $30 half bottle).
A second dinner and pairing suggestion could be as follows:
Asparagus with Hollandaise sauce
Roast Rack of Lamb, either with mint sauce or with sour cream gravy,
Cheese course,
Whipped strawberry pie 
Here I would serve a tasty white Alsatian wine with the first course, such as a Willm Reisling Kurschberg de Barr Grand Cru (2011 $17), or perhaps a Hugel Gewurztraminer (2008 $24). These Alsatian wines are moderately weighty, and the Gewurztraminer is somewhat spicy. You need something like that to contrast with the Hollandaise sauce. For a red wine, Rack of Lamb is classically paired with Bordeaux (2006 Château Branaire Ducru $56). A light sparkling wine with your dessert would be an unexpected treat, say an Alsatian Dopff Moulin Crémant d'Alsace (2009 $20), which is champagne without the legal right to use that designation!
Could you use a fine white wine with your main course? Absolutely! Here's a wonderful suggestion, ideal for the summer:
Sliced Pear Salad with walnuts and Roquefort cheese
Maryland Crab Cakes
Cheese course
Pavlova with fresh strawberries
This is one of those occasions that proves the old saying that champagne goes with everything, and your only concern then would be, which champagne to serve. I would suggest a lighter one, such as Roederer or Taittinger (brut, $37-$39). The heavier champagnes, such as Bollinger or Pol Roger, might be overwhelming.
If you served still white wine instead, a lighter white wine to begin the meal (2009 Muscadet Marquis de Goulaine $15) could be followed by a fine Meursault Premier Cru (Latour "Château de Blagny" 2010 $60), a Chablis Grand Cru (Michel "Vaudésir" 2011 $60), or perhaps a flavorful white Châteauneuf du Pape (Perrin & Fils "Les Sinards" Beaucastel 2009 $38).
These are some suggestions for a memorable dinner for your fortunate guests. Let us know your own dinner choices if you would like suggestions on wines to accompany them.