|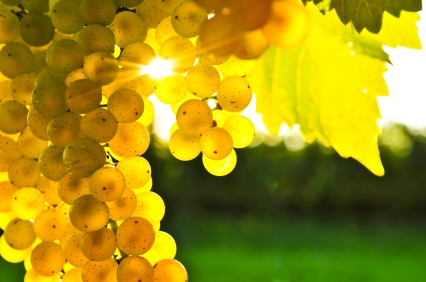 If you have not yet visited the champagne region of France, 90 miles northeast of Paris, you have a great treat in store.
The region of Reims, Epernay, Ay and Troyes is beautiful, easily accessible from Paris, and still not overrun by tourists. As a bonus, Reims Cathedral with its Marc Chagall windows is a memorable visit, and in Reims you can also visit the schoolroom where the German WWII surrender occurred on May 7, 1945. Champagne houses are welcoming, and there is throughout the region a choice selection of excellent restaurants. Dinner at Les Crayeres at Reims, for example, would be a lifetime memory.
Champagne is usually a blend of three grape varieties: Chardonnay (finesse and flavor), Pinot Noir (aroma and body), and Pinot Meunier (spice and fragrance). For a blanc de blancs only the Chardonnay grape is used. Non vintage (NV) champagnes are blends of several years, and are meant to be consumed within a year or two of their release.
The quality of French champagne has risen markedly in recent years, with strict standards governing yields per acre, the improvement of wines held in reserve, pruning, and other essential matters. Another step forward was the 1992 decision to eliminate the third pressing of grapes for champagne. Now only the first pressing, or "cuvée," and the second, or "taille," may be made. The result is finer wine, with a lower yield of wine per ton of grapes. This produces a far better Quality Reserve, the wine that is put by in a good vintage year to improve wines in later years.
The governing trade association, the CIVC, also decreed that vintage wines must be aged in the bottle for at least three years (and NV for 15 months) before shipping. Bottling may not take place before the January following the harvest. The best champagne houses go beyond even these new requirements. For example, quality houses will age their NV champagne for several years, and their vintage champagnes will be aged beyond the three year minimum. By the way, vintage champagnes are ready to drink when bottled, and gain nothing in the bottle (since there is no oxidation). So as a general rule, your champagne should be drunk within fifteen years from its vintage year (or, half a dozen years from the year you bought it). So don't believe those James Bond films that have him ecstatic over 1929 Bollinger!
Wines Of The Month
The style of champagne varies from light to full. It is a matter of taste, not of quality. Which style you prefer is up to you. For example, Taittinger is a light champagne, Möet et Chandon is medium, and Pol Roger is a fuller champagne. So here is your pleasant taste assignment. Try one chilled NV bottle of each of these fine champagnes, at about $35 a bottle, and see which style you prefer. Trust me, you have never enjoyed a homework assignment more than this one!
 Have you visited France's champagne region? Tell us your story below!
Sign up for our eNewsletter and receive our FREE wine tasting guide.