|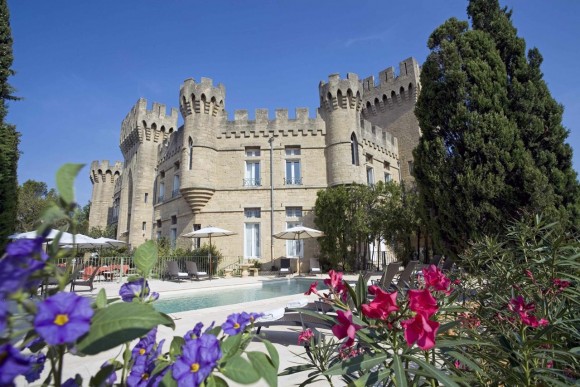 Hotels in Avignon France
During my short stay in Avignon France for the wine and culinary tourism conference, I managed to see and/or experience six hotels in the region, most in Avignon, with a couple outside of Avignon.
Here's a brief recap of some hotels to help you get a feel for accommodations in the area.
If you are looking to be in a village, and discover a village atmosphere, there are many to choose from. One of my favorites is Vaison La Romaine because there is (as mentioned in another blog) a good historical visit of the Roman ruins, a wonderful selection of boutiques and restaurants, and an authentic village like atmosphere. There are, however, no 4* properties, but a very nice 3* in the older part of the village that is quite nice. I'd recommend this for a two or three day tour.
Just outside of Avignon, in the Chateauneuf du Pape region, is a wonderful hotel with 11 rooms with OUTSTANDING views of vineyards from every room. The owners are well-heeled and well-traveled; you enter as guests, and leave as friends. This is an ideal hotel for a friends and family break, small wedding, special occasion or if you want to be outside of the city in and around the vineyards. The pool is a nice touch for relaxing, and the outdoor dining al fresco is perfect on a starry night. If you choose this hotel, I'll make sure we choose the best room for you, as some are better than others depending on your interests, for example there are some rooms that are more secluded with private access to the pool (great for honeymooners) or others that are very large with separate shower and bathtub (perfect for guests with mobility issues or those who haven't quite mastered showering in a bathtub with no shower curtain!) Either way, this is a wonderful choice for a couple of evenings.
In Avignon, I would recommend two of the three 4* properties I revisited. One is well known for being the "hotel of dignitaries" and the accommodations and service are luxurious and discreet. Another hotel is just next to the Popes Palace and has the essence of Old World charm, probably ranking a bit higher on my list because the furnishings are exquisite, they have large apartments with kitchens, the service is really special, and they give private and semi-private cooking classes in a kitchen many of us dream of, complete with an island that can easily accommodate 12 participants (sitting!). Both hotels have wonderful restaurants as well.
I did see a couple of 4* I would probably not recommend to our clients for various reasons, the most important being that they just didn't seem to have the accommodations of what I would expect from a 4*. Either the rooms were too small, to outdated, bathrooms entirely too small for a larger guest, or the service spotty. No worries, Avignon does have wonderful properties and we will make sure to steer you in the right direction for your time in this wonderful city.
We will be adding two and three day Avignon options to our mini-package product mix, and are excited at offering some really special wine and culinary experiences centered in and around the city.
What's important to you when staying at a hotel? Is it the size of the rooms, the quality of the service or something else? Let us know below!
Sign up for our eNewsletter and receive our FREE wine tasting guide.