|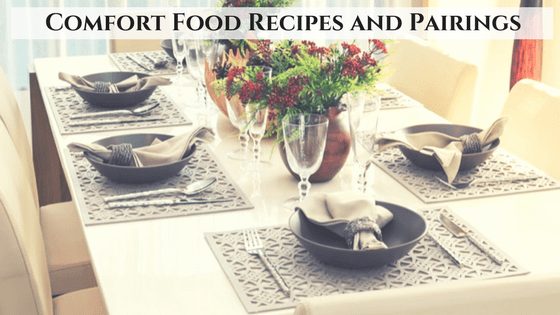 The Best French Wine and Comfort Food Pairings With Menus
Most of us have favorite recipes we gravitate to during the chilly months of winter. Here are three examples of recipes for wine and comfort food pairings for cold weather dining. Remember, just because the dinner is modest, doesn't mean that you can't enjoy a pleasant wine with your dinner. We'll also suggest a number of wines to fit your own dinner choices, and hope that you will also share some favorite dinners with us.
Habitant Pea Soup
This has been a family favorite for many years. It really is an easy dish, and hits the spot in the winter.
Wash and soak in water overnight a package of split peas (either yellow or green).
Drain the peas in the morning then rinse them again.
Place in a slow cooker and add a ham bone, bay leaves, and a minced large Vidalia onion, garlic salt, pepper, oregano, and a minced tomato.
Cover with fresh water, and set the slow cooker at medium.
 Watch the soup throughout the day, lowering the temperature, or raising it again when necessary (a skill learned by doing).
In late afternoon, the ham should fall off the bone. Discarded the ham bone along with remaining fat on the bone.
Twenty minutes before serving, raise the heat once more. Serve with a warmed French baguette, with butter and Brie cheese. Serves 4.
A fine Rhone wine that would go well with this supper is Beaucastel's Coudoulet. It is  a bargain at $24 for the 2014 vintage. Much more so than their neighboring Chateauneuf du Pape ($67 for the 2014 vintage).
January Beef Stew
Cut 2 pounds of stewing beef into 1 ½ inch cubes. Roll cubes in flour seasoned with herbes de Provence.
Saute medium sliced onion in tablespoon butter. Reserve the onion.
Add 1 tablespoon more of butter and brown the flavored meat.  Drain off excess fat and add the cooked onions.
Add 1 cup beer, 1 pressed garlic clove, ½ teaspoon sugar and salt. Pour this over the meat and onion mixture.
Cover and simmer 2 hours.
Serve with boiled new potatoes, with sauce used as gravy.  Serves 4.
Serve with a Guigal Crozes-Hermitage from the Northern Rhone (2013 vintage $20.00), or a Perrin Cotes du Rhone Villages (2013 $13).
It's Freezing Outside Meat Loaf
Preheat oven to 350.
Combine 1 pound ground beef, 1 egg yolk, 1 tablespoon chopped parsley, 1 tablespoon soft butter, 1 minced tomato, and 1 sliced Vidalia onion.
Season to taste, with bay leaf, oregano, pepper and garlic salt.
Slice 2 slices of bread into cubes and add to the meat mixture.
Add ¼ cup catsup or A1 Sauce and form the mixture into a loaf. Place it in a greased pan, and bake 45 minutes. Serves 4.
Serve with a Chateau d'Esclans Whispering Angel Rose 2015 ($18). This will be a treat, as you discover Sasha Lichine's interpretation of the finest French rosé wines.
For those with favorite winter comfort food, here are two more wine suggestions for dinners based on beef:
Chateau Dutruch Grand Poujeaux from the Medoc region of Bordeaux (vintage 2014 $22) 
Chateau Clarke from Listrac (vintage 2009 ($26)
Here are two more wine suggestions for dinners based on chicken:
Sancerre Crochet, a red wine from the Loire Valley (2014 vintage, $18)
Beaujolais, a Morgon from the excellent 2015 vintage (Georges Duboeuf, $15)
And for those with game, duck or geese:
Latour Marsannay from Burgundy's Cote de Nuits (2014 vintage, $18)
Of course, the dinner flavors are only enhanced when sharing a meal with the ones you love! And the short days of winter offer the perfect opportunity to try out some new wine and comfort food pairings!
Sign Up for our eNews articles and receive our Free Guide to Wine Tasting Like a Pro!