|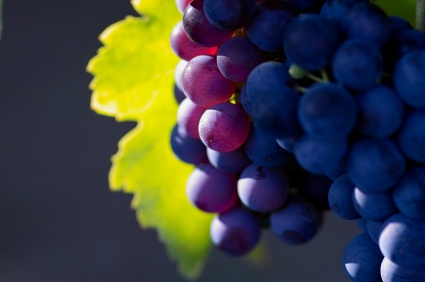 Burgundy France
Of the Burgundy wine tours I have taken I can think of no more pleasant excursion than a slow drive through the Côte de Nuits, just fifteen miles of the Burgundy region, from Fixin just outside Dijon, to Nuits St. Georges. It is pleasant, rolling countryside, with vineyards which climb hillsides. This is the northern half of the Côte d'Or, and it is just a few hours by train from Paris.
Here are six of the finest red Burgundy wine regions in Burgundy France, as you slowly meander along the tiny Route des Grands Crus, D-122. Gevrey-Chambertin is one of the oldest, with world famous and very pricey grands crus such as Griotte-Chambertin, my favorite, with flavors of wild cherries to excite the palate. The cultivated acres were actually church property to begin with, until the Middle Ages, when a venturesome lad named Bertin grew a vineyard, which became Chambertin (from "les champs de bertin," or "Bertin's fields"). This was Napoleon's favorite wine, but if you do as he did and cut it with water, you will be disowned!
Next, Morey-St. Denis has five grands crus, and like all Burgundy grands crus, they should be properly aged. Doing so, and planning ahead, will result in your owning fine, well aged wines that are unavailable later at any price. My wife and I enjoyed a 1988 de Vögué Bonnes Mares, which yielded waves of flavors, for our anniversary dinner. I had paid $60 for it 17 years ago, and I willingly paid the restaurant's $25 corkage fee, for a showstopper wine that now commands hundreds of dollars.
Chambolle-Musigny is a pretty town, and a good place to find some provisions for your picnic, as you continue through the vineyards. The flagship wine is of course the grand cru Le Musigny, a flavorful wine, somewhat light. There are also a few Burgundy first growths here, notably Les Amoureuses. I wonder whether production has started again for the rarest French white wine, Musigny Blanc. Those Chardonnay grapes are grown on a few rows near the Clos de Vougeot, and production was stopped a few years ago for replanting of the vines. It is a superb white wine, first made because the château owner's wife preferred white wine as her daily tipple.
You'll recognize the Clos de Vougeot immediately, a 124 acre walled vineyard now divided into many small holdings. An imposing site, soldiers from Napoleon's Grande Armée are said to have presented arms as they approached. It is a great treat to attend a wine tasting there, and the entire enclosure is ranked as grand cru wine. The best wines, it is said, are produced from holdings near the top of the slope, such as those held by Gros Frère et Soeur.
The Vosne-Romanée contains one of the most famous wine estates on earth, the Domaine de la Romanée Conti. You can walk about and see their famous vineyards, quite close to the road. Their wines are so rare and expensive that they sell mixed cases of the different wines, which are legendary for flavor and long lasting pleasure. I remember a tasting of the 1988 vintage, and found the Richebourg best of all; an opulent wine.
Nuits St. Georges has no grands crus, but it does have a spectrum of first growths that are wonderfully flavorful, including Les Vaucrains, Les St. Georges, and Clos de la Maréchale. They used to be reasonably priced for high end Burgundy, but now, expect to pay at least $60 a bottle. With a fine meal, you will savor the wine – and your memories of Burgundy.
Burgundy France Wines of the Month
If you want a nice pinot noir from Fixin, for "turkey and the Fixins" at Thanksgiving, try a Louis Jadot 2000 for $18. A good way to enjoy Burgundy wines is to start with a quality village wine from the higher slopes, and a Mongeard-Mugneret Hautes Côtes de Nuits at $23.99 will give reliable pleasure. And while you are waiting for your 401K to recover, have a flavorful Louis Jadot Nuits St. Georges 2005 for $39.99. It is good quality and doesn't need long aging.
Have you taken a Burgundy wine tour? Tell us about it below!
Sign up for our eNewsletter and receive our FREE wine tasting guide.