|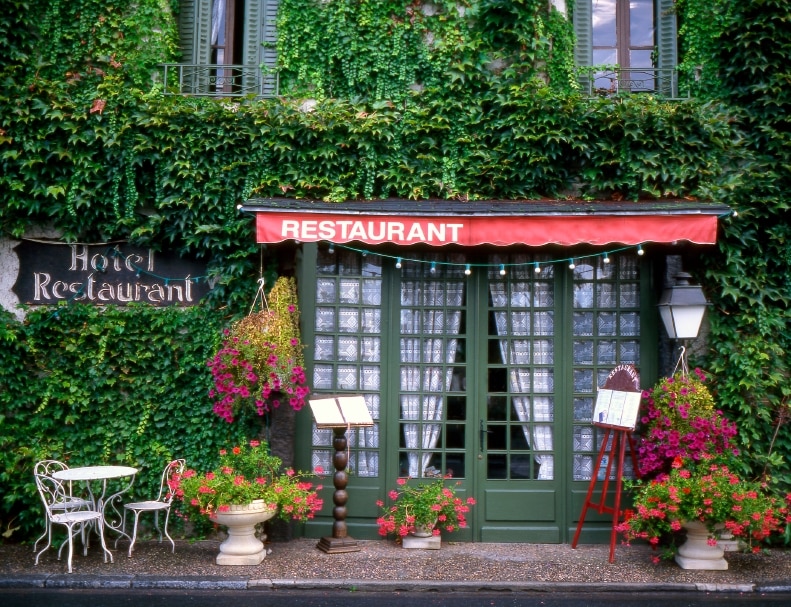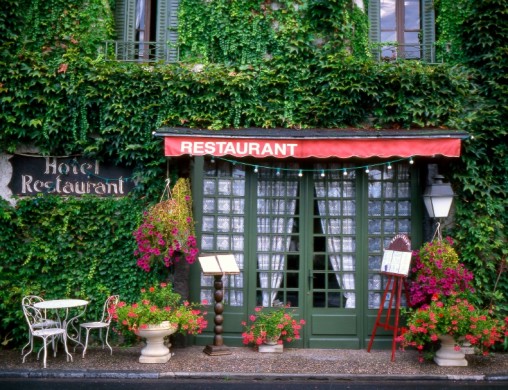 **Updated June, 2015
Foodies headed to Paris know they're in luck, but do they know exactly how lucky? Paris is home to over 70 Michelin-starred establishments, many of which climb to the 2 and 3 star range.
Discover top Michelin starred restaurants in Paris and start making your choices now; as you might guess, reservations are required, and tables fill up fast and early!
1st Arrondissement
Le Meurice Alain Ducasse (3 stars)
Alain Ducasse seeks to renew the image of haute cuisine in the majestic dining room at the Hôtel le Meurice. The menu features seasonal classics of fine dining with only the best ingredients including produce, truffles and rare cheeses.
228, rue de Rivoli
+33 (0)1 44 58 10 55
lemeurice.com
Open : Mon.-Fri. Lunch and Dinner 
Carré des Feuillants (2 stars)
Alain Dutournier's Carré des Feuillants offers a classically Michelin-starred gourmet experience with a twist of the French Southwest. The "Temptation" menu is a worthwhile splurge at lunchtime, with three courses followed by petits fours at 60 euro.
14, rue de Castiglione
+33 (0)1 42 86 82 82
alaindutournier.com
Open: Mon.-Fri. Lunch; Mon.-Sat. Dinner
Le Grand Véfour (2 stars)

One of Paris' oldest standing restaurants and the first grand restaurant opened in the city, Le Grand Véfour can be found in the arcades of the Palais Royal. In this prestigious locale, inventive cuisine is served by Savoyard chef Guy Martin, a great artist of gastronomy quoted as saying, "I cook as others paint."
17, rue du Beaujolais
+33(0)1 42 96 56 27
grand-vefour.com
Open: Mon.-Fri. Lunch and Dinner 
Sur Mesure par Thierry Marx (2 stars)
This French celebrity chef, famous as a jury member on the French Top Chef, opened Sur Mesure in 2010 in the Mandarin Oriental in Paris. After just two years, the restaurant earned 2 Michelin stars for its avant-garde blend of tradition and innovation. Expect a touch of Asian flair added to French classics.
251, rue Saint-Honoré
+33 (0)1 70 98 78 88
mandarinoriental.com/paris-wine-tours/fine-dining/sur-mesure-par-thierry-marx
Open: Tues.-Sat. Lunch and Dinner 
La Dame de Pic (1 star)
The name of Chef Anne-Sophie Pic's restaurant is a fun play on words tying in the chef's last name — the so-called "Queen of Spades" is one of few women to have acquired the Michelin star in the capital. Aromas and flavors are on the menu at this refined, post-modern restaurant.
20, rue du Louvre
+33 (0)1 42 60 40 40
ladamedepic.fr
Open: Mon.-Sat. Lunch and Dinner 
Yam'Tcha (1 star)
A fusion menu the likes of which you've never seen awaits at Yam'Tcha, where France meets China and gastronomy meets tea. Chef Adeline Grattard was inspired by time spent in Hong Kong to create a dim sum-inspired menu that her husband, Chi Wah, a veritable sommelier of dried herbs, pairs with tea.
123, rue Saint-Honoré
+33 (0)1 40 26 08 07
yamtcha.com
Open: Wed.-Sat. Lunch, Tues.-Sat. Dinner
2nd Arrondissement
Passage 53 (2 stars)
Minimalism is key at Passage 53, named for its location in one of the 19th century passages in the 2nd arrondissement. Décor and website are just two examples of this MO of Japanese chef Shinichi Sato, who relies on French gastronomic savoir-faire to produce market-driven plates with just a soupçon of Japanese flair.
53, passage des Panoramas
+33 (0)1 42 33 04 35
passage53.com
Open: Tues.-Sat. Lunch and Dinner 
Le Céladon (1 star)
For over 10 years, Chef Christophe Moisand has been preparing local products to perfection at his restaurant, focusing on simple dishes like omelettes with morel mushrooms. An Asian twist occasionally comes to call as well. The weekend allows the restaurant's little brother, Le Petit Céladon, a turn at greatness with a lower-key atmosphere in the same locale.
15, rue Daunou
+33 (0)1 47 03 40 42
leceladon.com
Open: Mon.-Fri. Lunch and Dinner 
Pur' (1 star)
Located within Paris' Park Hyatt hotel, Pur' does what it says on the box: a pure, simple look at contemporary dining focusing on elegant décor and creative dishes. Chef Jean-François Rouquette endeavors to place a piece of himself in every dish he creates, with references to childhood favorites on his starred menu. A surprising discovery!
5, rue de la Paix
+33 (0)1 58 71 10 60
paris-restaurant-pur.fr
Open: Mon.-Sun. Dinner 
4th Arrondissement
L'Ambroisie (3 stars)
This Parisian institution of haute cuisine is located on the picturesque place des Vosges, former home to Victor Hugo. It's only appropriate that tradition and classicism be respected at this restaurant, where beauty and flavor reign supreme.
9, place des Vosges
+33 (0)1 42 78 51 45
ambroisie-paris.com
Open: Tues.-Sat. Lunch and Dinner 
Benoit (1 star)
Benoit has called Paris its home since 1912, and ever since, the restaurant has epitomized the traditional Parisian bistro. Traditional dishes includes homemade terrines and pâtés, escargots in wine sauce and perfected offal to seduce any palate.
20, rue Saint Martin
+33 (0)1 58 00 22 05
benoit-paris.com
Open: Mon.-Sun. Lunch and Dinner 
Le Sergent Recruteur (1 star)
This spot leaves all dining choices in the hands of the chef, perfect for adventurous foodies looking to dine in one of the most picturesque areas of Paris. Located in the heart of the Ile Saint-Louis, just steps from Notre Dame, this restaurant combines design, flavor and location for the perfect Parisian dinner experience.
41, rue Saint-Louis en Ile
+33 (0)1 43 54 75 42
Open: Tues.-Sat. Lunch and Dinner 
5th Arrondissement
Itinéraires (1 star)
Itinéraires is full of light, from the room itself to the menu. Flavorful, original and of impeccable quality, the market-driven dishes are filled with floral aromas; an adventure for the palate.
5, rue de Pontoise
+33 (0)1 46 33 60 11
restaurant-itineraires.com
Open: Tues.-Fri. Lunch, Tues.-Sat. Dinner
La Tour d'Argent (1 star)
La Tour d'Argent is a famed name in Paris, and it's not just for its Michelin star. The restaurant claims to have been founded in 1582 and frequented by King Henri IV of France. Today, visitors to the silver tower can sup on the crème de la crème of high quality French ingredients like foie gras, lobster, caviar and sole, complete with a view over the Seine.
15, quai de la Tournelle
+33 (0)1 43 54 23 31
latourdargent.com
Open: Tues.-Sat. Lunch and Dinner 
La Truffière (1 star)
Truffle lovers, you have met your match! Both black and white truffles are on the menu at La Truffière, and Chef Jean Christophe Rizet knows just how to prepare them. Foie gras, poached egg, risotto, monkfish, veal and duck take second place to truffle, and in perfect unity, these dishes shine.
4, rue Blainville
+33 (0)1 46 33 29 82
la-truffiere.fr
Open: Tues.-Sat. Lunch and Dinner
6th Arrondissement
Guy Savoy (3 stars)
The menu at Guy Savoy's eponymous restaurant is divided not only into traditional meats, fish, etc., but into tasting prix fixes based on "color, texture and flavor," "ingredients" and "innovations and inspirations," the latter of which can feature 12 or 18 dishes. Impeccable service and exquisite cuisine.
11, quai de Conti
+33 (0)1 43 80 40 61
guysavoy.com
Open: Tues.-Fri. Lunch, Tues.-Sat. Dinner 
Relais Louis XIII (1 star)
This 16th century building holds three dining rooms in the style of Louis XIII, the perfect place to discover the classic French cuisine of Chef Manuel Martinez: Brittany lobster ravioli with mushroom cream, spiced roast duck and veal sweetbreads all feature on this menu fit for a king.
8, rue des Grands-Augustins
+33 (0)1 43 26 75 96
relaislouis13.com
Open: Tues.-Sat. Lunch and Dinner 
Le Restaurant (1 star)
Housed in L'Hôtel, formerly the Hôtel d'Alsace, this restaurant offers the opulence one would expect for the last address of Oscar Wilde. Chef Julien Montbabut changes his menu daily, proposing a study in a series of ingredients. Each dish is named for its star: morel mushrooms, Norwegian lobster, Patagonia beef, lemon — and each epitomizes the strengths of that particular product.
13, rue des Beaux-Arts
+33 (0)1 44 41 99 01
l-hotel.com/le-restaurant
Open: Tues.-Sat. Lunch and Dinner
Ze Kitchen Galerie (1 star)
Asian influence distinguishes the menu of this punnily named Left Bank restaurant. Chef William Ledeuil effortlessly combines his passion for Asia and his respect for French classics with a menu that unites foreign lands on the plate. Yuzu, galangal and wasabi find their places in classic European creations.
4, rue des Grands Augustins
+33 (0)1 44 32 00 32
zekitchengalerie.fr
Open: Mon.-Fri. Lunch, Mon.-Sat. Dinner
7th Arrondissement
Arpège (3 stars)
Chef Alain Passard is an artist in and out of the plate. Produce-driven dishes are the star of Arpège, no surprise given the chef's personal vegetable garden. But that's not all; a "living object" or raw vegetable or fruit is used as each table's décor. And if you haven't had enough of Chef Passard's sense of culinary design, his artwork can be viewed at the Arrière-Cuisine, just a few meters from the restaurant.
84, rue de Varenne
+33 (0)1 47 05 09 06
alain-passard.com
Open: Mon.-Fri. Lunch and Dinner
L'Atelier de Joël Robuchon-Saint-Germain (2 stars)
This dimly lit room paves the way for brilliance. Joël Robuchon, the world's most-starred chef, offers an open-kitchen "workshop" where diners can witness the craft that goes into the delicacies set before them. The menu features traditional courses as well as small plates that allow diners to experience a variety of dishes including langoustine, pigs' trotter, veal sweetbreads and even a burger – albeit Robuchon-style, topped with foie gras.
5, rue de Montalembert
+33 (0)1 42 22 56 56
atelier-robuchon-saint-germain.com
Open: Mon.-Sun. Lunch and Dinner 
Jean-François Piège (2 stars)
Just upstairs from Brasserie Thoumieux, Jean-François Piège's eponymous restaurant offers comfort and charm with 9 tables and 20 covers: the perfect ambiance to experience his unique cuisine filled with savoir-faire, flavor and feeling.
79, rue Saint-Dominique
+33 (0)1 47 05 79 79
thoumieux.com
Open: Mon.-Sun. Dinner
Les Fables de la Fontaine (1 star)
Jean de la Fontaine's fables are the French counterpart to Aesop's; this restaurant does its name justice by bringing culinary fantasy  and whimsy to life. The subtle cuisine here is centered around seafood. A simple décor in shades of gray lets the food do the talking.
131, rue Saint Dominique
+33 (0)1 44 18 37 55
fablesdelafontaine.net
Open: Mon.-Sun. Lunch and Dinner 
Le Jules Verne (1 star)
There is perhaps no restaurant more quintessentially Parisian than le Jules Verne. Located within the Eiffel Tower, the restaurant offers French cuisine featuring the country's most gourmet ingredients: lobster, Sauternes wine, foie gras… not to mention a view of the Champ de Mars as you dine.
Eiffel Tower, 2nd Floor
+33 (0)1 45 55 61 44
lejulesverne-paris.com
Open: Mon.-Sun. Lunch and Dinner 
Les Climats (1 star)
Les Climats joined the illustrious ranks of the Michelin starred restaurants in 2015. Located in the old Maison des Dames des Postes, this restaurant boasts cuisine from chef Julien Boscus, the son of an Aveyronais charcutier, as well as a Burgundy wine list that attracted glances from the Michelin reviewers. Take advantage of the seasonal dining terrace.
41 rue de Lille
+33 (0)1 58 62 10 08
lesclimats.fr
Open: Tues.-Sun. Lunch and Dinner
David Toutain (1 star)
Another new arrival to the show, David Toutain's eponymous restaurant is a departure from his days at Arpège, though the creativity and modernity of his previous locale are more than evident here, where balance is the key to his approach.
29 rue Surcouf
+33 (0)1 45 50 11 10
davidtoutain.com
Open: Mon.-Fri. Lunch and Dinner
Garance (1 star)
Guillaume Muller and Guillaume Iskandar head up this ingredient-focused restaurant where attention to detail is the name of the game. It shines through in everything, from selection of products to exquisite plating.
34, rue Saint Dominique
+33 (0)1 45 55 27 56
garance-saintdominique.fr
Open: Mon.-Fri. Lunch and Dinner
8th Arrondissement
Ledoyen (3 stars)
Within a neoclassic pavilion sits the luxurious Ledoyen restaurant. French classics on the menu are both refined and modern, with unique combinations like lobster, grapefruit and morels or langoustines with truffles.
1, avenue Dutuit
+33 (0)1 53 05 10 00
ledoyen.com
Open: Mon.-Fri. Lunch and Dinner 
Pierre Gagnaire (3 stars)
A modern allure is the foil for the adventurous and inventive menu developed by Chef Gagnaire, based upon a theme – color, origin, ingredient. Presentation is key, but flavor is the foundation of this craftsmanship.
6, rue Balzac
+33 (0)1 58 36 12 50
pierregagnaire.com
Open: Mon.-Fri. Lunch and Dinner 
L'Atelier de Joël Robuchon-Étoile (2 stars)
This locale offers a similar experience as Robuchon's other starred atelier with one difference: the setting on the world's most famous avenue.
133, avenue des Champs-Elysées
+33 (0)1 47 23 75 75
atelier-robuchon-etoile.com
Open: Mon.-Sun. Lunch and Dinner 
Alain Ducasse au Plaza Athénée (2 stars)
Alain Ducasse's restaurant at the Plaza Athénée hotel saw a makeover in 2015. The new incarnation, a "natural" menu boasting lighter fare including fish and vegetables, is definitely a departure from classic French cuisine and one to watch for a third star in coming years.
25, avenue Montaigne
+33 (0)1 53 67 65 00
plaza-athenee-paris.fr
Open: Mon.-Sun. Lunch and Dinner 
La Table du Lancaster (2 stars)
Julien Roucheteau earned his Champs-Elysées address two stars this year, with his combination of classic French flavors and a modern touch. Michelin judges extolled the exclusive, confidential atmosphere and a cuisine notable for its impeccable technique and subtle play between flavor and texture.
7, rue de Berri
+33 (0)1 40 76 40 18
hotel-lancaster.fr
Open: Mon.-Sun. Lunch and Dinner
Le Cinq (2 stars)
Housed within the beautiful Hôtel George V, Le Cinq combines classic French culinary technique and fresher, lighter recipes. Each dish is a veritable work of art, combining gourmet produce and exquisite savoir-faire.
31, avenue George V
+33 (0)1 49 52 70 00
restaurant-lecinq.com
Open: Mon.-Sun. Lunch and Dinner 
Taillevent (2 stars)
Since 1946, this address has evoked everything that the Michelin guide seeks to reward: elegance, style, and quality. Classic French gastronomy is the star of Alain Solivérès' simple yet decadent menu, where he perfects crab remoulade, foie gras, lobster bisque, beef Rossini and roast Bresse chicken.
15, rue Lamennais
+33 (0)1 44 95 15 01
taillevent.com
Open: Mon.-Fri. Lunch and Dinner
Lasserre (1 star)
Seasonal products are key to the menus of Lasserre, located just off the Champs-Elysées. Chef Christophe Moret offers gourmet versions of comfort food dishes like black truffle and foie gras macaroni or roast Bresse chicken with gnocchi and truffle. The dessert menu is just as creative, with revisited versions of classic chocolate mousse and soufflé from pastry chef Claire Heitzler.
17, avenue Franklin Roosevelt
+33 (0)1 43 59 02 13
restaurant-lasserre.com
Open: Thurs.-Fri. Lunch, Tues.-Sat. Dinner 
Helen (1 star)
Fish-lovers occasionally find themselves lost when searching for exquisite quality and attention to our oceans. No need to worry with Sébastien Carmona Porto, who selects his fish and seafood from small boat fishermen in France and does the ingredients justice with his menu.
3, rue Berryer
+33 (0)1 40 76 01 40
helenrestaurant.com
Open: Tues.-Sun Dinner, Tues.-Fri. Lunch
Penati al Baretto (1 star)
A rare non-French starred restaurant in Paris, this kitchen is headed up by Alberico Penati, who serves up seasonal Italian cuisine well worth the Michelin nod in 2015.
9, rue Balzac
+33 (0)1 42 99 80 00
penatialbaretto.eu
Mon.-Sat. Dinner, Mon.-Fri. Lunch
16th Arrondissement
Astrance (3 stars)
This small Parisian staple spices up French cuisine with flavors from around the world. The lighter fare does not otherwise deviate too far from French classical cuisine, but these slight modifications to tradition are intriguing and perfectly selected.
4, rue de Beethoven
+33 (0)1 40 50 84 40
astrancerestaurant.com
Tues.-Fri. Lunch and Dinner 
Le Pré Catelan (3 stars)
Mastery of technique paves the way for Chef Frédéric Anton's creative cuisine at le Pré Catalan, where French dishes get a hint of the exotic thanks to spices and flavors from abroad. The menu is designed around "star" ingredients the chef chooses to place in the spotlight and allow to shine. The location within the Bois de Boulogne is breathtaking.
Bois de Boulogne – Route de Suresnes
+33 (0)1 44 14 41 14
Precatalanparis.com
Tues.-Sat. Lunch and Dinner
L'Abeille (1 star)
L'Abeille restaurant, named in honor of Napoléon's favorite emblem, the bee, offers culinary excellence and beauty within the Shangri-La hotel. Signature dishes include duck foie gras with chocolate served two ways and braised suckling pig with spaghetti, brioche and citrus. It is worth mentioning that the other restaurant in the hotel, Cantonese Shang Palace, has also been awarded one Michelin star.
10, avenue d'Iéna
+33 (0)1 53 67 19 90
Shangri-la.com
Tues.-Sat. Dinner 
17th Arrondissement
Michel Rostang (2 stars)
Art and flavor meet at Michel Rostang's restaurant, where artistry transcends the plate to the restaurant itself. A museum of sorts, the dining room is devoted to Rostang's personal favorite Art Nouveau objects. The restaurant is also home to one of Paris' exceptional wine cellars with over 1,300 bottles.
20, rue Rennequin
+33 (0)1 47 63 40 77
michelrostang.com
Open: Tues.-Fri. Lunch, Mon.-Sat. Dinner
Do you have any favorite top Michelin starred restaurants you like to visit while in Paris? Let us know below!
Sign up for our eNewsletter and receive our FREE wine tasting guide.